This is FLASH Traffic.  North Korea has agreed to send three-hundred-thousand (300,000) to five-hundred thousand (500,000) troops to Russia to assist with its Special Military Operation in Ukraine, against NATO.
The first deployment will be about 20,000 soldiers to assist with Logistics.
More as I get it. . . .
UPDATE 12:09 PM EDT --
Video:
UPDATE 1:00 PM EDT --
North Korea will also deliver to Russia, the new KN-09 Multiple Launch Rocket System, seen in the file photo below.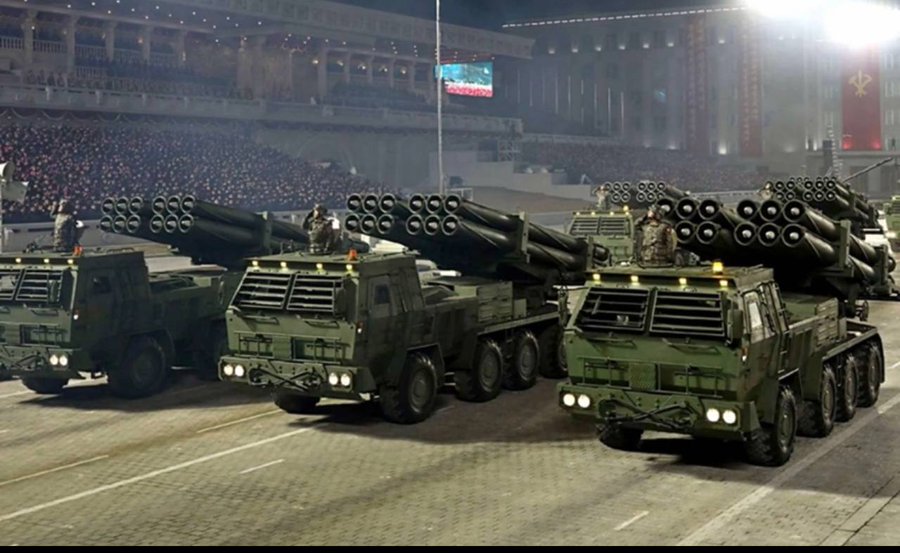 Shown above is the absolute latest North Korean version of the KN-09, with two pods of SIX rockets each.
Intelligence assessment of these new rocket launchers is as follows:
Judging by the published photos, the military received MLRS, known under the Western designation KN-09 or KN-SS-X-9. Its caliber is 300 mm.
The first version, which has eight missile tubes, was shown in 2015 at the parade in honor of the 70th anniversary of the Workers' Party of Korea.
It is believed that missiles with a warhead weighing up to 190 kg are capable of hitting targets at a distance of at least 220 km.
Guidance is inertial, in preparation for use, the calculation uses data from navigation satellites, which provides a fairly accurate hit.
In 2020, an upgraded version was introduced, in which the three-axle all-terrain vehicle was replaced with a four-axle platform with twelve tubes, which is the version shown in the image above.