Iran may be about to get hit.  Three Strato-tankers just went airborne over Iraq.  LIVE UPDATES BELOW . . .
-USAF KC135R 60-0365
-USAF KC135R 62-3533
-USAF KC135T 58-0069
Putting that much air refueling capability into action signifies a big air operation is about to take place.  Something big is happening.
 UPDATE 5:24 PM EDT --
Receiving Intel that upwards of Twenty missiles have struck at three different US Bases inside Syria:
the US Conoco Oil Field base in the outskirts of Deir ez-Zor
Three more US bases have been targeted rockets and artillery, including: Al-Tanf, Homs governorate Koniko Gas Field, Deir Ezzor governorate
MORE:
Missile strike continues at this moment and it is targeting the American base in the Koniko and Khasham field near the town of Al-Jafra, northeast of Deir Ezzor, which is used by US army.
US military official confirms to Al Jazeera that one of the American military bases in Deir_ez-Zor has been targeted by about 6 to 8 rockets, adding that "American forces are assessing casualties and damage"
UPDATE 5:28 PM EDT --
US AND Coalition war planes are now striking back.  
"Strong and successive explosions were heard at the entrances to the city of Al-Mayadin in the eastern countryside of Deir Ezzor, coinciding with the flight of the international coalition aircraft over the area"
MORE:
Apache helicopters and US warplanes are flying in the sky of Deir Ezzor countryside now
UPDATE 5:31 PM EDT --
Warplanes are said to be taking off from the US base in Qatar. Planes are heading towards Syria. to hit Iranian militias
MORE:
U.S. and Iranian/Militia Forces in the Deir ez-Zur Region have reportedly been exchanging Rocket and Missiles Fire between each other for the last few hours; Coalition Aircraft have also been attempting to Strike the Iranian Launch Sites.
Heavy US Air Force activity over parts of eastern Syria after rockets were launched at a US base
UPDATE 5:40 PM EDT --
The 3 US bases in Syria are currently UNDER ALMOST CONSTANT artillery fire. Reports of damage and fire at the bases.
American planes are in the airspace of eastern Syria, some of which took off from the Persian Gulf, including the B52.
*****BULLETIN *****
5:42 PM EDT --
Preliminary reports indicate that some units of the Syrian Arab Army may be engaging US forces. It has also been reported that Syrian Armed Forces carried out attacks against Turkish forces in Syria
HAL TURNER INTEL -- Speaking to some sources in Syria, the attack tonight on the US base is devastating by the sounds of it. High possibility of numerous American casualties…
Pro-Iran forces in Syria warn they may 'respond to more US strikes'
UPDATE 5:52 PM EDT --
Pro-Iranian forces evacuated all of their HQs as they attacked several U.S. bases in eastern #Syria, fearing severe retaliation.
VIDEO
VIDEO PULLED; MIS-ATTRIBUTION
COVERT INTEL ANALYSIS
Subscribers Only - Additional PUBLIC Updates will resume beneath Green Shaded Area --
PREMIUM CONTENT:  
This section of the article is only available for Subscribers who support this web site with $1 a week billed either Quarterly ($13) or monthly ($5).
This is necessary because this is a CLOUD-BASED web site.  The way it works is YOU READ . . . I GET BILLED for "Data Transfer."
Despite being politely asked for voluntary donations, few people ever bothered to donate. Then, despite being asked to click an ad within a story to generate ad revenue for this site, the majority of the general public couldn't be bothered with that, either. So there's no reason to give the general public free news anymore; they don't pull their own weight.
With tens-of-thousands of people reading stories here every day, the costs nearly drove the site out of business.
In order to be able to continue providing cutting-edge news, often hours or even DAYS before Drudge and most of the "mass-media" -- if they even cover it at all -- I need to be able to sustain this effort. To do that, I rely on folks like YOU contributing a pittance of about $1 a week;  which is chump-change that you won't even miss!  Yet that small amount makes all the difference in the world to the continued existence of this web site.
In the final analysis, knowledge is power.  Getting information first, or info that other sources simply don't report, is usually well worth a few bucks in the long run.
Please click here to choose a subscription plan in order to view this part of the article.
Subscribers LOGIN to see the story.  
*** If you are having trouble logging-in, email: This email address is being protected from spambots. You need JavaScript enabled to view it.
YOU MUST SET YOUR WEB BROWSER TO "ACCEPT COOKIES" FROM THIS SITE IN ORDER TO LOGIN OR ELSE YOU WILL NOT BE ABLE TO SEE PREMIUM CONTENT.
UPDATE 6:04 PM EDT --
Reports of clashes between American and Syrian Army REGULAR forces near Al-Bukamal
6:15 PM EDT -- Iranian militias evacuated checkpoints in the Elbu-Kemal and Mayadeen areas east of Deir ez-Zor.
6:46 PM EDT -- Missiles Units of the Iranian Revolutionary Guard Aerospace Force in the Western Regions of Iran are claimed to have been placed on High Alert within the last few minutes.
MORE: 
 Iranian army in Iran at border near Iraq are put on high alert due to escalation between USA and IRGC in Syria
UPDATE 6:53 PM EDT -- 
At least one American soldier has been killed following the attacks of the Syrian forces against the Sabz village base.
UPDATE 7:20 PM EDT --
There are reports that virtually all US bases along the Euphrates River in Syria are being shelled.
***** FLASH *****
Iranian sources are reporting that the missile corps of the IRGC are preparing to fire at **all** American positions in Syria.
Turkish Armed Forces and Syrian Arab Army forces are fighting EACH OTHER DIRECTLY in Northern Syria..
UPDATE 7:50 PM EDT -- 
Initial unconfirmed report of a new attack targeting the US Base, Green Village in Syria. 
USN P-8 Poseidon up off the coast of Syria: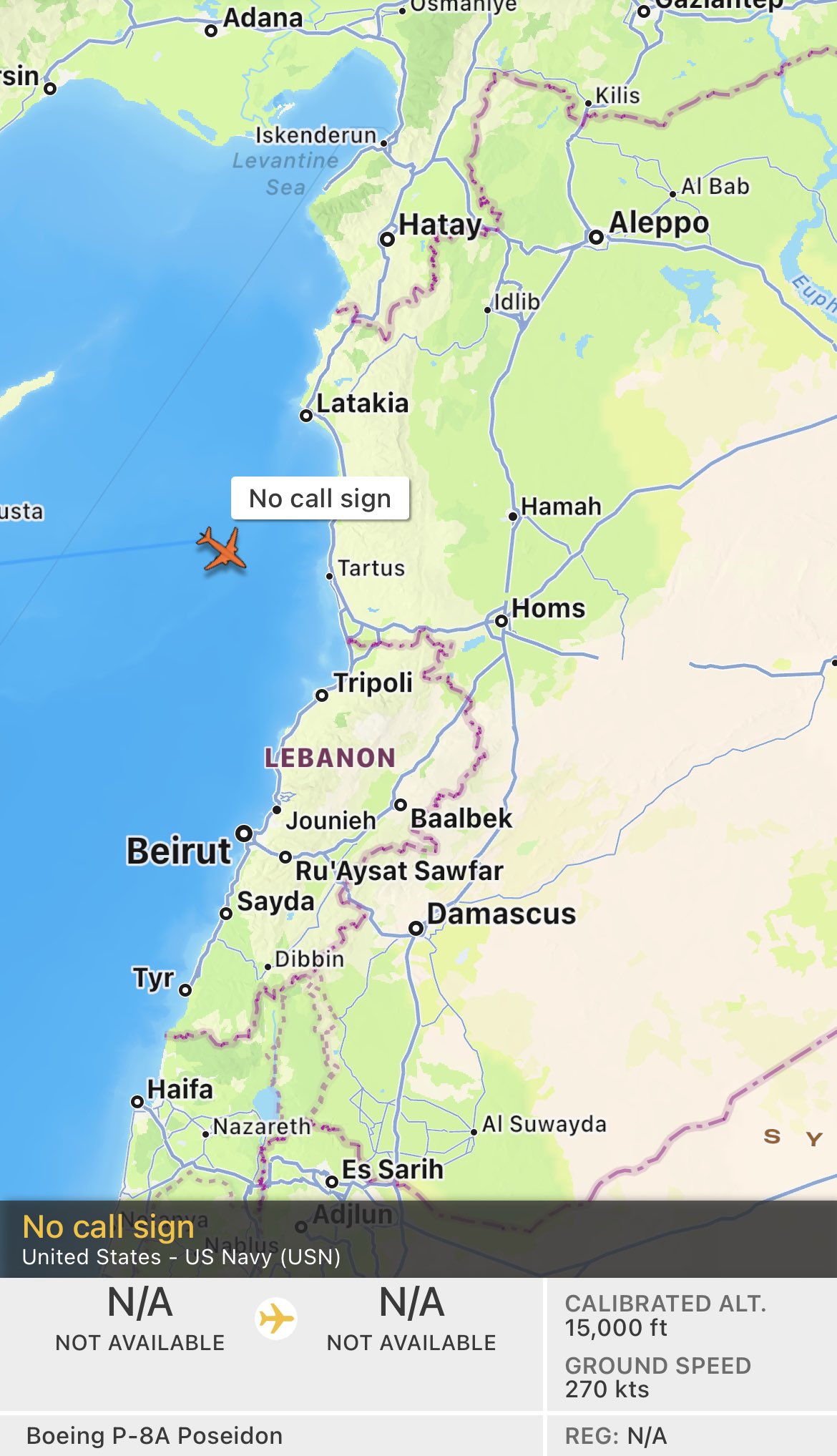 MORE:
US airstrikes on Al-Bukamal, Syria.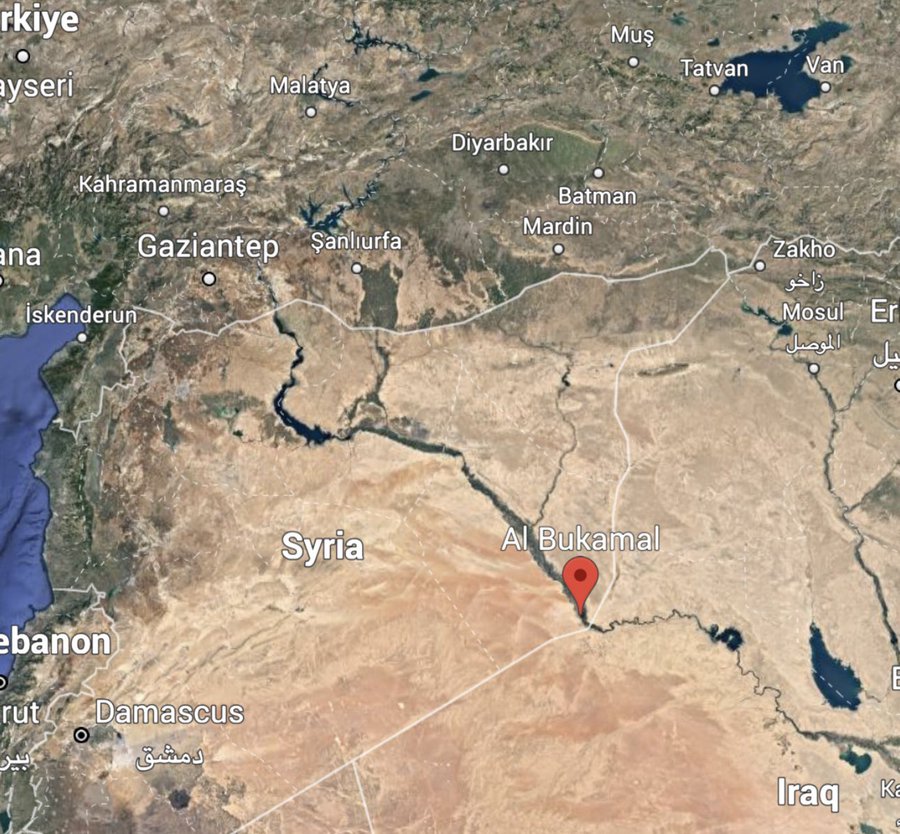 UPDATE 8:25 PM EDT --
F-15E Strike Eagle fighters of the USAF flown from Shahid Muwaffaq Al-Salti air base, are reported to be airborne over East Syria ready to retaliate the attacks of IRGC Quds Force at Conoco oil field & Green Village. #IRGC fired 5 122mm rockets at the #US Army outpost… 
UPDATE 8:35 PM EDT --
Air Traffic Controllers have been told **BY IRAN** to clear commercial air traffic from the skies over Iraq and Syria.   That clearing is now in progress.   Based on this new information, it now **appears** that Iran may launch a full scale missile attack from IRAN TERRITORY against US Targets inside Syria.   They don't want commercial airliners in the way.
UPDATE 10:19 PM EDT --
Just finished my radio show.  Quick update: Fighting CONTINUES.   Checking on air space over Iraq to see if it is, in fact, being cleared.  Back shortly. 
At least a dozen US soldiers killed or wounded in tonight's attacks, so far.
 Intensive Israeli warplanes over the Mediterranean.  A complete closure of the airspace over the Golan.
The short calm before the storm, perhaps?
UPDATE 10:27 PM EDT --
Reports CLAIM that Iraq Air Traffic controllers were instructed to DENY Iran's Request to re-route commercial air liners.  The US allegedly told Iraq that if Iran shoots missiles at US forces inside Syria, then THEY would be responsible if a commercial airliner got hit.  
(HT REMARK: Is it even possible that the US would use commercial airliners as shields?)
MARCH-INTO-APRIL FUNDRAISING
It takes enormous amounts of time and intense dedication to filter through all the tripe and get you the real news, that the mass-media just doesn't report.  News that is relevant to YOUR LIFE, so that you are not blind-sided by events.  Please support this effort by making a donation below so this endeavor can continue to function next month.