6:09 PM EASTERN U.S. TIME ON 31 MARCH 2021 -- Numerous reports are beginning to come in claiming "Very large numbers" of Ukrainian Army Troops are now on the move toward the border of breakaway states Luhansk and Donetsk, collectively referred to as "The Donbas."
One source explicitly stated it appeared to him to be 35,000 troops and 300 tanks.
Earlier this afternoon, scattered reports came in claiming there was gunfire heard along the line of contact.
Within the past hour, other reports started claiming "Heavy gunfire" along those same areas.
Updates WILL APPEAR BELOW AS WE GET THE INFO.
UPDATE 6:32 PM EDT --
As of today, the situation in Ukraine looks like this on the map below: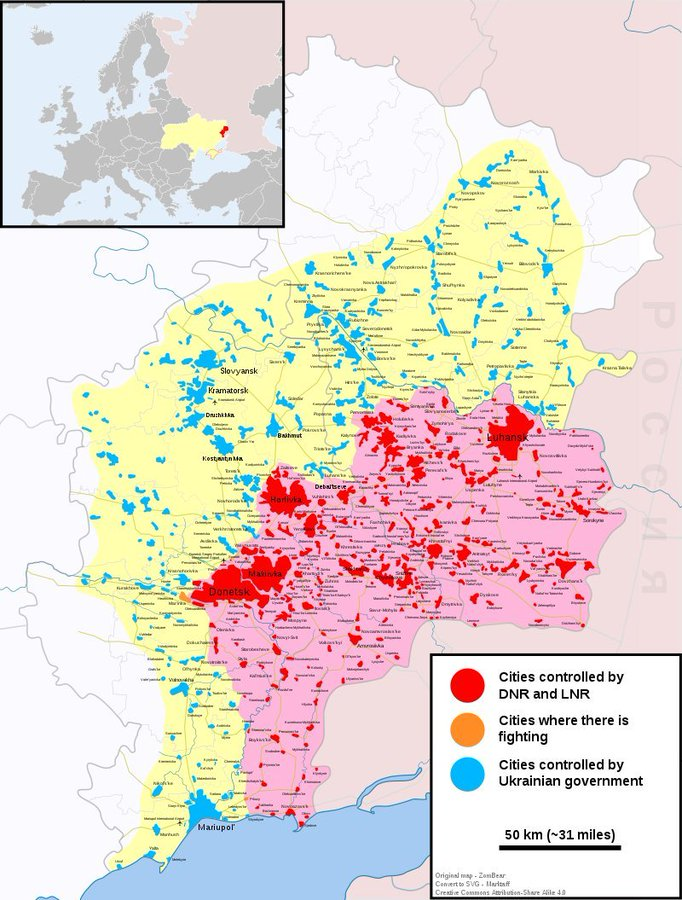 UPDATE 7:12 PM EDT --
Ukrainians have begun to set up minefields on the outskirts of the city of
Ukrainians began to set up minefields on the outskirts of the city of Popasnaya, which is under the control of Kiev on the Donbas contact line.  The scalable map below lets you see the area, zooming in or out as you desire to understand the scope and locations:
This was announced by the spokesman of Luhansk, who revealed that the Ukrainians have placed at least 100 mines in the area.
"We have information that the Ukrainians are very active on the eastern outskirts of this city where they have deployed about 100 TM-62 anti-tank mines," he said.
"We have asked the Ukrainians to report the minefields to the OSCE. We told them not to place mines near residential areas."
BROADCAST NOTE:
There will be HUGE updates on tonight's Hal Turner Radio Show which airs from 9:00-11:00 PM eastern US Time (0200-0400 GMT) on Global, High Frequency shortwave Stations WBCQ and WRMI  on 7.490, 6.160 and 5.950 as well as regular AM KYAH 540-AM in Utah.   
The show is also streamed live on the Internet from this web site and can be listened-to at the link below -- which does NOT go active until about one hour before the show actually airs.  During that hour, the link streams commercial-free music until the show begins.    LINK:  http://stream.halturnerradioshow.com:8000/