OPINION-EDITORIAL
Back in 2016, Ukraine proudly announced that it would be upgrading its armed forces to NATO Standards!  In 2020, they proudly announced they had done so.  Here we are, just two years later, and the Russian Army is making minced meat out of those NATO Standards, grabbing almost 25% of Ukraine in eight days, and still on the move. Other NATO countries would do well to re-examine what good NATO is; before the Russians come knocking at their doors.
It began in 2016.  The "Kiev Post" newspaper proudly reported to its readers "Ukrainian Army Will Switch to NATO Standards by 2020 and Get New Logistics System."   It was a lead story in the paper that day, something all Ukrainians could be proud of.
The story dutifully reported 
"The program will ensure the Armed Forces of Ukraine will develop to respond effectively to threats to national security in the military sector, Ukraine's defense and protection of its sovereignty, territorial integrity and inviolability, as well as to achieve Euro-Atlantic standards and criteria necessary for the acquisition of a membership in NATO, the Defense Ministry said."
That certainly sounded good.  Life went on.
Two years later, on its official government web site, the Ukrainian Information Agency proudly reported:
"Almost 600 NATO standards introduced in Ukraine Army over past two years."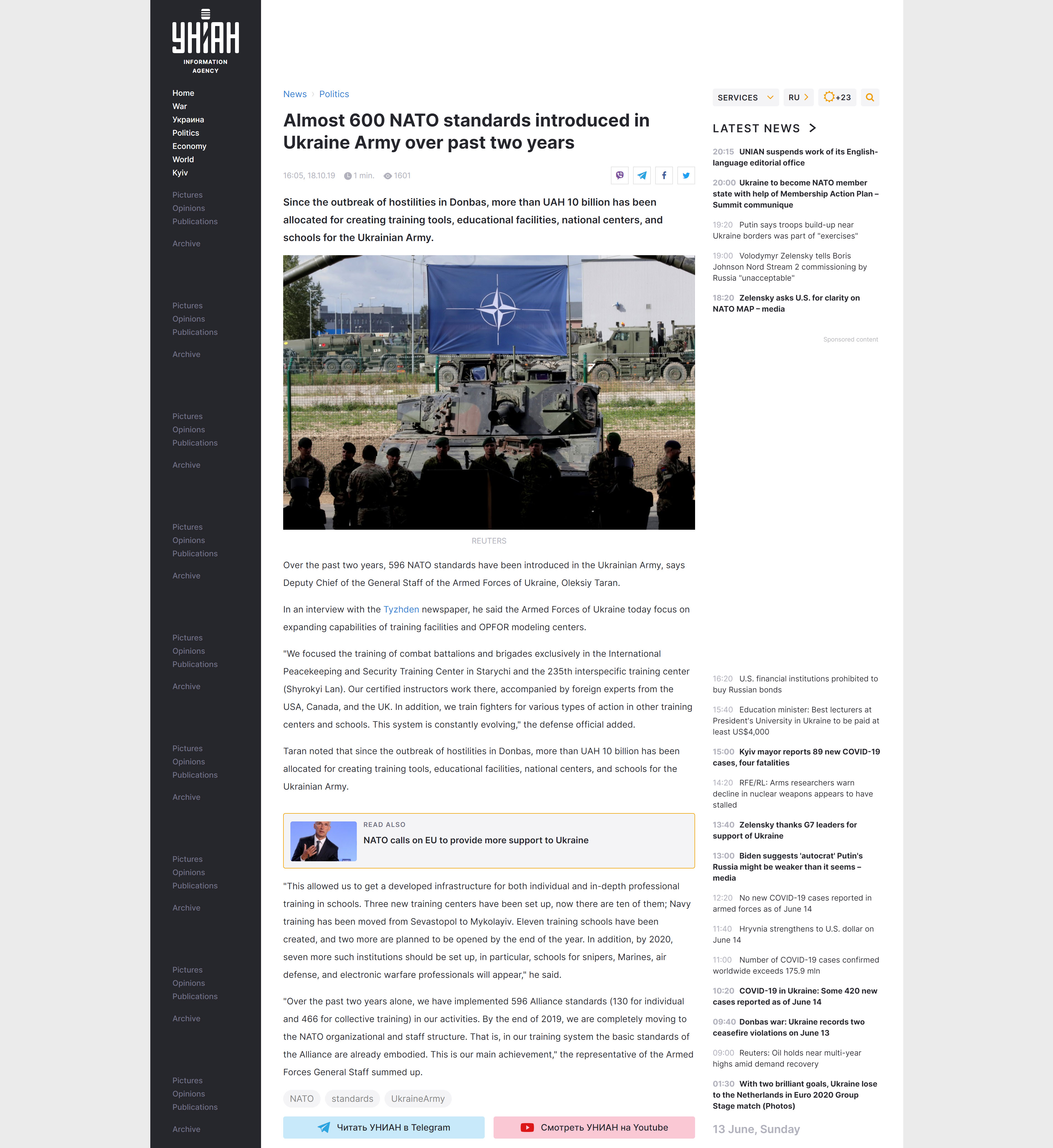 The article went on to say:
""Over the past two years alone, we have implemented 596 Alliance standards (130 for individual and 466 for collective training) in our activities. By the end of 2019, we are completely moving to the NATO organizational and staff structure. That is, in our training system the basic standards of the Alliance are already embodied. This is our main achievement," the representative of the Armed Forces General Staff summed up."
The following year, in 2019, that same Ukrainian Information Agency gleefully quoted then-President Poroshenko who updated his country on the matter:
Ukrainian President Petro Poroshenko says that the Ukrainian army will be able to act fully in accordance with NATO standards as early as in 2020.
"In 2020, the Armed Forces of Ukraine will be structured and will be able to act in full accordance with NATO standards, as is stipulated in the [Ukrainian] law on national security," Poroshenko said at a meeting with residents of the town of Zdolbuniv in Rivne region on January 10, according to an UNIAN correspondent.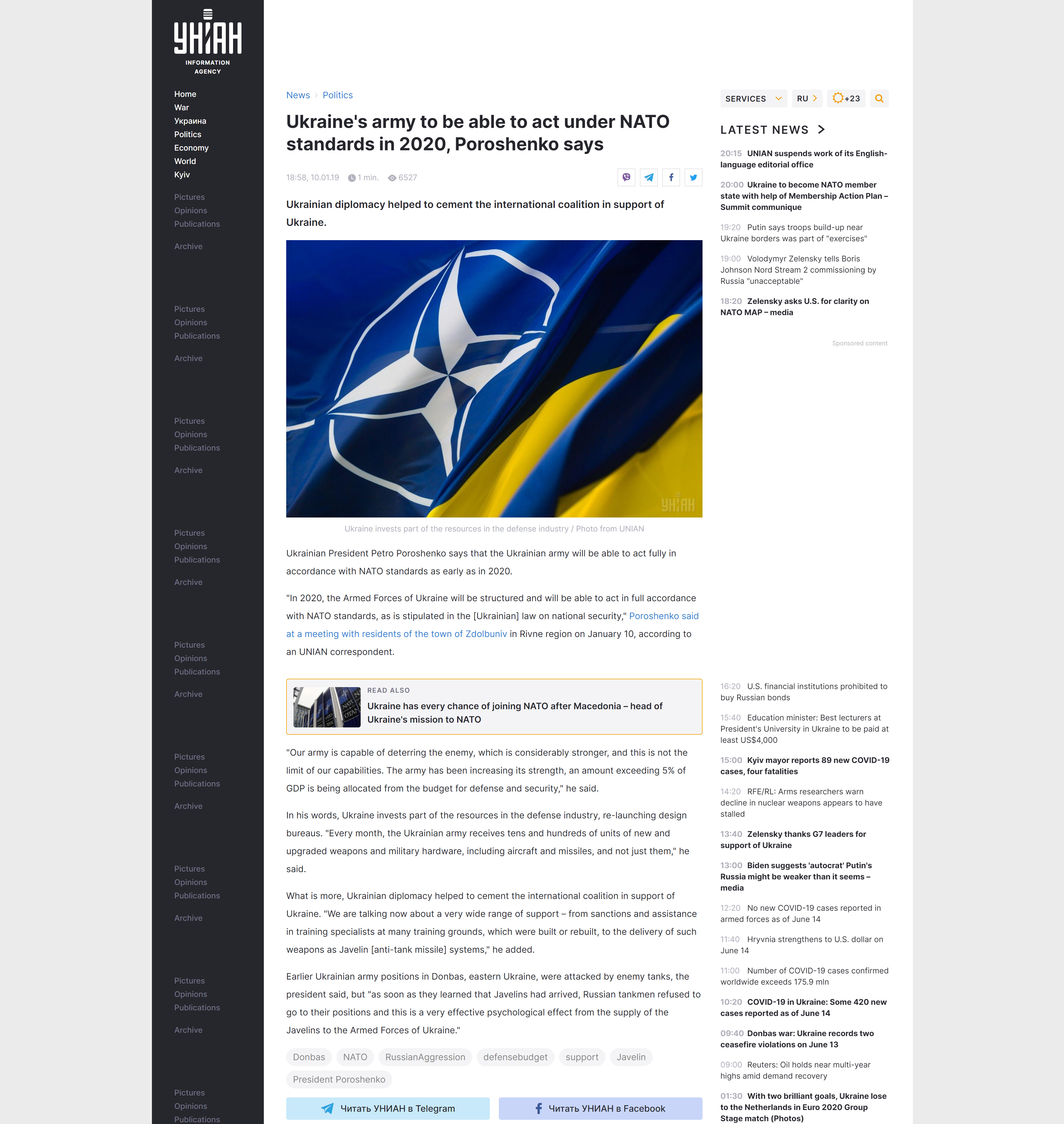 In 2020, the Atlantic Council happily told the world: 
"NATO moved to upgrade its relationship with Ukraine on June 12 by officially recognizing the country as an Enhanced Opportunities Partner. Ukraine is the sixth country to receive this status, joining Australia, Finland, Sweden, Georgia and Jordan. Being an Enhanced Opportunities Partner will bring Ukraine a number of potential benefits including improved access to interoperability programs and exercises. It also offers the prospect of greater information and experience sharing.
NATO's decision was widely toasted by Ukraine, where it was welcomed as a timely boost to the country's Euro-Atlantic integration ambitions. In a social media post, President Zelenskyy noted the practical implications of the upgrade. "Grateful to the members of the Alliance for recognizing Ukraine's significant contribution to joint peacekeeping operations in the world," Zelenskyy tweeted. "NATO's Enhanced Opportunities Partner status is a practical solution that will allow Ukraine and the Alliance to work even closer together."

All of which brings us to today, March 4, 2022.   Eight days ago, Russia had to enter Ukraine with military force to "demilitarize and de-nazify Ukraine." That alone begs the question, What was NATO doing associating itself with NAZIS?   But that's another story and I don't want to get sidetracked. 
In those short 8 days, the Russian Army has conquered almost twenty-five percent (25%) of all Ukrainian territory.  They are still on the move.
Ukrainian President Volodymir Zelensky has reportedly FLED THE COUNTRY and is allegedly hiding in the US Embassy in Poland.   His country is being systematically conquered despite his armed forces having a 7:1 advantage over the number of Russian forces that entered the country.
After a careful review of the situation, and a close look at the effectiveness of all the years of work, I am of the opinion that those "NATO Standards"  . . . suck.
I mean, C'mon.  Eight days and they've already lost a quarter of their country!   THAT is the actual reality.   THAT is what "NATO Standards" achieved against the very nation NATO was formed to defend against!
What kind of morons, nitwits, or outright dipshits, does NATO have running its show? 
Frankly, NATO looks to me like its little more than a bunch of military retards, better suited for maybe the Special Olympics.
Someone ought to replace Jens Stoltenberg's limousine to/from work with a Short Bus . . . you know the kind that "Special needs" kids get to ride on.   It would better suit him and his organization's actual skill level.  
As for the NATO Members Estonia, Latvia and Lithuania, they have got to be shitting in their pants over what is taking place.  Ukraine is very much bigger than each of those Baltic states.   It wouldn't be nearly as difficult to take any of them as it is for Russia to take Ukraine.
If I were in the leadership of Estonia, Latvia, or Lithuania, I would approach Russia NOW to inquire as to what Security Guarantees would make Russia feel safe, and then implement those guarantees.   It will probably be very simple:  Withdraw from NATO.  Inform NATO that it was really great having you folks here, but it's time to go, and give NATO a reasonable amount of time to withdraw their troops, weapons and missiles.  
Better it be done that way, than to possibly have Russia knock on your front door and tell you "Either you get rid of NATO, or you get what Ukraine just got."
If I were in Latvia, Lithuania or Estonia, given the performance of the Ukraine Army under it's five+ years of "NATO Standards" I wouldn't put any faith at all in NATO being able to defend the country.   And It seems to me to be far more logical to act now to preserve peace, than to wait and have the Russian Army come knocking at your door.
As we're all seeing right now, NATO Standards just don't make it against the Russian Army.   Maybe NATO should adopt a more accurate marketing slogan?  I suggest   "NATO - The Special Olympics of Military Might"