Heavy artillery fire from the Ukrainian Army is rained down on Luhansk, Ukraine, late Friday evening as the army attempted to conquer the breakaway state.
Numerous civilian buildings have been hit.  Numerous civilians have been injured or killed.
Luhansk state militia returned fire.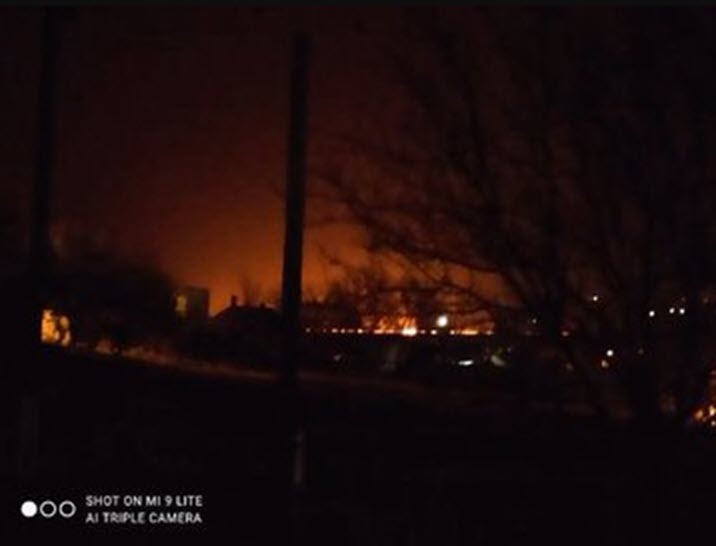 More details as they become available. . . .
UPDATE 8:27 PM EDT --
Huge explosions in the area of the capital school №50 (Malaya Vergunki district) MLRS also being used by Ukrainian military, Donetsk forces front lines are being struck.
Heavy fighting reported near Horlivka in the Donbass region.
Ukraine using "Bayraktars TB2" Turkish Drones in Donbass.
UPDATE 8:35 PM EDT --
Reports of the heaviest exchange of bombing in eastern Ukraine on the border with Russia, in Lugansk, with the use of heavy weapons and rocket launchers.
UP-TO-THE-MINUTE UPDATES on the Hal Turner Radio Show airing from 9:00-10:00 eastern US time (GMT 0200-0300) Monday-Friday
Readers can tune-in free, on radio and here on the net, as follows:
WBCQ  (Global, High-Frequency shortwave) 7.490  or 6.160 MHz
WRMI (Global, High-Frequency shortwave)  5.950 MHz
KYAH 540-AM Utah
LISTEN LIVE ONLINE via Internet: http://stream.halturnerradioshow.com:8000/    (NOTE: This link DOES NOT GO ACTIVE until about one hour before the start of the show.  During that hour, it carries commercial-free music until the show begins)
Listen-By-Phone: 351-999-5116