When a situation began this morning around 11:45 AM EDT, with FACEBOOK, WHATSAPP, and INSTAGRAM being down, we joked that kids all over the world would be quivering in horror without social media.  As of 5:13 PM EST - we have now found this is allegedly PLANNED SHUTDOWN OF THE ENTIRE INTERNET.
Earlier today, we reported in this story:
"If you see people on the streets smashing their cell phones, screaming in a deranged manner, or just laying on the ground quivering, it's just that Facebook, WhatsApp and Instagram have been down, worldwide, for almost three hours so far.
Reports are coming in from all over the globe claiming young people are screaming at their phones on the streets, some pounding the phones against walls, or stomping them on sidewalks.  Other reports claim young people are falling down in lumps of quivering flesh, unable to function as human beings because their social media apps are all offline.
Facebook and its Instagram and WhatsApp platforms were down in most parts of the world on Monday.
The company said it was "aware that some people are having trouble accessing Facebook app" and it was working on restoring access.
The company did not say what might be causing the outage, which began around 11:45 a.m. It is normal for websites and apps to suffer outages, though one on a global scale is rare. Users reported being unable to access Facebook in California, New York and Europe.
Facebook is going through a major crisis after the whistleblower who was the source of The Wall Street Journal's series of stories exposing the company's awareness of internal research into the negative effects of its products and decisions went public on "60 Minutes" on Sunday.
Frances Haugen was identified in a "60 Minutes" interview Sunday as the woman who anonymously filed complaints with federal law enforcement that the company's own research shows how it magnifies hate and misinformation, leads to increased polarization and that Instagram, specifically, can harm teenage girls' mental health.
The Journal's stories, called "The Facebook Files," painted a picture of a company focused on growth and its own interests instead of the public good. Facebook has tried to play down the research. Nick Clegg, Clegg, the company's vice president of policy and public affairs, wrote to Facebook employees in a memo Friday that "social media has had a big impact on society in recent years, and Facebook is often a place where much of this debate plays out."
UPDATE 3:08 PM EDT --
Reports now coming in claiming TikTok is also now offline.
Elsewhere, VERIZON, AT&T, and T-Mobile are all allegedly suffering "massive" cellular system outages at this hour as well.
UPDATE 3:48 PM EDT --
Now Twitter is starting to see skyrocketing outage reports as well. . .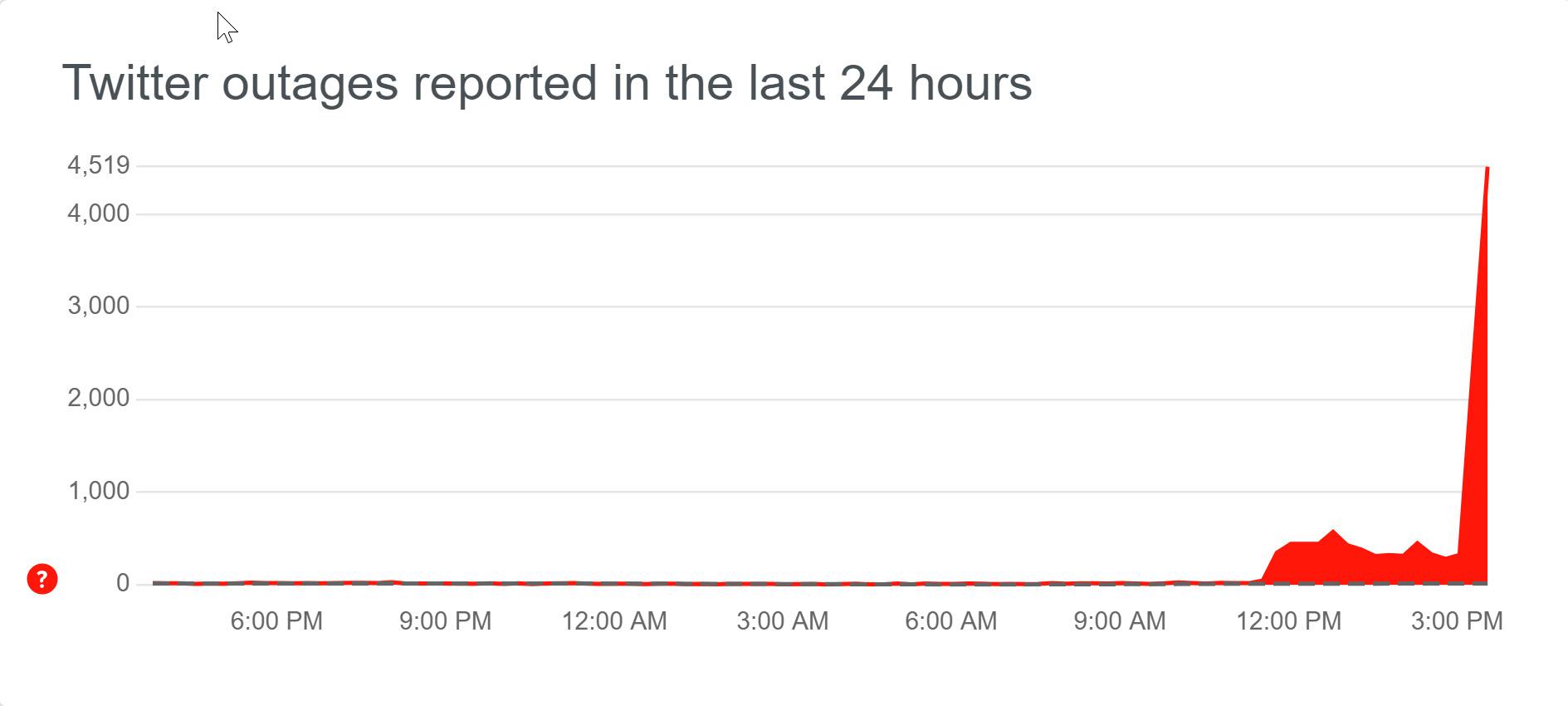 UPDATE 4:41 PM EDT --
The DNS records that tell systems how to find http://Facebook.com or http://Instagram.com got withdrawn this morning from the global routing tables. Can you imagine working at FB right now, when your email no longer works & all your internal FB-based tools fail?
FLASH TRAFFIC 5:13 PM EDT --
Moments ago, we were able to retrieve a message that had been posted at 8:47 AM PACIFIC (California) Time, which translates to 11:47 AM Eastern (New York City) time.   That message has been screen-shot and appears below: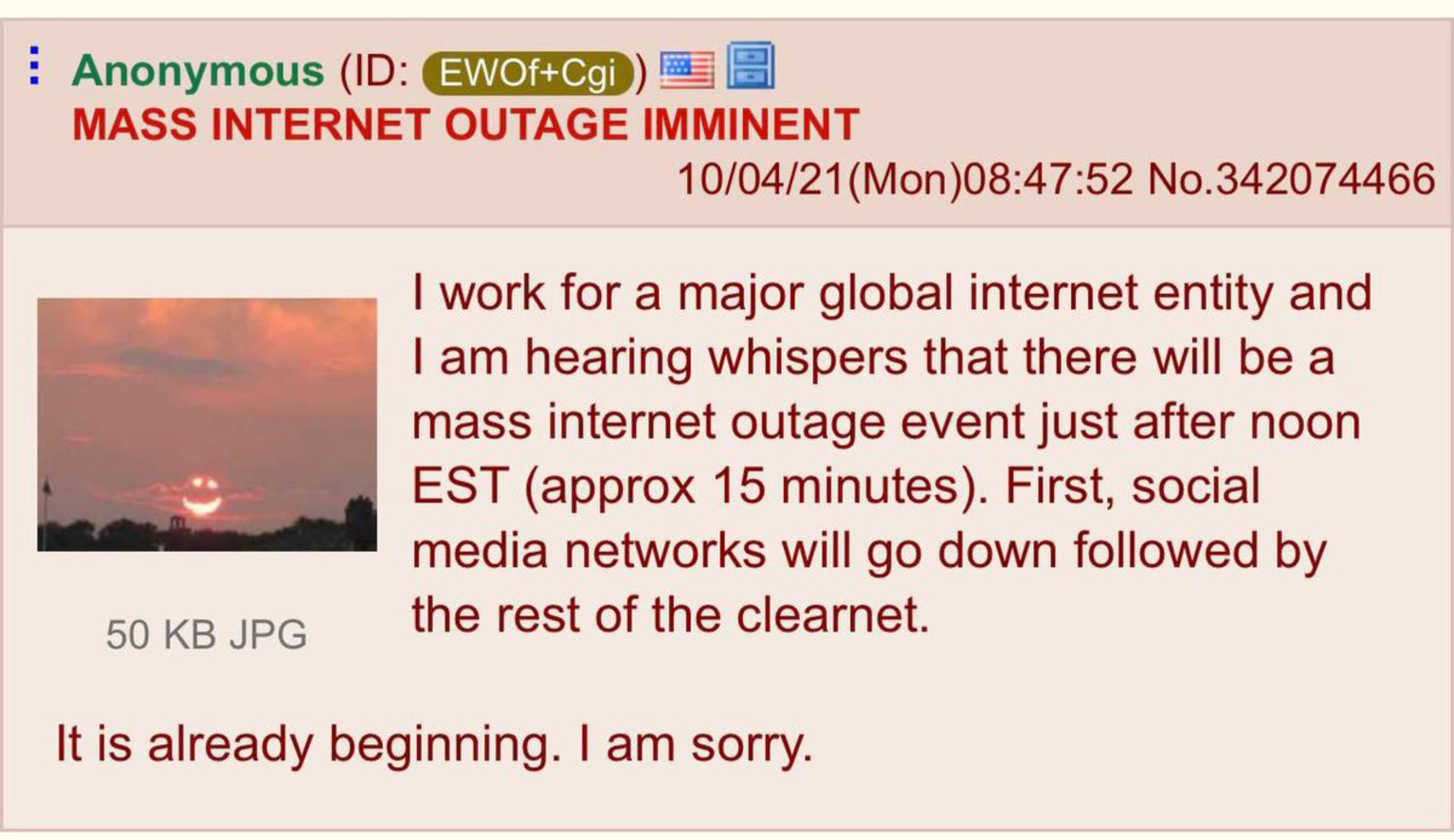 No one could have known at that time, that ALL SOCIAL MEDIA would end up going offline, or that the rest of the Internet would too.  Yet that is precisely what the message above warned AS IT BEGAN, and precisely what we now see taking place as massive segments of the World Wide Web are, in fact, going offline.
The posting of the message above, on one of the "chan" boards seems legit.  Those are the only places on the Internet where users can post in complete anonymity because the "chan" message systems intentionally strip IP address info before the post get published, so its origin CANNOT be traced.
It now seems that what's taking place all over the Internet may have been PLANNED and is being done deliberately.
Get money from the bank while ATM's are still functional.  If the net is taken down, ATM's and credit/debit cards won't work.  Cash will be king.  No cash, no nothing!
Gas-up your vehicles while gas pump card readers still work!  Get whatever food or supplies you may know you need.  Right now.