A Muslim is clearly seen on TV video in an area of the Cathedral of Notre Dame that he should NOT have been in, as the fire broke out.  It now seems the destruction of the 850 year old Cathedral was Islamic warfare.  It's time to fight back. 
Why was this Muslim where he was at the Cathedral of Notre Dame, as the fire began?
Was he setting MORE fire?
NEW YORK CITY
This past Sunday, a fire at the Cathedral of St. John the Divine in Manhattan also took place: WPIX-TV, New York
In May of 2016, also in New York City, the Serbian Orthodox Cathedral of Saint Sava was utterly demolished by fire in Manhattan's Flatiron District at Easter . . . 
Three other Orthodox cathedrals burned the exact same day around the world -- one in Russia, two in Australia -- but police said there's no evidence they are linked.  WNBC-TV, New York
PHILADELPHIA
Just two weeks ago in Philadelphia on March 29,  over 100 firefighters battled a massive multi-alarm fire at a North Philadelphia church  that caused dozens to evacuate the area.
Fifty trucks and 120 firefighters are working to contain the blaze at the Original Apostolic Faith Church of the Lord Jesus Christ on the 1500 block of North Broad Street, between Jefferson and Oxford. CBS-3-TV, Philadelphia
WEST VIRGINIA
Also last month, a massive fire nearly destroyed a West Virginia church in the middle of the night, but firefighters made a discovery when digging through the rubble the next morning that some are calling miraculous.  
Around 1 a.m. Sunday, the Coal City Fire Department was dispatched to assist in a fire at Freedom Ministries Church in Grandview, West Virginia. The volunteer firefighters say though the odds were against them, God was not.
"Picture this, a building so hot that at one point in time, firefighters had to back out," the fire department wrote on Facebook. "In your mind, everything should be burned, ashes. Not a single bible was burned and not a single cross was harmed!! CBS News
CHRISTCHURCH, NEW ZEALAND
The now infamous "New Zealand Shooter" who killed 50 in a Mosque attack, was allegedly ticked-off over Muslims burning churches in New Zealand . . .
MILWAUKEE, WISCONSIN
The Trinity Lutheran Church burned down in May 2018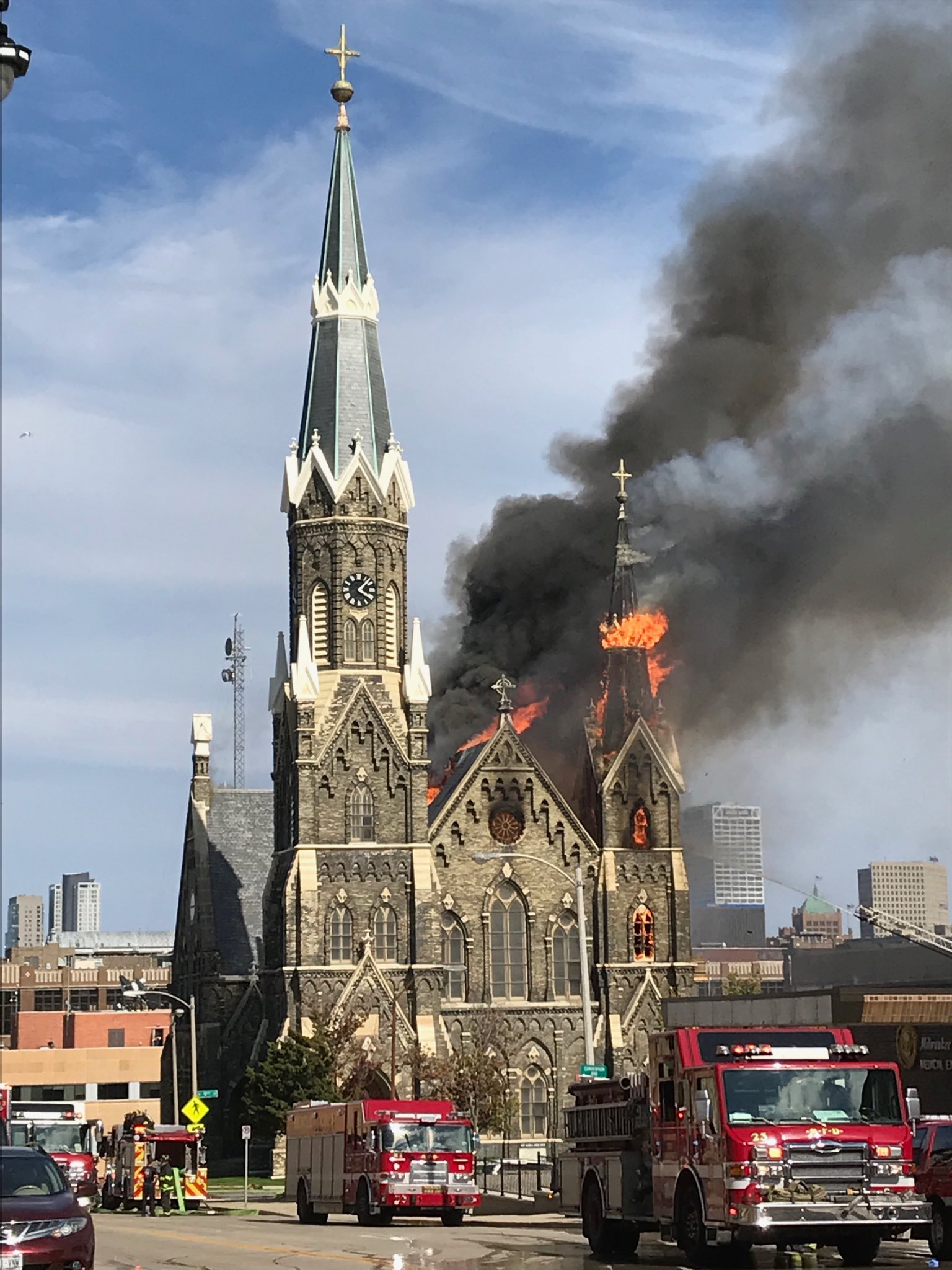 Trinity Evangelical Lutheran Church, the oldest Lutheran church in Milwaukee and the second-oldest Missouri Synod Congregation in Wisconsin, was reduced to a shell after being engulfed by flames Tuesday afternoon.
LOUISIANA
In Bossier City, early in the morning on December 10, flames ripped through First Bossier Church, destroying the old sanctuary, and engulfing an iconic Bossier City institution.
FRANCE
On January 10, 2019 an altar of the 16th century completely burned, consecrated hosts thrown on the ground, the Child Jesus of the nativity was stolen leaving a landscape of desolation in the church Saint-Louis in Fontainebleau.
According to LaParisien newspaper: Fontainebleau, this Sunday. St. Joseph's Chapel is one of three places that were intentionally burned by the perpetrators. (LP / Marine Legrand.) 
 
Several acts of profanation and vandalism have been committed: "the statue of Our Lady of Franchard, which dates from the fourteenth century, has disappeared, been burned or stolen . . . LaParisien Newspaper
MORE
In November last year, two Muslim women wearing Hijab's were arrested for trying to set a church on fire.  Only ONE tiny newspaper story in France covered the news with a tiny print article, no Internet coverage: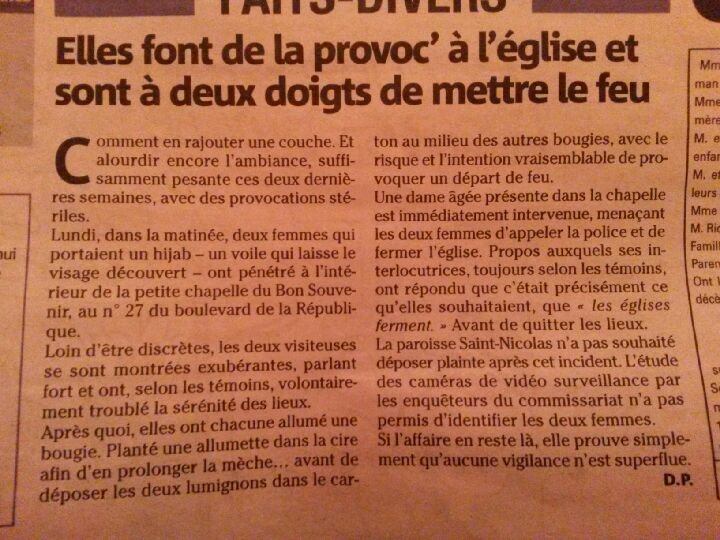 NEWSWEEK REPORTS
France has seen a spate of attacks against Catholic churches since the start of the year, vandalism that has included arson and desecration.
Vandals have smashed statues, knocked down tabernacles, scattered or destroyed the Eucharist and torn down crosses, sparking fears of a rise in anti-Catholic sentiment in the country.
Last Sunday, the historic Church of St. Sulpice in Paris was set on fire just after midday mass on Sunday,  Le Parisien reported, although no one was injured. Police are still investigating the attack, which firefighters have confidently attributed to arson.
Built in the 17th century, St. Sulpice houses three works by the Romantic painter Eugene de la Croix, and was used in the movie adaptation of The Da Vinci Code, by Dan Brown.  
Last month, at the St. Nicholas Catholic Church in Houilles, in north-central France, a statue of the Virgin Mary was found smashed, and the altar cross had been thrown on the ground, according to  La Croix International, a Catholic publication.
Also in February, at Saint-Alain Cathedral in Lavaur, in south-central France, an altar cloth was burned and crosses and statues of saints were smashed. The attack prompted Lavaur Mayor Bernard Canyon to say in a statement: "God will forgive. Not me."
And in the southern city of Nimes, near the Spanish border, vandals looted the altar of the church of Notre-Dame des Enfants (Our Lady of the Children) and smeared a cross with human excrement.  NEWSWEEK
. . . AND THIS FROM RT
Catholic churches in France are being targeted with arson attacks, vandalism, desecration of holy statues, and the destruction of the Eucharist. The attacks have been happening since the start of the year.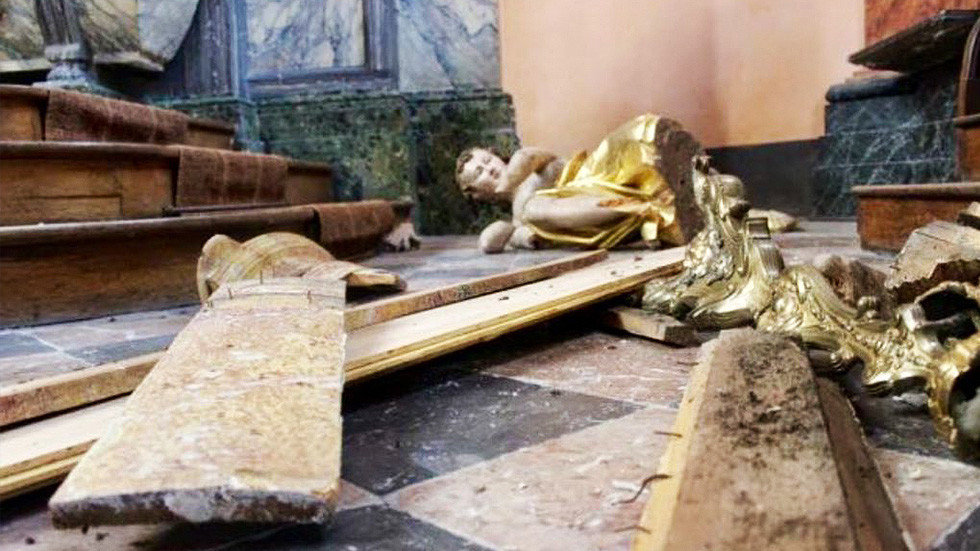 The Cardinal tweeted the following:
Les actes de profanation et de vandalisme dans les églises sont toujours hautement condamnables. Ils sont le triste reflet d'une civilisation malade qui se laisse emporter dans les filets du mal. Les évêques, les prêtres, les fidèles doivent garder la force et le courage. +RS pic.twitter.com/ePcX5KdKma

— Cardinal R. Sarah (@Card_R_Sarah) February 10, 2019
VOICE OF EUROPE REPORTS
A church in Orleans was set on fire on 25 July. Police discovered the words "Allahu Akbar" spray painted on a wall, 20minutes France reports.
On Wednesday night The Saint-Pierre du Matroi church in Orleans was set on fire with "criminal intent", according to police sources.
Furniture and sheet music were burned and the heinous graffiti found. One of which said "Allahu Akbar". Fortunately the fire was extinguished quickly by firemen and it didn't burn the church's supporting structure.
NOT JUST ARSON - MURDER
This isn't the first attack on a French church. On 26 July 2016, two Islamist terrorists attacked participants in a Mass at a Catholic church in Normandy, France. The men killed the 85-year-old priest Jacques Hamel, by slitting his throat, and also critically wounded an 86-year-old man.
An attempt to replicate this crime also took place four weeks ago in Montreal, Quebec, CANADA, as CNN reports:
While shocked parishioners and a television audience watched, a man stabbed the elderly rector of St. Joseph's Oratory at Mount Royal, Canada's biggest church, as he led Mass on Friday morning, Montreal police said.
 PHILIPPINES
Time Magazine reports "Islamic State Claims Responsibility for the Philippines Church Bombings That Killed at Least 20 People"
The Islamic State has claimed responsibility for the Sunday church bombings on a southern island in the Philippines that killed at least 20 people, the deadliest attack in the restive region in years.
In a post in the Islamic State's Amaq news agency, the militant group took responsibility for the attack, but did not provide evidence for the claim.
A spokesperson for Philippine President Rodrigo Duterte vowed to "crush" the culprits behind the attack, which also wounded more than 100 people.
Returning to France: 
"Macron's France: Average of Three Church Attacks Per Day," by Chris Tomlinson, Breitbart, March 30, 2019 
French churches are coming increasingly under attack with an average of nearly three churches per day targeted for vandalism alone over the past three years.

A report from the Central Criminal Intelligence Service (SCRC) of the gendarmerie noted that from 2016 to 2018 there had been thousands of cases of church vandalism, peaking in 2017 with 1,045 cases, Le Figaro reports.

According to the French Ministry of the Interior, when cemeteries and other sites are taken into consideration, the number of acts of vandalism rose to 1,063 in 2018.

Earlier this year, in one week alone France saw twelve churches vandalized, including attackers attempting to set fire to the church of Saint-Sulpice in Paris.

In Nimes, an even more heinous attack occurred, with vandals smearing feces on the wall of the church of Notre-Dame des Enfants and stealing objects from the altar.

In March, the over 800-year-old Basilica of Saint-Denis in the now heavily migrant-populated suburbs of Paris was also vandalized, with the basilica's organ being heavily damaged and stained glass windows were broken….

 
LAST NIGHT - SOUTH CAROLINA
A South Carolina church had three of its 125-year-old windows broken and was vandalized with Islamic-themed graffiti Sunday hours after celebrating Palm Sunday.
"Submit to God thru Islam" and "Muhammed is his prophet" were spray-painted on the outside of Midway Presbyterian Church, according to local police.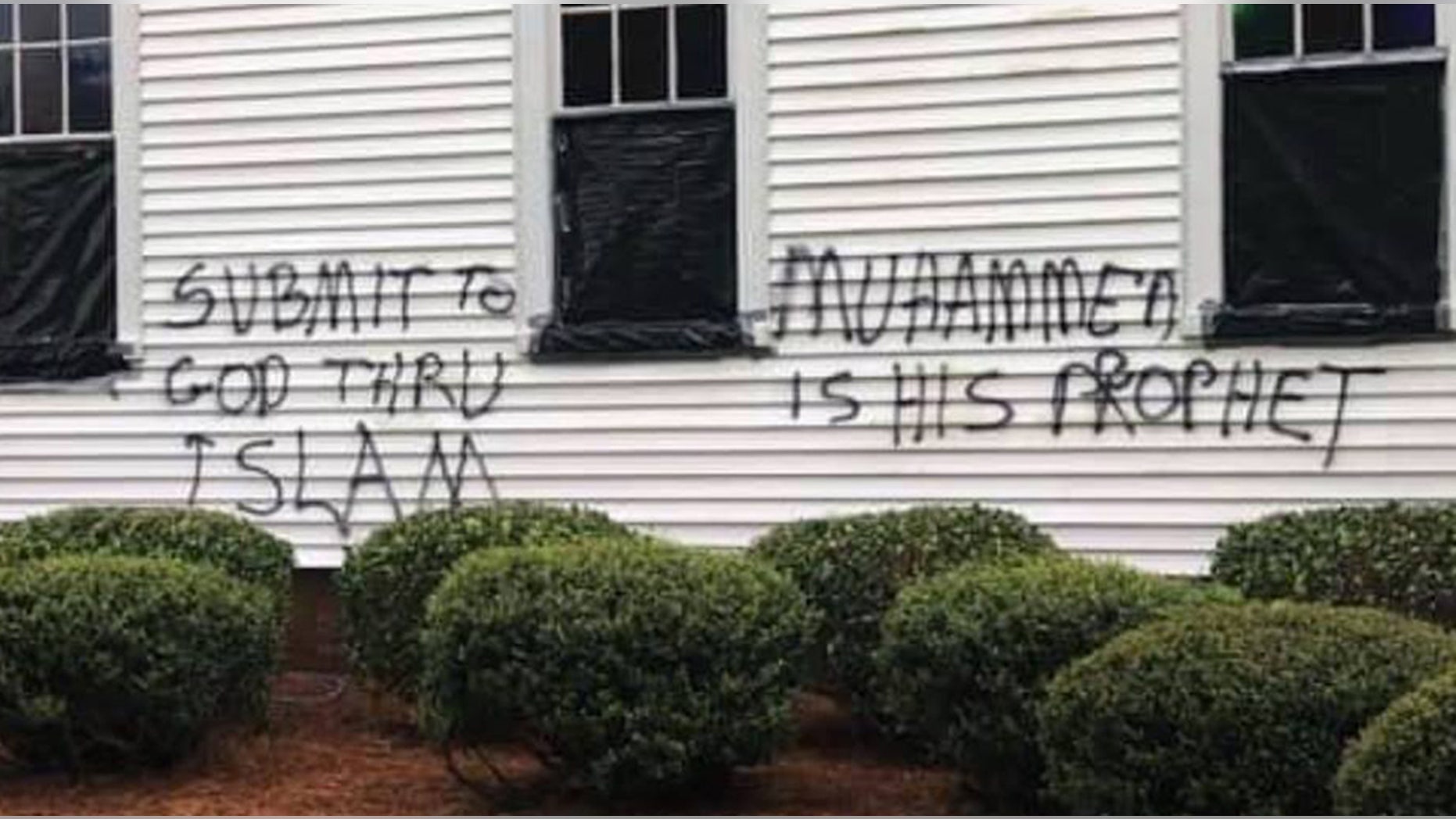 FOX NEWS reports the Andersen, SC Police ask "Anyone with information regarding the individuals who vandalized Midway Presbyterian Church on Midway Road can notify the Anderson County Sheriff's Office at 260-4400, via Facebook or can call Crime Stoppers at 1-888-CRIME-SC.
Hal Turner Commentary
Christianity - and the Catholic Church in particular, is under actual attack.
The Crusades happened for a reason.   Muslims attacked, and attacked, and attacked until finally, after several hundred years and hundreds-of-thousands killed, Christians struck back and kicked their collective ass.
It seems to me that the West is once again at war with Islam...  or perhaps that war never ended and is just getting worse now?
Since they began infiltrating our country and our government, their plan has moved forward very rapidly. There was never a time Islam was not the enemy of the USA, and of every country of "infidels". 

Muslims intend to take over the US by 2020, and they are making tremendous progress. Won't be late by much, unless we act.
Since members of CAIR are advisers to our highest office, and some of them state they are jihadis, and since we have them elected to Congress and in every other sort of elected office throughout the land - well - again? No, never stopped.
However, we do nothing. We just sit back, fat, dumb and happy, and do nothing. We are handing our lives to them, along with our country, as the next step or two is to force each of us, instantaneously, to swear allegiance to Islam, pay jizya, or be killed. Right then and there.
Thus they make this an entirely Muslim country, all theirs. Every blade of grass, every home, every Christian burial plot, every wave of grain and growth of tree and whitecap - all Islamic under Sharia law.

So we type, endlessly, about this, while it happens and happens.
Wait, just a second.   You know, I would hardly call it war.

In a war the two sides are fighting each other. Here the only thing I see are Muslims attacking Christians with the media and rulers of the Western world telling us it's not the whole religion; it's just a small group of bad people.   Justification.  Excuses.  We're told don't fight back.  
The video at the top of this story says everything that I think needs to be said about how the fire started at the Cathedral of Notre Dame.
The war which begot the Crusades is still going on. We are asleep. They are using our laws and the liberal people against us to have their way. We must fight back or all will be lost.
Islam started the war which begot the Crusades.
Catholics/Christians finished it.
Maybe Christians shouldn't make the same mistake of waiting several hundred years before putting a stop to this Islamic warfare, this time?   
NOTE: This will be a topic of discussion on this week's Hal Turner Radio Show on Wednesday evening from 9:00-11:00 PM eastern US time on global radio stations WBCQ 7.490 and 5.130 Shortwave, and WRMI 9.455 Shortwave, as well as on US AM Radio station KYAH 540-AM. You can also tune-in here on the net as the show airs by clicking the LISTEN ONLINE link in the menu above.  Those links become active about one hour before the show begins and stream commercial free music until the show starts. Callers from around the world can call-in at 1-201-771-3013 to have their say.  DURING THAT SHOW, I WILL ASK THE AUDIENCE IF THEY THINK T IS TIME TO START BURNING MUSLIM MOSQUES TO THE GROUND IN RETALIATION FOR WHAT MUSLIMS SEEM TO BE DOING? There is NO CENSORSHIP on this radio show.  Calls are NOT pre-screened for content.  ALL viewpoints get aired.  We may fight like hell over your viewpoint, but you WILL get aired!
This radio show and web site exists thanks to folks who appreciate REAL news and BLUNT commentary, who Subscribe for $1 a week, billed Quarterly ($13) HERE, or at $5 a Month HERE.   If you appreciate REAL news and REAL free speech, please subscribe.  You won't miss $1 a week, but it means all the difference to the existence of this web site. If subscribing is NOT FOR YOU, then how about throwing a couple bucks my way, with a one-time Donation, HERE  -- I need the help!