Panic and Chaos have erupted in Kashmir and even in the India capital, New Dehli, as the public is told of WAR preps.  MAJOR movements of troops, armor, and artillery are taking place. "Short-Notice-Evacuation" plans have been issued to the public.  Food is being distributed in advance of planned warfare and fuel is now being rationed to the public to supply military and police.  Hospitals have been told to prepare and set aside 25% of beds for wounded soldiers!
Social media is outlining the "panic and chaos:"
Streets are filled with mass hysteria and there is fear and chaos everywhere. People are collecting all essential amenities and avoiding any movement. The situation is like doomsday.
As New Delhi is up to something very terrible, Kashmir is calling for a solution with peace. https://t.co/oK5Fh891Th

— kabir کبیر (@kabwrites) February 23, 2019
On February 14, a designated Terrorist group known as "Jaish-e-Mohammad" perpetrated a massive terror attack in Pulwama, India.   The attack killed 40 officers from India's Central Reserve Police Force (CRPF). 
That terrorist group has free run inside Pakistan, and India says that Pakistan uses the group to advance state interests; making the attack in Pulwara "state-sponsored terrorism."
THE HISTORY
Control of the geographic area has long been in dispute, and has been the location of numerous border battles and even two full scale wars between India and Pakistan.
Here is a localized map (click to enlarge) to help readers understand the layout:
The area within the RED BORDER LINE shows what India claims as it's state called Jammu and Kashmir.
After war in 1965, Pakistan claimed the area shaded in Green.  India has never accepted this.
Between the green shaded area and India is a dotted "Line of Control (LoC)."  This is where both India and Pakistan have stationed significant numbers of troops . . . for decades.  The two countries almost constantly skirmish along the LoC.  Despite a cease fire being in effect, it is routinely violated by both sides; with each blaming the other as having fired first.
THE TERRORISTS
Jaish-e-Mohammed (literally "The Army of Muhammad", abbreviated as JeM) is a Pakistan-based jihadist group active in Kashmir. 
The group's primary motive is to separate Kashmir from India and merge it into Pakistan.
Since its inception in 2000, the terror group has carried out several attacks in the state of Jammu and Kashmir. It projects Kashmir as a "gateway" to the entire India, whose Muslims are also deemed to be in need of liberation.
After liberating Kashmir, it aims to carry its 'jihad' to other parts of India, with an intent to drive Hindus and other non-Muslims from the Indian subcontinent.It has carried out several attacks primarily in the Indian state of Jammu and Kashmir. It also maintained close relations with Taliban and Al-Qaeda in Afghanistan and continues to be allied to them.
Scholars state that JeM was created with the support of Pakistan's Inter-Services Intelligence (ISI), which uses it to fight in Kashmir and other places, and continues to provide it backing. The JeM has been banned in Pakistan since 2002, but resurfaced under other names. It continues to openly operate several facilities in Pakistan.
According to B. Raman, Jaish-e-Mohammed is viewed as the "deadliest" and "the principal terrorist organisation in Jammu and Kashmir." The group was responsible several terror attacks: 2001 attack on Jammu and Kashmir legislative assembly, 2001 Indian Parliament attack, 2016 Pathankot airbase attack, 2016 attack on the Indian Mission in Mazar-i-Sharif , 2016 Uri attack, and as mentioned at the start of this story, the February 2019 Pulwama attack, each of which has had strategic consequences for India–Pakistan relations. 
The group has been designated as a terrorist organization by Pakistan, Russia, Australia, Canada, India, the United Arab Emirates, the United Kingdom, the United States and the United Nations.
In 2016, Jaish was suspected of being responsible for an attack on the Pathankot airbase in India. The Indian government, and some other sources, accused Pakistan of assisting Jaish in conducting the attack. Pakistan denied assisting Jaish, and arrested several members of Jaish in connection with the attack, who were then released by the security establishment according to a report in Dawn. Pakistan called the report a "fabrication."
In February 2019, the group took responsibility for a suicide bombing attack on a security convoy in the Pulwama district that killed over 40 security personnel, named as one of the largest attacks in recent years.  It is THIS attack, that has set in-motion, the events being reported in this news story.
POST ATTACK DEVELOPMENTS
In the ten days or so since the attack upon Pulwama, the Indian government has come to realize the only way to properly (and finally) address this entire, decades-old situation, is to unambiguously settle the affair.  To most observers, this means, force; on a scale of war.
The actions of the India government lend credence to the belief they have decided upon that course of action.  Here is what India is doing:
The Indian Army has told civilians living near Line of Control (LOC), Nowshera Sector, in Kashmir to get ready for evacuation
A huge convoy of buses and trucks outside Srinagar's Police Control Room in Kashmir. Many were brought in by the Indian forces specially from Anantnag. This activity isn't normal.
India ordered 10,000 more armed police deployed into Kashmir from around India.
Indian government has put civil departments, specially the health and food departments, on notice.  The health Department alert to stock-up on all medicines appears below: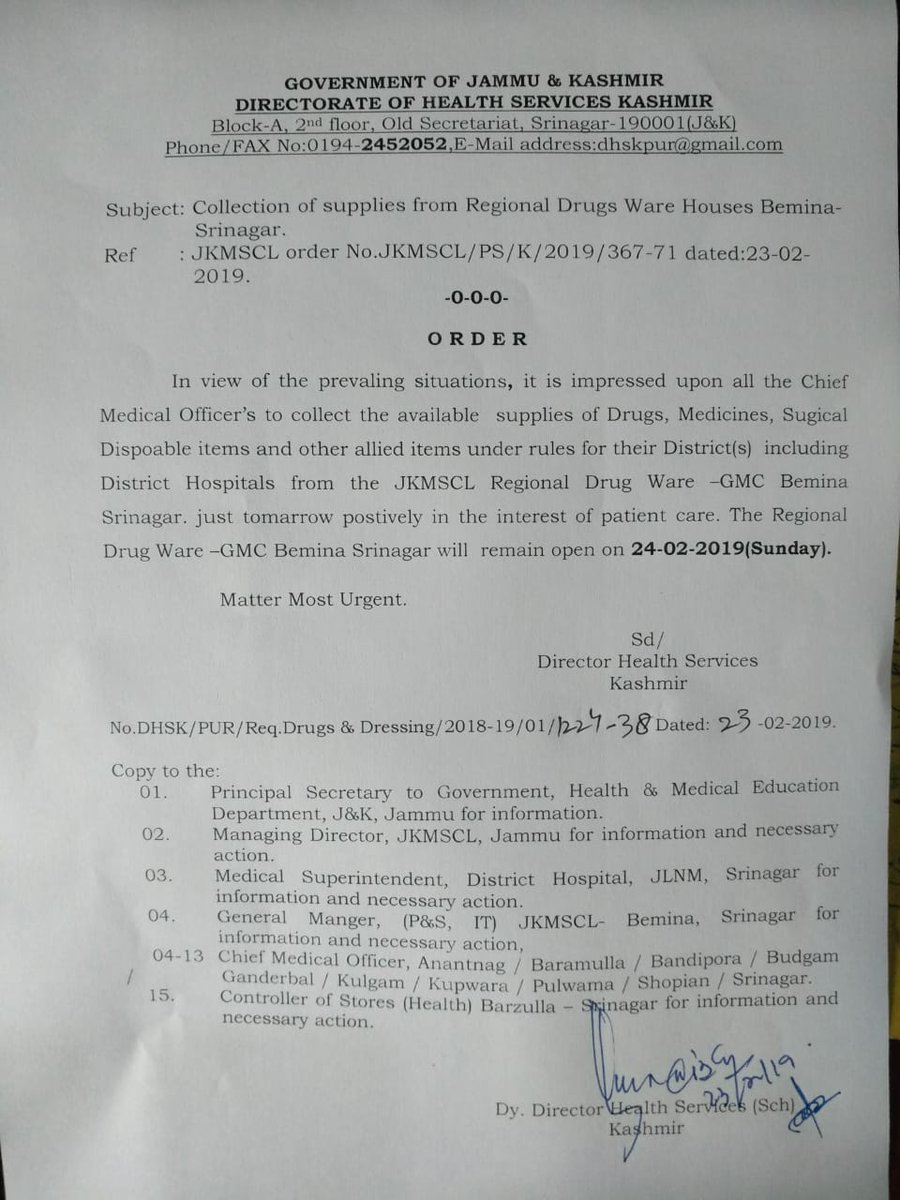 What's even MORE worrying is what India is doing with FOOD SUPPLIES.  They have ordered the IMMEDIATE (i.e TODAY) distribution of ALL food stored in warehouses, to ALL merchants, and ORDERED all Merchants to be available 24 Hours to receive food deliveries so the populace has food once . . . . well . . . you know . . .  That ORDER appears below: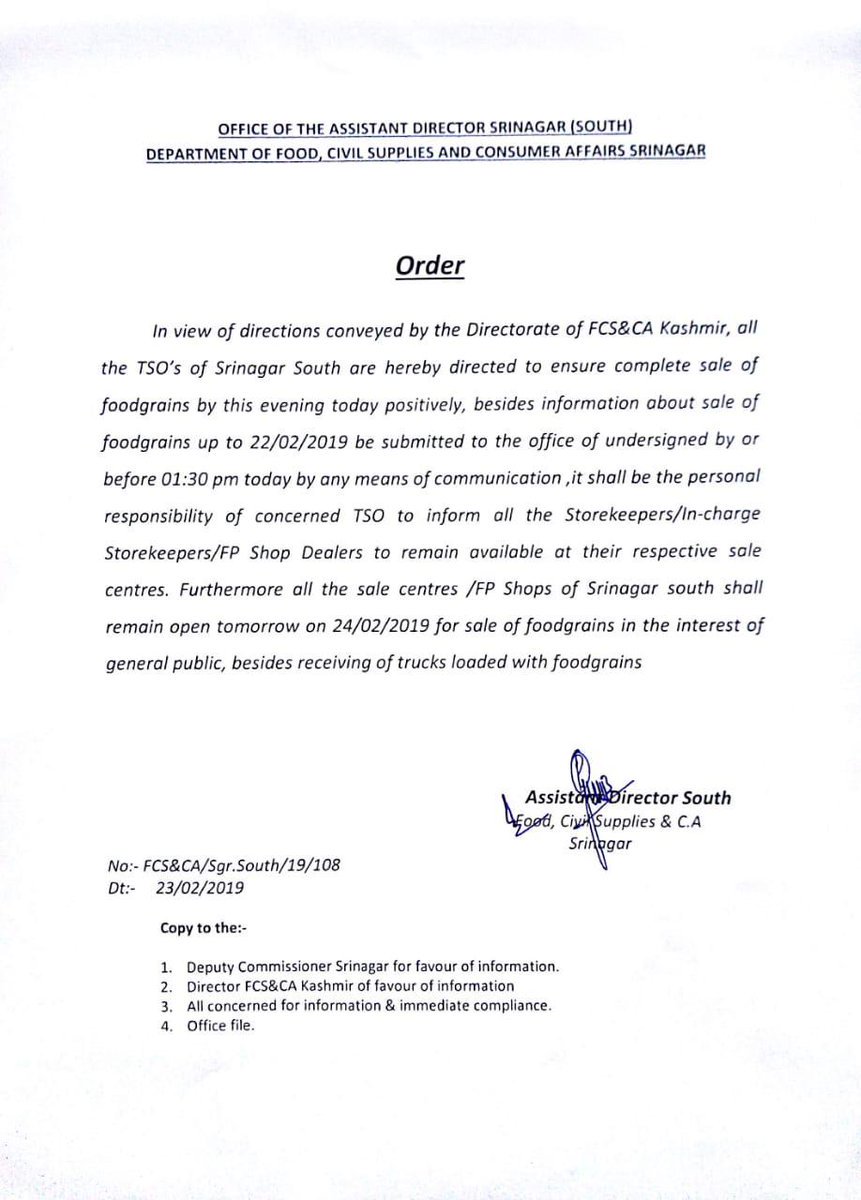 In this additional ORDER, local Police are being told which "static" operations will now be handled by Military troops: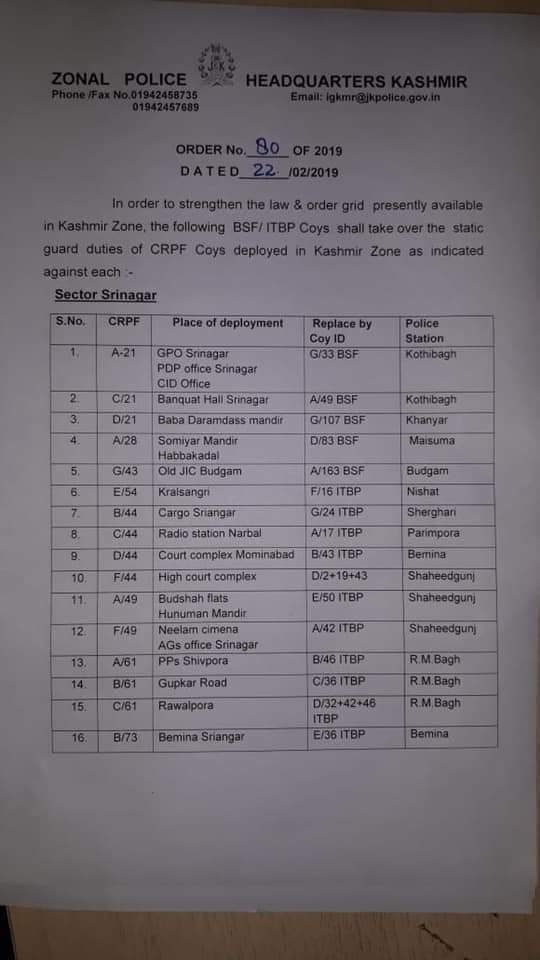 Fuel Rationing to assure ample supply for military and police, was implemented TODAY.  The order appears below: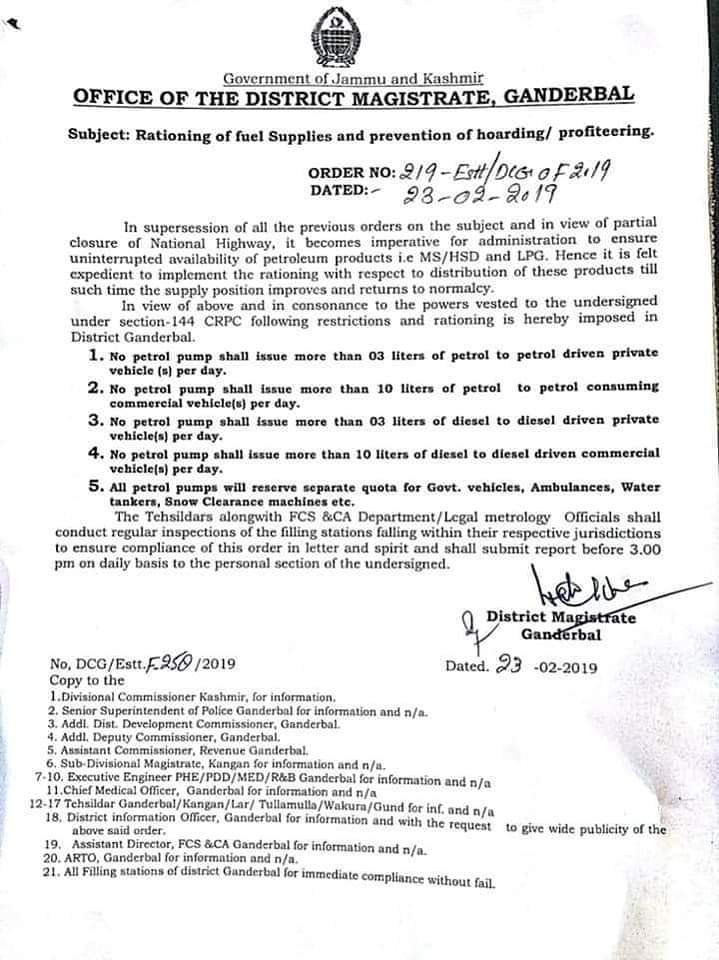 What makes this very unusual is that there is not any shortage of fuel or oil, anywhere in all of India.  The fact that RATIONING has been ordered, indicates the government knows its fuel needs are about to suddenly skyrocket.  War.
The Rationing Order has already caused enormous gas lines in the civilian population. Pictures below show the story: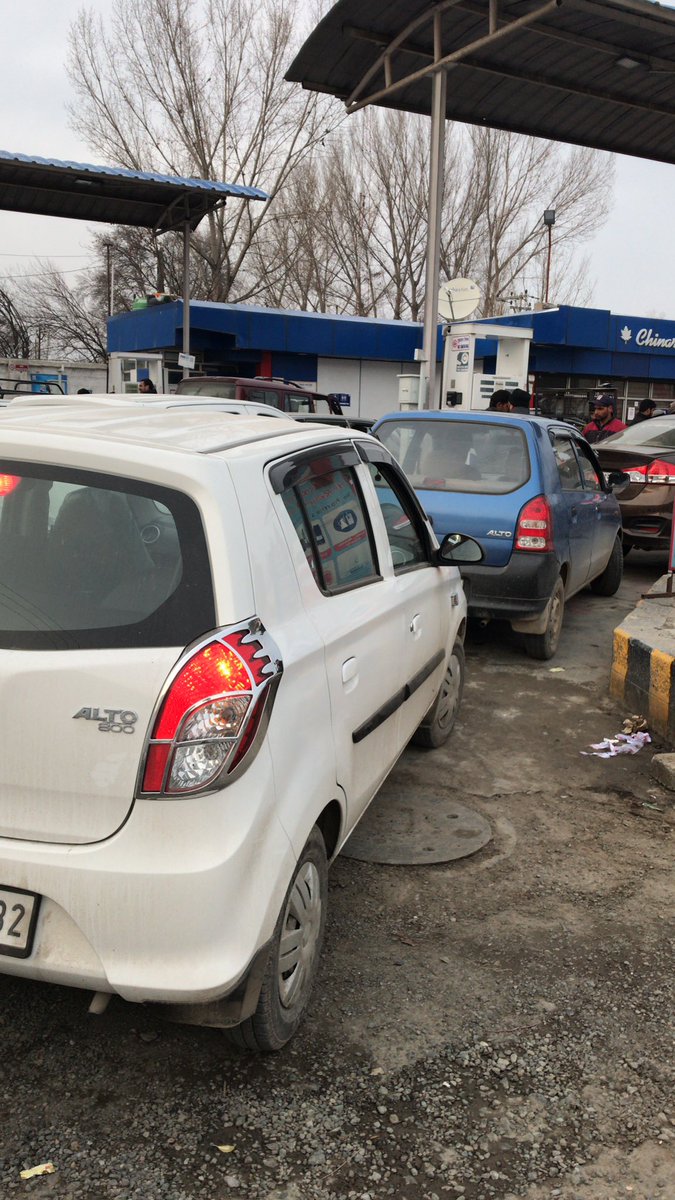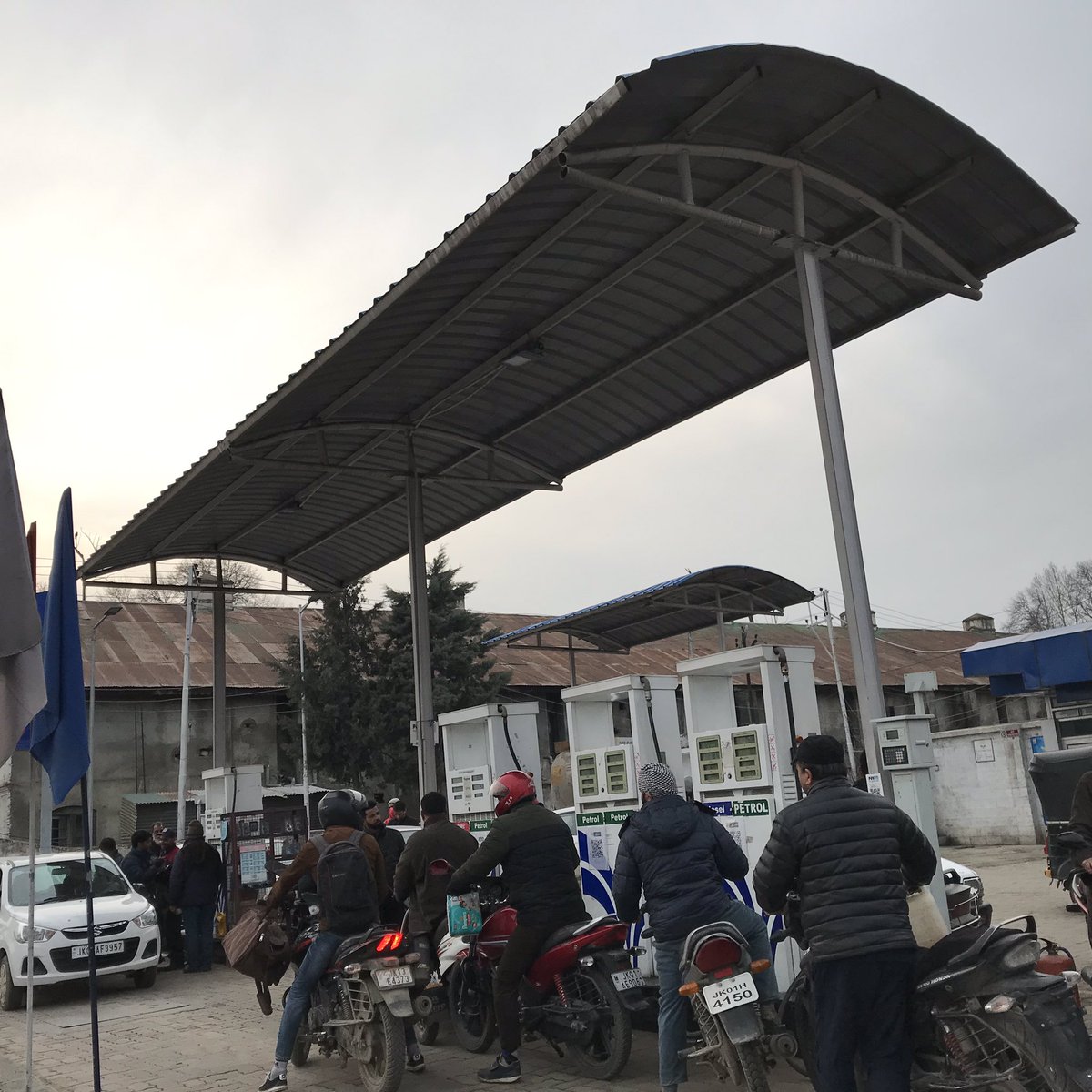 Worried about Pakistan-allied-militants in the area, Police today were ORDERED to deal with civil unrest is an unusual manner.  Here's the ORDER: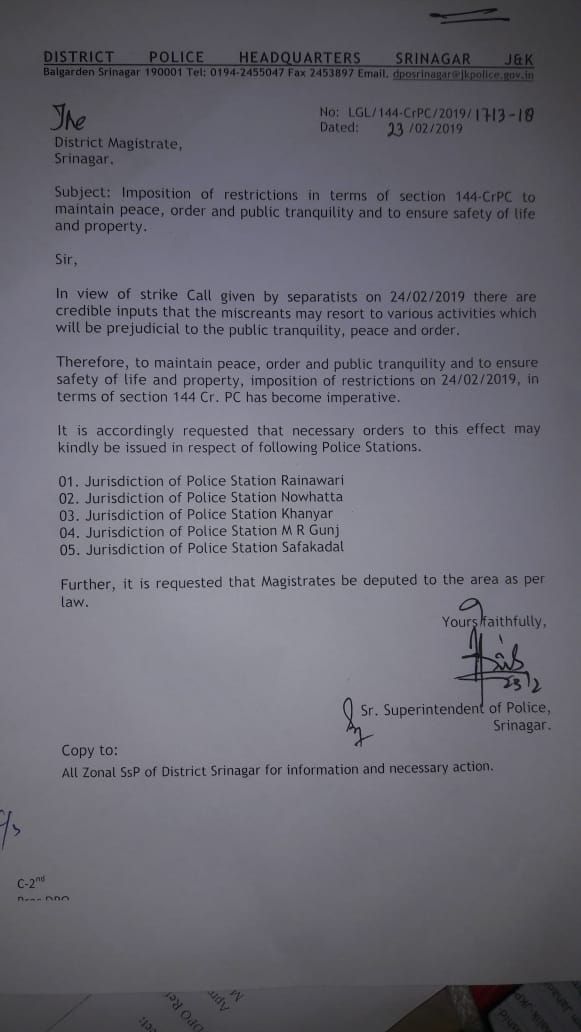 Similarly, the actions of Pakistan lend credence to the belief they are prepared to fight it out in another war with India.
Pakistani military has decided to move troops from the western border to the eastern border in anticipation of a serious outbreak of conflict with India.
Massive trainloads of tanks, self-propelled artillery and other military weapons system are, right now, moving throughout Pakistan  toward the border with India.  Here is a photo of one such tank train from earlier today, with video below it:
Pakistan has set up a "Crisis Management Cell" in the wake of the simmering Indo-Pak tension following the February 14 Pulwama terror attack by Pakistan-based Jaish-e-Mohammed that killed 40 CRPF personnel, according to a media report on Saturday.
The cell will keep all stakeholders updated over border situation and diplomatic contacts, Foreign Office spokesperson Muhammad Faisal was quoted as saying by The Express Tribune.
UPDATE 8:30 PM EST FEB. 23 --
Pakistani forces opened fire with their weapons in the wee hours of Sunday. (Pakistan is TEN HOURS AHEAD of the US East Coast) The ceasefire violation took place in Nowshera in Rajouri District in Jammu and Kashmir. Indian forces swung into action and retaliated swiftly.
Ceasefire violations have continued on the LoC after Pulwama terror attack that took place on February 14. 40 CRPF jawans had lost their lives after an explosive-laden vehicle was rammed on a bus in the convoy.
On February 21, Pakistan violated ceasefire in the Poonch sector of Jammu and Kashmir.
Nowshera sector had witnessed another ceasefire violation when Pakistani forces targeted forward posts of Indian Army. One Indian soldier was injured in the firing.
Pakistan is increasingly being cornered internationally after Jaish-e-Mohammad hand in Pulwama terror attack came in light. Jaish terrorists including founder Masood Azhar enjoy free reign in Pakistan.
Even US President Donald Trump has said that "Pakistan was taking very strong advantage" of USA's help to the country in the past. He also said that "India is looking at something very strong" hinting his support to the hardened Indian stand in the aftermath of Pulwama terror attack.
US president @realDonaldTrump talks about Pakistan, India and #Kashmir #PulwamaAttack

"Very, very bad situation between India and Pakistan: It's very dangerous." pic.twitter.com/JYVQEsVPtY

— Madiha (@Madikashpak) February 23, 2019
However, the Pakistani stance has been to blame India, as it has been a usual practice.
NUCLEAR WEAPONS
Both India and Pakistan are armed with functioning nuclear weapons.  Both nations have made clear they WILL USE THEM against each other.
In the Pentagon and at the White House, briefings have been undertaken to outline the likely GLOBAL effects of a nuclear exchange between India and Pakistan.   The consensus is that once either country uses such a weapon, the other country will respond with ALL of its nuclear weapons, prompting the first country to use ALL its weapons.   
India and Pakistan nukes are presently of a size similar to what the US dropped on Hiroshima in World War 2: about 15 Kilotons each.  Each country has about fifty (50) such bombs.
Here is the briefing seen by Pentagon and White House Staff showing the
G L O B A L  effects of such a fight:
Following a war between India and Pakistan, in which 100 Hiroshima-size (15 kiloton) nuclear weapons are detonated in the large cities of these nations, 5 million tons of smoke is lofted high into the stratosphere and is quickly spread around the world.
A smoke layer forms around both Hemispheres which will remain in place for many years to block sunlight from reaching the surface of the Earth.
One year after the smoke injection there would be temperature drops of several degrees C within the grain-growing interiors of Eurasia and North America. There would be a corresponding shortening of growing seasons by up to 30 days and a 10% reduction in average global precipitation.
War with 100 low-yield nuclear weapons
Summary of Consequences of Regional nuclear war between India and Pakistan (from studies done at Rutgers, the University of Colorado-Boulder and UCLA)
War is fought with 100 Hiroshima-size weapons (currently available in India-Pakistan arsenals), which have half of 1 percent (0.05%) of the total explosive power of all currently operational and deployed U.S.-Russian nuclear weapons
20 million people die from the direct effects of the weapons, which is equal to nearly half the number of people killed during World War II
Weapons detonated in the largest cities of India and Pakistan create massive firestorms which produce millions of tons of smoke
1 to 5 million tons of smoke quickly rise 50 km above cloud level into the stratosphere
The smoke spreads around the world, forming a stratospheric smoke layer that blocks sunlight from reaching the surface of Earth
Within 10 days following the explosions, temperatures in the Northern Hemisphere would become colder than those experienced during the pre-industrial Little Ice Age
These nuclear war-induced effects on temperature would be twice as large as those which followed the largest volcanic eruption in the last 500 years, in 1816, which caused "The Year Without Summer"
This cold weather would also cause a 10% decline in average global rainfall and a large reduction in the Asian summer monsoon.
25-40% of the protective ozone layer would be destroyed at the mid-latitudes, and 50-70% would be destroyed at northern high latitudes. Massive increases of harmful UV light would result, with significantly negative effects on human, animal and plant life.
These changes in global climate would cause significantly shortened growing seasons in the Northern Hemisphere for at least years. It would be too cold to grow wheat in most of Canada.
World grain stocks, which already are at historically low levels, would be completely depleted. Grain exporting nations would likely cease exports in order to meet their own food needs.
Some medical experts predict that ensuing food shortages would cause hundreds of millions of already hungry people, who now depend upon food imports, to starve to death during the years following the nuclear conflict.
THE WW3 LINE-UP
India vs Pakistan 
plus . . .
USA, Arabian gulf, NATO, Japan & South Korea   vs    Russia, China, Venezuela, and Iran
When the SHTF, China may also be relied upon to make a military move against Taiwan, thinking the rest of the world is too occupied with other fighting to do anything about it.  That assessment would be an error.
This week, Russian President Vladimir Putin stated publicly that if the USA wants another Cuban Missile Crisis, Russia is prepared to give it to them.  He also said the scales tip in Russia's favor as to nuclear ability.
PREP or DIE
People in the US and Europe who are reading this story would be very well advised to make certain YOU HAVE PREPS for when all hell breaks loose.  Especially Emergency Food, Water filtration, and Respiratory Filter Masks.   If it happens, it will happen at blinding speed. 
As shown above, within 5 days of a nuclear exchange in India/Pakistan, the smoke and radiation will arrive HERE, in the United States.  If you don't get your preps AHEAD OF EVERYONE ELSE, there won't be any left for you once everyone in the country is trying to get them.
HERE are some suggested "Preps."
--------
NOT ONE western media outlet ANYWHERE in the USA or Europe has given you the background, up-to-the-minute news coverage, and analysis that you have just read here.  NOT ONE!


If you value the information available through this web site, PLEASE take a moment right now to make a donation in order to keep this site alive through March, 2019.   The bills for site hosting, data transfer, and the radio show which make all of it possible, are due March 1.  We have  LESS THAN ONE WEEK to raise about $2,000.  PLEASE DONATE RIGHT NOW: https://paypal.me/HalTurnerShow
 UPDATE -- SUNDAY, 24 FEBRUARY 2019 AT 7:30 AM EST --
The following DONATIONS have come in since this Fund-Raiser began on Feb. 20:

HJ: $25,   Kevin: $100,   Timothy: $10,  Ray: $30, Jeanne: $400, Alexander: $100

That's Six (6) People out of 16,000 unique visitors who viewed content on this site 34,000 times.

With only ONE WEEK left before the bills come due, I must ask you to support this web site and talk-radio show to make certain it can remain alive thru March, 2019.

Please subscribe for $1 a week billed quarterly ($13) HERE or $5 a month HERE. We accept ALL Credit Cards thru "STRIPE" or you can use Paypal.  (If you are having trouble with your subscription since the changeover of this site to Secure (SSL), please email This email address is being protected from spambots. You need JavaScript enabled to view it. )

If you cannot or do not use online financial transactions, you can still subscribe: When you get to the part about Payment Method, just select OFFLINE PAYMENT.  This will create your account but put it on HOLD until your payment arrives.   You can send cash, check or money order to:

HAROLD TURNER
1906 Paterson Plank Road
North Bergen, NJ  07047
USA

If a Subscription is NOT FOR YOU, then perhaps a one-off Donation would be better?  

Please use the link or the BUTTON below it to donate via Credit Card (as a Guest) or by using your Paypal Account:    https://paypal.me/HalTurnerShow