Numerous reports are coming in claiming an unmanned aerial vehicle dropped some type of chemical or nerve agent against a target in Mariupol, Ukraine, killing several and injuring 100's. 
We have no OFFICIAL confirmation, but the reports are flooding-in anyway. 
This could be the exact, precise, FALSE FLAG that the USA and NATO have been "warning" the Russians "might use" which could spark a formal NATO military response into Ukraine.
It was back on March 24 that NATO publicly stated a Chemical attack would prompt their intervention (Story HERE)
The headline to that story looked like this: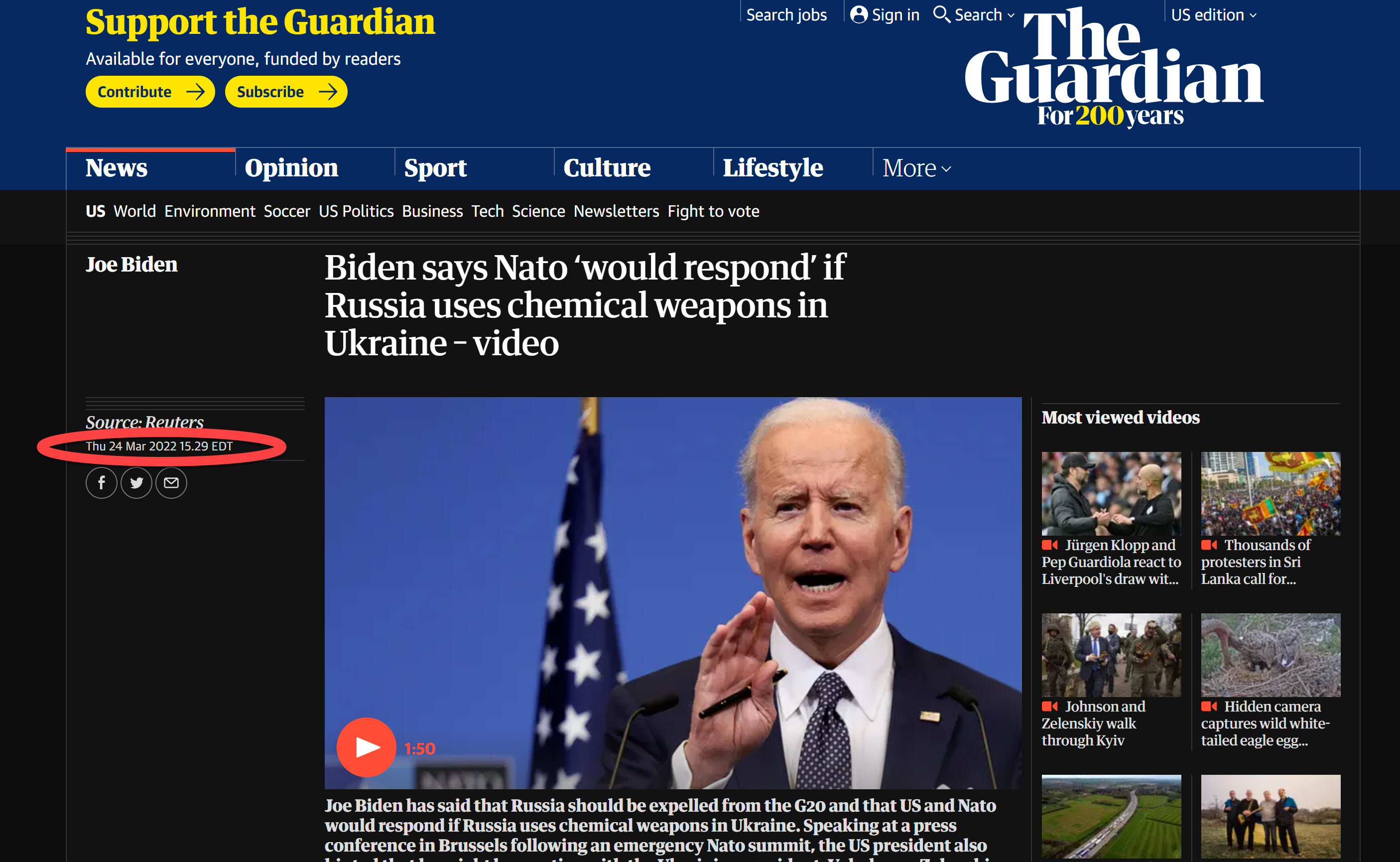 More info as it becomes available.   Check back.
UPDATE 4:59 PM EDT --
One (a single, isolated report) claims the following:
"Russian forces used a poisonous substance of unknown origin against Ukrainian military & civilians in the city of Mariupol, which was dropped from an UAV. The victims have respiratory failure and vestibulo-atactic syndrome."
Now, there are real problems with this report.  
1) It does not say WHERE in Mariupol the attack allegedly took place. 
The _only_ major fight zone where any type of chemical weapon would prove useful, is at Asovstal Steel Mill, where thousands of AZOV nazis are scattered through vast catacombs beneath the sprawling plant.  It is in these catacombs, where a reported Biolab exists, consisting of allegedly 8 full floors deep, all beneath the plant, and initial rumors (not confirmed) claim this lab was working on genetic-specific bioweapons in violation of treaties.
2) The decision to FLOOD those underground catacombs by using fire trucks to pump water into the air shafts, to force out the Nazis, was already publicly reported (Story HERE)
Thus, it makes no sense at all to turn around and use a chemical weapon or nerve agent against the very target they intend to flood-out.
3) NATO has been itching for an excuse to enter the war inside Ukraine, and has, on more than one occasion, said the use of chemical weapons would meet that excuse.
Interesting timing now that a Biolab has been proved to be under that steel mill, and if Russia successfully takes over that Biolab, they will find PROOF that the US and others were working on Biological weapons in violation of Treaties.  Or, worse, that they were working on race-specific bioweapons, designed to wipe out . . .  only . . . . Russians.
4) The report cites "vestibulo-atactic syndrome"
Pathogenesis
In the practice of a neuropathologist, the vestibulo-atactic syndrome is most often observed in patients with cerebral ischemia, when the brain receives insufficient oxygen because of a violation of blood flow.
The pathogenesis of this pathology includes the lack of blood flow in the vertebro-basilar system, which unites the vertebral and central (base) arteries of the brain, the violation of blood circulation in the brain stem structures, as a result of which their energy supply and connections with other parts of the central nervous system (CNS) are disrupted.
Stem brain formations are sensitive to hypoxia (oxygen starvation of systems and organs), which causes a large prevalence of vestibular-ataxic syndrome and also the variety of forms and manifestations of this pathology in cerebral ischemia.
The clinical picture can vary depending on the cause of the disease, age and condition of the patient. For example, in elderly patients, the disruption of the central part of the vestibular analyzer is often combined with the lesion of its peripheral part, which forms a peculiar picture of the pathological disorder.
This pathology - a combination of motor and vestibular disorders due to violations of the general and cerebral circulation. It is quite common, many of its symptoms have been noticed in itself, without giving them much importance. If, when walking, a person begins to feel dizzy, he throws from side to side, coordination of movements is disturbed - this is an occasion to immediately consult a doctor.
What constitutes a vestibulo-atactic syndrome and what are its causes we have figured out. What are the signs and complaints of patients that enable the neurologist to diagnose ataxia?
Ischemic disorders in the work of the brain are dangerous because in the early stages they can simply not be noticed, since the first symptoms that appear can correspond to various disorders of the patient's health and condition. A person can simply not pay attention to individual cases of malaise. This makes it difficult to timely diagnose and treat diseases that are the companions of the vestibulo-atactic syndrome.
The first signs of the initial stage of the disease are:
Frequent dizziness, especially when walking.
Flicker and "flies" before the eyes.
Headache.
In later stages, motor disorders appear:
Loss of balance.
Throwing from side to side.
Falls.
Involuntary twitching of the eyelid
Hal Turner Analysis / Take-away: 
If NATO officially asserts that chemical weapons WERE used (and that's a big "if") and that NATO is entering the war, Russia has already said publicly it will use its nuclear missiles.  
UPDATE 5:28 PM EDT --
Kira Rudik, a member of the Ukrainian Parliament, confirms recent reports about Mariupol attack: "The unknown substance was sprayed by Russians in Mariupol.  People are suffocating."
UPDATE 5:42 PM EDT --
The mass-media is starting to "run" with the story of a "Chemical attack" in Mariupol.   They would only be running with it if their government masters told them to.  And Government would only tell them to, if the plan is for NATO to announce they are intervening.   Here, from the London "Mirror" newspaper (Link)
This is getting worse by the hour.  
UH OH . . . 5:46 PM EDT -- Now NEWSWEEK in the USA is carrying the story . . . . (Link)
5:49 PM EDT -- Microsoft Network (MSN) now carrying the story too . . . (Link) 
Whatever and whomever is in that lab is worth potentially destroying the world to them.

UPDATE 6:08 PM EDT --
UK'S FOREIGN MINISTER TRUSS TWEETS: REPORTS THAT RUSSIAN FORCES MAY HAVE USED CHEMICAL AGENTS IN AN ATTACK ON THE PEOPLE OF MARIUPOL. ANY USE OF SUCH WEAPONS WOULD BE A CALLOUS ESCALATION IN THIS CONFLICT AND WE WILL HOLD PUTIN AND HIS REGIME TO ACCOUNT.
6:52 PM EDT -
All the latest info TONIGHT at 9:00 PM Eastern (8:00 Central, 7:00 Mountain, 6:00 Pacific, 5:00 Alaska, 4:00 Hawaii) on the Hal Turner Radio Show.  Set a REMINDER in your cell phone!
You can tune-in FREE as follows:
WBCQ Shortwave on Frequencies 7.490 and 6.160 AM
WRMI Shortwave on Frequency 5.950 AM
KYAH - 540 AM, Utah's Talk Authority
or here on the Internet at this link:  http://stream.halturnerradioshow.com:8000/ (Click LISTEN)
NOTE: This link does not go active until about one hour BEFORE showtime.  During that hour, it streams commercial-free music until the show begins.
FINAL UPDATE --
It turns out that the "reports" of this "Chemical attack" originated from . . . . wait for it . . . . the Azov Battalion which is stuck in the Asovstal Steel Mill, and under siege from Russian forces.   It appears to have been a blatantly fraudulent claim, designed to instigate the entry of NATO into the Ukraine situation.
The claim was repeated and re-circulated by the press and PR machine backing Ukraine.  That's why reports "flooded-in."
Here's the "rub."   If NATO, which appears to be run by sociopaths and psychotics, CHOOSES to treat this report as legitimate and CHOOSES to enter Ukraine, then it's war with Russia and the nuclear missile will fly.
None of us knows right now if NATO sociopaths and psychotics will try to put lipstick on this pig of a report, and treat it as legitimate.  Until we know, there is very real danger that this will be the match that ignites world war.
Isn't the Iraq/Saddam trick with the "chemical weapons" a little out of date?
Or they are hoping that we don't remember how the fake war started over there?
Well, some of us remember.