U.S.forces and attack helicopters are scrambling as of 5:06 PM EST Thursday, as at least four rockets hit and exploded at Baghdad Airport in Iraq.
At this time no known injuries, but it is extremely early and info is not readily available yet.
Updates to appear below.
UPDATE 5:10 PM EST --
Despite the rocket attack on the airport, Something else is happening in Baghdad, a source tells me that US forces are taking the full control of the airport.
UPDATE 5:14 PM EST --
Breaking Kata'ib Hizbollah Iraq spokes person: "We moved the demonstrators away from US embassy, in exchange for a promise from Members of Parliament to vote on expelling all US occupation forces from Iraq next week. We will take all necessary actions if that doesn't happen."
UPDATE 5:21 PM EST --
Baghdad international airport has been closed following the explosions.
*****BULLETIN*****
COVERT INTEL
 Additional PUBLIC updates to appear below . . .
PREMIUM CONTENT:  
This section of the article is only available for Subscribers who support this web site with $1 a week billed either Quarterly ($13) or monthly ($5).
This is necessary because this is a CLOUD-BASED web site.  The way it works is YOU READ . . . I GET BILLED for "Data Transfer."
Despite being politely asked for voluntary donations, few people ever bothered to donate. Then, despite being asked to click an ad within a story to generate ad revenue for this site, the majority of the general public couldn't be bothered with that, either. So there's no reason to give the general public free news anymore; they don't pull their own weight.
With tens-of-thousands of people reading stories here every day, the costs nearly drove the site out of business.
In order to be able to continue providing cutting-edge news, often hours or even DAYS before Drudge and most of the "mass-media" -- if they even cover it at all -- I need to be able to sustain this effort. To do that, I rely on folks like YOU contributing a pittance of about $1 a week;  which is chump-change that you won't even miss!  Yet that small amount makes all the difference in the world to the continued existence of this web site.
In the final analysis, knowledge is power.  Getting information first, or info that other sources simply don't report, is usually well worth a few bucks in the long run.
Please click here to choose a subscription plan in order to view this part of the article.
Subscribers LOGIN to see the story.  
*** If you are having trouble logging-in, email: This email address is being protected from spambots. You need JavaScript enabled to view it.
YOU MUST SET YOUR WEB BROWSER TO "ACCEPT COOKIES" FROM THIS SITE IN ORDER TO LOGIN OR ELSE YOU WILL NOT BE ABLE TO SEE PREMIUM CONTENT.
UPDATE 5:25 PM EST --
One of the rockets fell inside air cargo zone, Baghdad airport.
Initial: Reports of civilian casualties now coming in, after explosions rocked Baghdad international airport.
UPDATE 5:29 PM EST --
The rockets landed in Baghdad airport actually targeted JOINT AMERICAN - IRAQI counter-terror center, per Iraqi security forces

The Lebanese Al-Mayadeen channel, which is close to the Lebanese Hezbollah militia, confirms the targeting of the Mohammed Alaa base near Baghdad International Airport where American forces are present.
UPDATE 5:52 PM EST --
Now being told US air defense intercepted several missiles near Baghdad International Airport.

It is also reported that 12 Iraqi soldiers were wounded as a result of missile attacks at Baghdad International Airport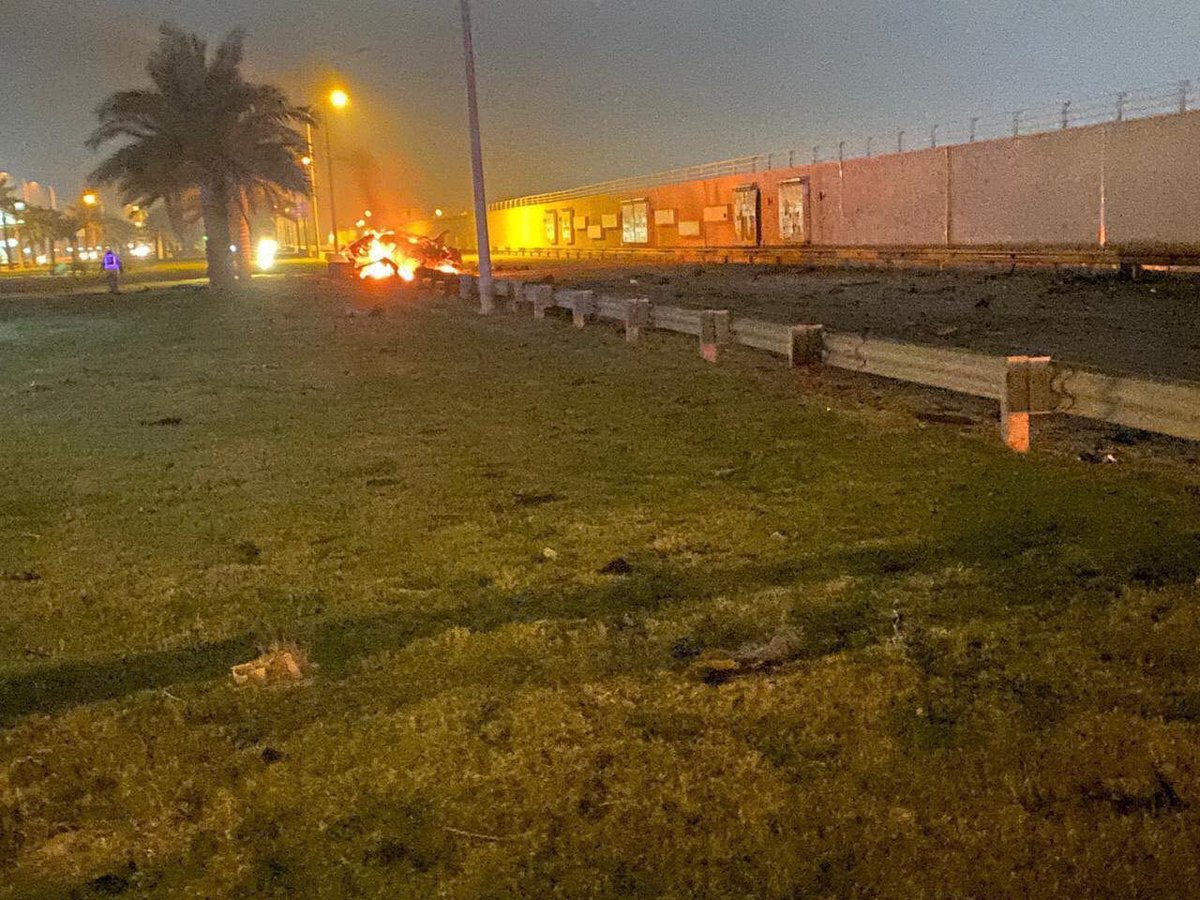 ONE REPORTED DEAD in the remains of a car shown burning above.  Apparently the inbound rocket hit the car, killing the driver.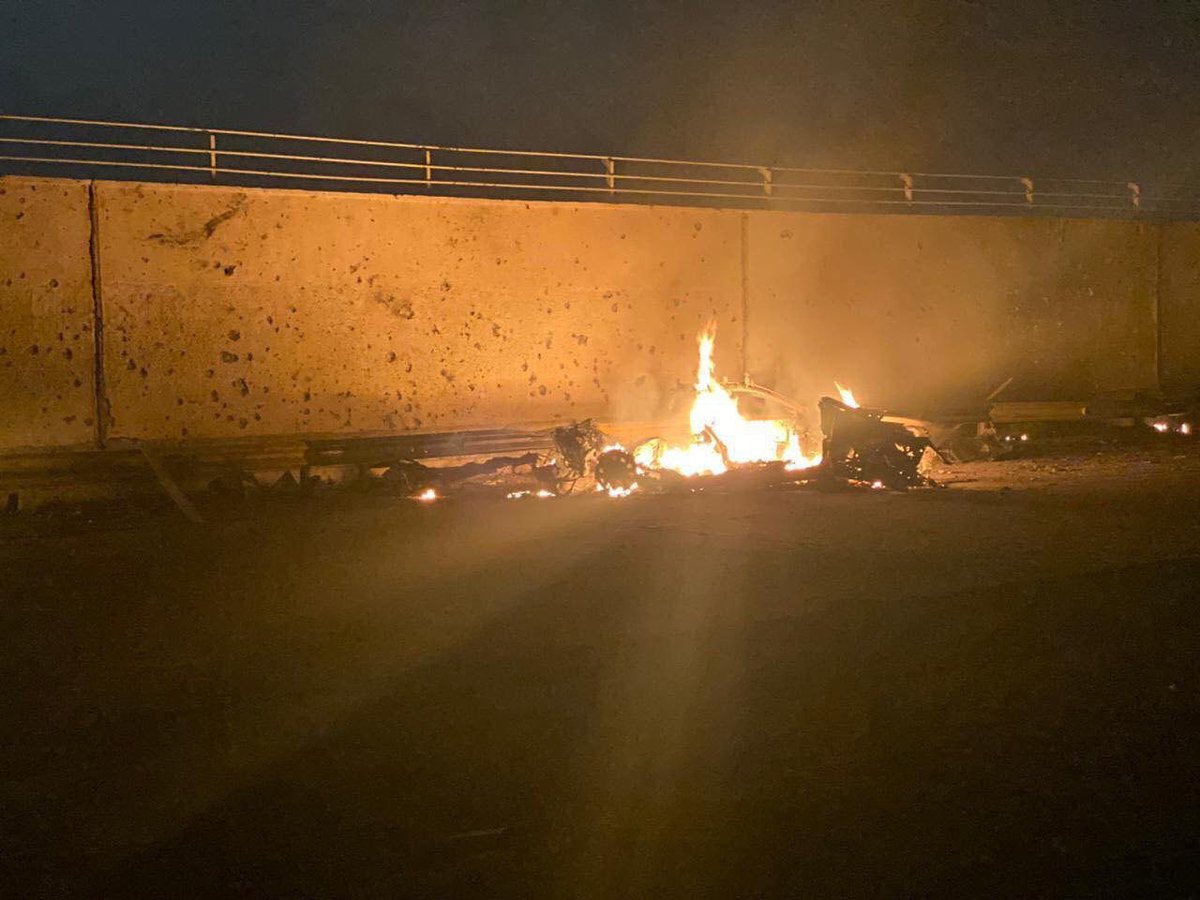 Now being told the SECOND CAR above took a direct hit.
Speculation now this may have been an ASSASSINATION????????????
UPDATE 6:06 PM EST --
Four rockets hit Baghdad Airport, every rocket hit one target:

• The building used by the US-led Coalition.
• Military airport's runway.
• Iraqi Counter Terrorism center
• The Airport's outside road
UPDATE 6:32 PM EST --
Popular Mobilization Unit (PMU) relations director, Muhammad Reza was killed/assassinated? in the air strike in Baghdad International airport. Mohamad Reza who was in charge of the group's public affairs was killed. He was fluent in Persian & apparently had a close relationship with Qassem Soleimani of Iran's IRGC.
UH OH . . . Reports indicate unknown fighter jets hit two vehicles in Baghdad airport perimeters. The PMF leadership and members attacked the US Embassy in #Baghdad two days ago.

This is not confirmed yet, but if true the whole political and military equation will step up to another level.
Intel says HUGE news coming up in the next few minutes
UPDATE 6:43 PM EST --
Hashd al-Shaabi confirms that its head of relations, 2 persons accompanying him, and 3 guests (probably Iranians) were targeted on Baghdad Airport road.
The "guests" were IRGC officials
IT'S OFFICIAL:
Senior official of Iran backed militia blamed for the US embassy attack killed in 'Retaliatory raid' at Baghdad Airport. The group had just previously landed at the airport, from Tehran, they were hit by US Hellfire missiles 15 minutes later as they were leaving the airport grounds.
Mohammed Reza Al-Jabri who was killed outside Baghdad Airport tonight, was walking next to leader of Iran-backed Hezbollah militia Abu Mahdi Muhandis during Hashd al-Shaabi attack on US Embassy on Wednesday.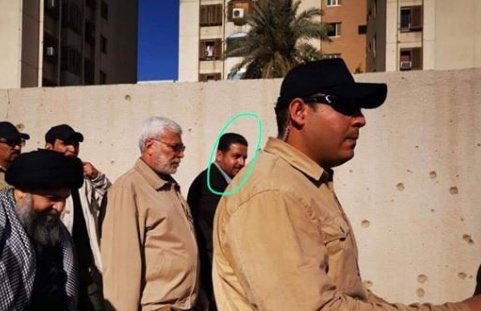 Al Mayadeen News also now reporting the death of Abu Mahdi Muhandis
 Abu Mahdi al-Muhandis, Deputy Commander of Hashd al-Shaabi and Qassem Solaimi Commander of IRGC killed in Baghdad -- Hezbollah's Mayadeen says.