Russia has announced that effective 00:00 Hrs Moscow Time on July 20, all Ships attempting to travel to/from ANY Port in Ukraine, will be considered "carriers of military equipment" and "participants in the conflict."
The Russian Ministry of Defense (MoD) explicitly states "SOME AREAS OF THE BLACK SEA HAVE BEEN TEMPORARILY DECLARED AS DANGEROUS FOR NAVIGATION **COUNTRIES, UNDER WHICH FLAGS VESSELS ARE TRAVELLING TO UKRAINIAN PORTS ON THE BLACK SEA, WILL BE CONSIDERED AS PARTIES TO CONFLICT ON UKRAINIAN SIDE**
Russia imposed a naval blockade of Ukraine immediately after the end of the 'grain deal which was stopped in retaliation for the Ukraine attack upon the Kerch Strait Bridge, that killed two Russian civilians, and seriously wounded a child traveling in a car with her parents when the bridge was blown up.  Both parents died.
12 cargo ships are now stuck in the ports of Odessa and Nikolaev. Not a single dry cargo ship has entered  Ukrainian waters since the Russians announced this action.
Insurance Carriers have already warned all shipping companies they will NOT insure vessels attempting to enter the Ukraine conflict zone effective immediately.
Ukraine is now land-locked, and will remain so in perpetuity — assuming it even persists at all as a sovereign entity.
Intel Circuits are absolutely swamped with chatter saying the map below is what will be left of Ukraine -- if anything at all: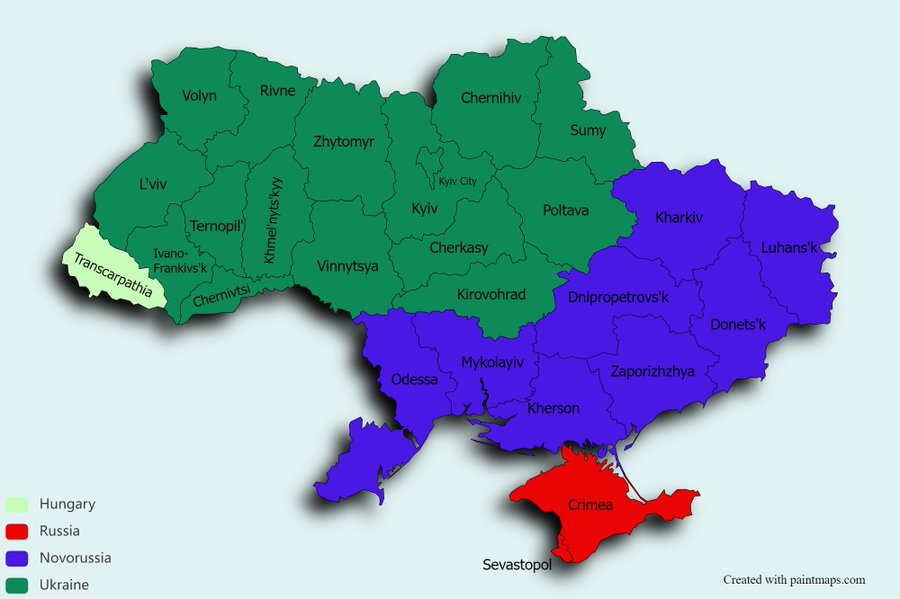 (Hal Turner Remark: I am convinced this map illustrates the most likely outcome of the war. "Ukraine" will be reduced to a land-locked rump state; Novorossiya will be re-established; Crimea is already reunited with Russia, and will remain so in perpetuity.)
It is noteworthy to report the U.K., with U.S. backing, declared a 200-mile exclusion zone around the Falkland Islands during the South Atlantic War.

The U.S. Declared military exclusion zones during the Gulf Wars many times.

There is plenty of recent precedent for the Russians to declare the same.
Pentagon Spokesman John Kirby made clear the US will not send warships to escort commercial vessels from Ukraine.
Following the recent decision to cancel the grain deal between Russia and Ukraine, U.S. has officially announced its decision not to use warships to escort commercial ships leaving Ukrainian ports. "We have only one way left - land. This involves the transportation of goods by rail or by road, which is undoubtedly more difficult and less efficient" Kirby said.
Statement on the blockade from the Russian MOD in English.

Note that is an almost word-for-word copy of the UK Declaration from the Falklands War in 1982.

" In connection with the cessation of the functioning of the Black Sea Grain Initiative and the ;losing of the maritime humanitarian corridor, from 00.00 Moscow time on 20 July 2023, all vessels sailing in the waters of the Black Sea to Ukrainian ports will be regarded as potential carriers of military cargo.

- Accordingly, the countries of such vessels will be considered to be involved in the Ukrainian conflict on the side of the Kiev regime.

- In addition, a number of sea areas in the north-western and south-eastern parts of the international waters of the Black Sea have been declared temporarily dangerous for navigation. Corresponding information warnings on the withdrawal of safety guarantees to mariners have been issued in accordance with the established procedure."