The Russian State Duma adopted a bill that provides for raising the draft age to 30 years old (currently 27).
Young people from 18 to 30 years old can thus be called up for military service.
The law will come into force on January 1, 2024.
"This law was written for a big war, for general mobilization. And this already is a big war," deputy Andrey Kartapolov said.
It means they are training that percentage of people for war.

Russia knows what is coming and training their people for it.
FUND RAISING FOR AUGUST:
At the end of each calendar month, this site reaches out to Readers and Listeners like YOU to keep the lights on.  Carried to almost 100 countries around the world by Global, High-Frequency Shortwave Radio Stations WBCQ, WRMI, and WWCR, it is an expensive proposition to do this show five nights a week.
---
In addition to radio air time costs, there are six inbound telephone lines for folks to call-in and get on the air to tell the world what they think.  There is software licensing fees, pre-show music fees, Studio Fiber Optic Connections at the Metro New York City location with Cellular back-up.  At the "Bug-Out" location in Pennsylvania, all that has to be duplicated, but without Fiber Optics.  So in PA, there's a Cable modem as the primary feed distribution, cellular back-up, and TWO satellite Uplinks, along with battery back-ups and generator in case the rural electric goes down.
All this costs money to have, to operate, and to maintain.
THIS WEB SITE is also expensive, with monthly data transfer charges and hosting fees by Amazon Web Services, between about $2500 and $4600 per month, depending on how many of you come here to read stories.
You see, this is a cloud-based site.  It may be free for YOU to come read, but it is not free for ME;  I have to pay for the data transfer to YOUR web browsers!   And the online streaming audio is a BIG data transfer every night.  You listen, I pay.
Below is the FORECAST cost for this site, this month: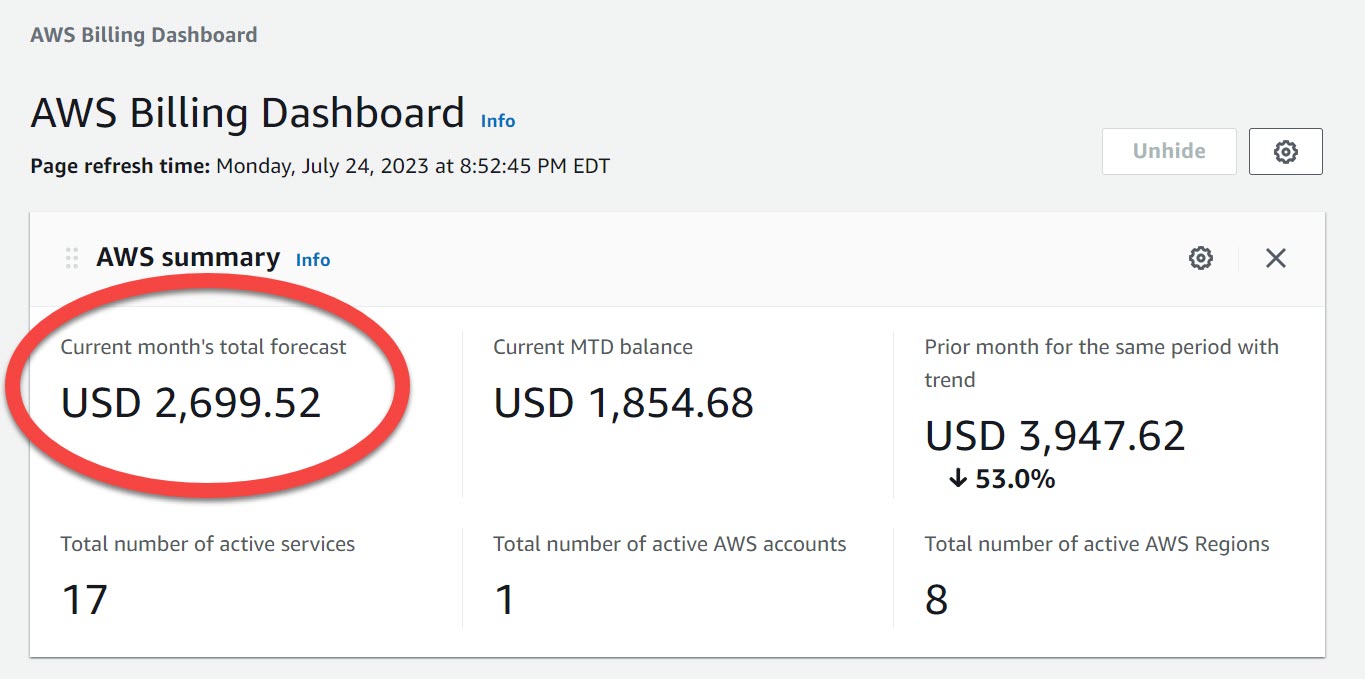 So each month, I ask those of you who enjoy the real free speech and cutting-edge news found here, to chip-in and help out.
Please use your Credit or Debit Card with the SECURE form below, to make a donation.   Without YOU, there is no Hal Turner Radio Show or Web site.
Those of you who cannot or will not use ONLINE financial transactions, can mail Cash, Check, or Money Order payable to:
HAROLD TURNER
Post Office Box 421
North Bergen, NJ  07047
USA