Russia has launch at least ten (10) Tu-95 Bombers into Ukraine and those aircraft are launching a large number of cruise missiles against Ukrainian targets.  Above, a massive explosion in Pavlohrad, a Ukrainian-occupied portion of Donetsk Oblast.  It seems a Ukrainian missile storage depot was hit!
Initial Reports say Russian Missiles struck a Rail Yard and a Ukrainian Arms Depot on the Outskirts of the City.  Multiple missiles inside that depot then launched catastrophically and unguided, into the night sky.  
Video of the storage depot ablaze appears below:
Updates in progress, check back in minutes . . .
UPDATE 8:42 PM EDT --
Tu-95M Strategic Bombers went airborne from Olenya Air Base in Northwestern Russia, and flew into Ukraine to attack.
Now confirming Tu-95Ms are now Airborne from several OTHER Air Bases across Western Russia.  Additional strikes imminent.
UPDATE 8:50 PM EDT --
COVERT INTEL SOURCES INSIDE UKRAINE ARMY SAY ATTACK RESULTED IN TWO ENTIRE UKRAINIAN ARMY DIVISIONS LOST.
In addition, source now confirms sixteen (16)  S-300 missile defense launcher systems and all their missile refill canisters also destroyed.
UPDATE 8:56 PM EDT --
100 Shahded drones now reportedly airborne, heading into Ukraine
*** FLASH ***
US Boeing P-8 Poseidon has entered Ukrainian airspace. . .  while the Russian attack is taking place!
UPDATE 9:05 PM EDT --
Confirmation received that a total of 27  Russian Tu-95M  Strategic Bombers are in the air, carrying a MINIMUM of 130 to a MAXIMUM of 200 cruise missiles, are being used in tonight's attack.
Confirmation also received that the number of Geran-2 UAVs flying over Ukraine now exceeds 50.
Confirmation that multiple Russian submarines in the Black Sea, carrying additional missiles, are off the coast of Ukraine but have NOT YET fired.
Shahed-136 drones are currently flying towards Mykolaiv and Kherson.
MORE:
4 missile carriers that can hold up to 24 Kalibr missiles EACH have been deployed to the Black Sea in the last few hours.
UPDATE 9:13 PM EDT --
THREE (3) TU-160 bombers have now also taken off from Russia heading toward Ukraine!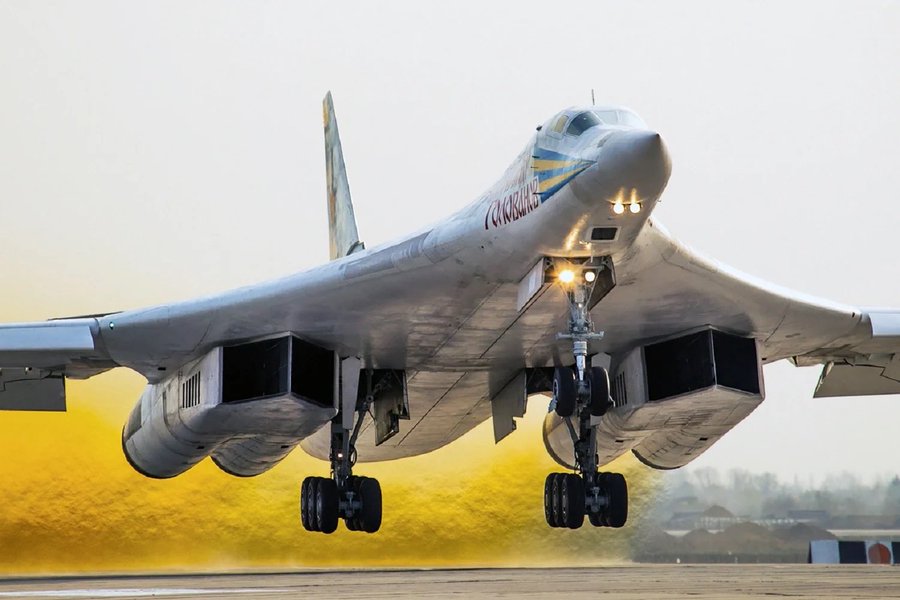 The P-8A Poseidon of the US Navy has completed its mission and is now safely back in Moldova Air Space.
Of Note: During the chaos of the ongoing attacks, in Kiev, the commander of the territorial defense units of Ukraine, Major General Oleinik Volodymyr, was eliminated. He was shot near his house.
UPDATE 9:17 PM EDT --
Russian bombers over the Caspian Sea have fired missiles; impacts inside Ukraine within 30 minutes.
COVERT INTEL SOURCE inside Ukrainian Army now confirms Russian bombers destroyed twenty-six (26)    S300 air defense complexes tonight. UKRAINE NOW HAS NO MORE AIR DEFENSES.
TONIGHT'S ATTACKS BY RUSSIA HAVE THE MOST Tu-95 BOMBERS IN THE AIR SINCE THE FALL OF THE SOVIET UNION.  Very large Russian attack.
UPDATE 9:21 PM EDT --
Reports now of Missile Launches from Russian Ships in the Black Sea as well.
ADDITIONAL Launch Commands are still being put out over the Russian Strategic Net.
********** BULLETIN ********
A large number of US Fighter Jets are taking off from Incirlik air base inside Turkey.  Video of two on full afterburners:
 Not known where they are going.
UPDATE 9:33 PM EDT --
Air Raid warning sirens now sounding in the red areas on the map of Ukraine below: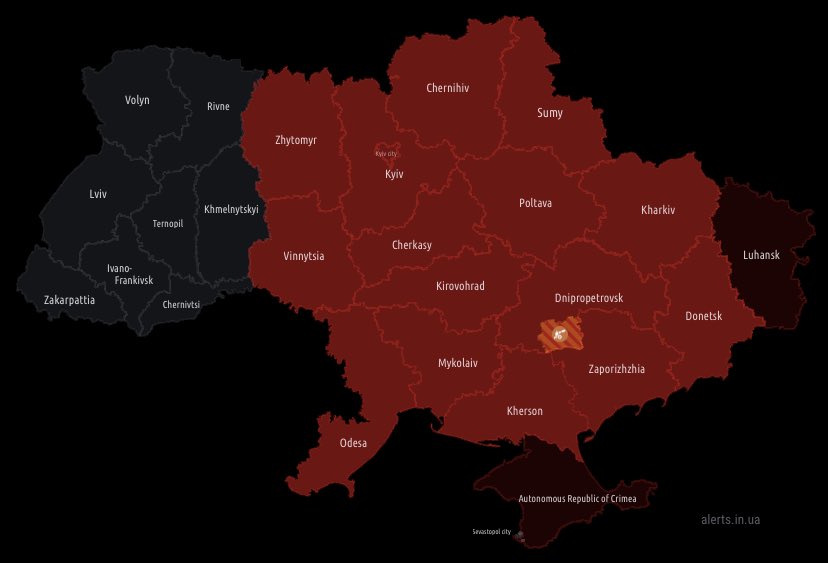 OF NOTE: Two US intelligence planes have taken off from NATO bases in Germany.
 HMMMMMMM.   ALSO OF NOTE:  NATO AWACS taking off from Poland
DOUBLE HMMMMMM. Air-Refueling Tankers taking off from Ramstein AFB in Germany . . .
UPDATE 9:38 PM EDT --
New missiles are being fired from the Caspian Sea.
New Air Raid alert sounding in LVIV, western Ukraine, near Poland Border: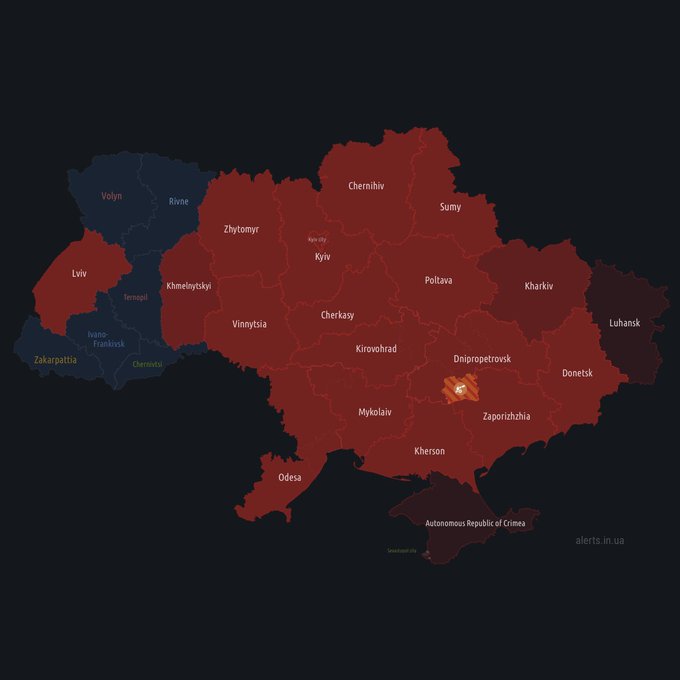 UPDATE 9:44 PM EDT --
Per Ukrainian officials, Missiles were detected in the airspace of Ukraine. They are urging everyone to get to shelter!
*****FLASH*****
RUSSIA IS NOW AGGRESSIVELY **JAMMING** OVER-THE-HORIZON RADAR THROUGHOUT **ALL** OF EUROPE.
ALSO: Launch Commands are still being put out over the Russian Strategic Net.
UPDATE 9:47 PM EDT --
Russian cruise missiles are on the way to central Ukraine. Kyiv is very likely to be targeted within the next 15-20 minutes.
Kyiv regional military administration: "Residents of Kyiv region! There is a threat of a missile attack"
UPDATE 9:55 PM EDT --
Missile launches reported from the Sea of Azov.
First explosion of the night; Dnipro
MORE:
Additional Missile Launches reported from Ships and Aircraft over the Sea of Azov and the Black Sea heading Northwest.
UPDATE 9:59 PM EDT --
Explosions in Kyiv!
Cruise missile detected over Kharkiv
More explosions heard in Dnipro.
Explosions heard in the suburbs of Kyiv
Explosions reported in Dnipropetrovsk oblast
UPDATE 10:52 PM EDT --
JETS WHICH TOOK-OFF FROM INCIRLIK IN TURKEY WERE **NOT** U.S., THEY WERE U.K, HEADING TO SYRIA.
11:02 PM EDT -- Attack appears to be over.    Live updates terminated.