As of 5:20 PM eastern US Time on Saturday, 13 May, seven Russian Tu-95 Strategic Bombers have gone airborne and are moving to attack positions for missile launches against Ukraine. Air raid alerts are sounding throughout Ukraine as seen on the map image above.
The aircraft began taking off about two ago, from Olenya Air Base in Northwestern Russia, around 3:15 PM EDT, and have been flying large holding patterns until about 5:30 PM EDT when they began moving into attack positions.
Live Updates to appear below . . . check back
UPDATE 5:48 PM EDT --
A Russian Mig-31K, with a belly-mounted Kinzhal hypersonic missile clearly visible, took off from Savasleyka Airport located at the red marker on the scalable map below:
UPDATE 5:52 PM EDT --
Explosions now in Ternopol, in far northwestern Ukraine, with two such explosions shown in the images below:
 MORE:
Reports coming in saying Iskander launch from Belgorod towards Kharkov...
UPDATE 5:59 PM EDT --
Missile over Odessa tonight not sure by whom...

Explosions Slavyansk just in..
UPDATE 8:03 PM EDT --
Second round of Air Raid Alerts in much of Ukraine now sounding.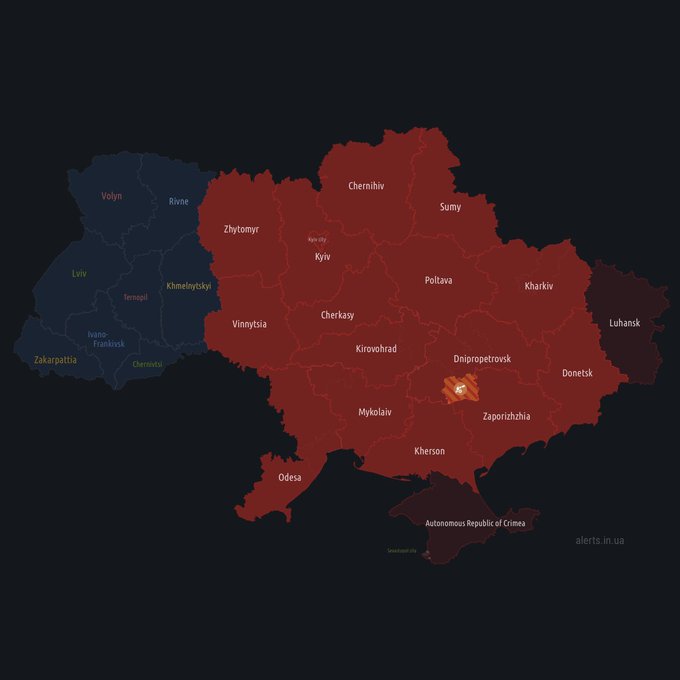 USAF AWACS on the border of Ukraine;  Squawking NORSE61
Cruise missiles have reportedly been launched over the Caspian Sea from Tu-95s
Travel time for such missiles varies.   Kh-55 Air-Launched Cruise Missiles expected to enter Ukrainian Airspace any minute.
Russian tactical aviation is active in the north east direction bordering Ukraine.
UPDATE 9:33 PM EDT
Explosions have already been reported in the Kherson and Sumy Regions.
Russian Activity of tactical aviation (Su-34) over Crimea, the waters of the Black Sea.