Turkish troops have started crossing into Syria to force Kurdish militants away from its border. 50,000 troops, 500 tanks. Advance halted 3 kilometers inside border. Aircraft are bombing the Turkish convoys. No word if Syrian or Russian aircraft.  12:24 PM EDT -- Al-Mansour Dam Across Euphrates River BOMBED by Turk war planes!  Supplied drinking water for 2 Million!  *** 3:30 PM EDT -- 50,000 Turkish Troops and 500 Tanks have begun entry into northern Syria via three (3) locations.  See 3:30 update at bottom. ***
Turkish jets started bombing the Syrian border on Monday night ahead of the ground invasion.
Turkey sees the YPG as a threat due to its link to the separatist PKK, another Kurdish group the Turkish government been battling for decades. It's considered a terrorist organisation by the U.S. and the European Union.
A Forward group of Turkish forces entered Syria early Wednesday at two points along the frontier, close to the Syrian towns of Tal Abyad and Ras al-Ayn, said the official, who spoke on condition of anonymity.
Defense Minister Hulusi Akar said "deployments and work is still underway regarding the operation," according to state-run TRT television. President Recep Tayyip Erdogan had a phone call with Vladimir Putin, thanking the Russian president for being "constructive" as Turkey prepared for the incursion. 
Kurdish-led forces were on high alert and called on fighters to head for the frontier to defend the region against the Turkish offensive that is expected to involve tens of thousands of soldiers backed by tanks and armored personnel carriers from NATO's second-largest army.
Turkey's advance follows a dramatic reversal of U.S. policy this week. Trump told Erdogan in a phone call on Sunday that dozens of American troops who'd been working closely with Kurdish forces in the fight against Islamic State would pull back, effectively clearing the way for a Turkish incursion.
The White House statement appeared to surprise allies at home and abroad. The Kurdish-led Syrian Democratic Forces said they would defend their "own people," potentially relegating the battle against Islamic State.
The Kurdish YPG militia that forms the backbone of the SDF has been one of America's closest partners in the fight against Islamic State and is holding thousands of jihadist fighters and their families in camps and detention centers in northeastern Syria.
While Trump said Turkey would become responsible for the detainees, who include foreign fighters from Europe, it was not clear if there was a mechanism in place to transfer them to Turkish custody.
Trump drew criticism at home for his decision to hand responsibility for the jihadist prisoners to Turkey over concerns that chaos in northeastern Syria could allow Islamic State members to escape and regroup.
"Moved our 50 soldiers out," Trump said in a Twitter post on Wednesday."Turkey MUST take over captured ISIS fighters that Europe refused to have returned. The stupid endless wars, for us, are ending!"
UPDATE 9:53 AM EDT --
The Iranian army begins military drill not announced previously near the Iranian-Turkish border 
Syrian Kurds have called up civilians for 'defense against Turkey.'
 The Advance troops reported above are expected to be followed by much larger invasion forces around Midnight local time tonight.
Hal Turner Remark: It is worth pointing out that this war began one day after Yom Kippur; The good Lord gave the world one last day of atonement before this Devil's Hour arrived. Gog! Magog!! It's playing out before our eyes! I don't mean to sound Hokey or like a radical Bible thumper because I'm not.  But I HAVE TO TELL YOU: Prepare your souls for the coming of the Lord! Now is your last chance to repent and avoid the fires of Hell and eternal torture!   This was a major story during Wednesday's two-hour LIVE Hal Turner Radio Show airied globally on Global High Frequency Radio Stations WBCQ and WRMI as well as on regular AM radio KYAH 540-AM in Utah.  An Archive of the show can be listened to online for Subscribers to this site.  Great radio ! ! ! ! 
***** BULLETIN *****
UPDATE 10:06 AM EDT --
There was an ISIS prison-break last night; hundreds of ISIS fighters broke free inside Syria and INTEL confirms they received orders to head to . . .  THE UNITED STATES!   The Nogales, Arizona Border crossing was alerted because that is the crossing point ISIS uses to try entering the US, and our brave Border Patrol is carefully monitoring, but WE HERE IN AMERICA are now their target.
Turkish President Erdogan CONFIRMS the Turkish Operation "has begun." The Turkish air force initiated the preliminary bombing campaign of Operation "Spring of Peace"  with multiple airstrikes in the vicinity of Ras al-Ayn.
10:15 AM EDT -- Civilians directly on the border in Syria are abandoning their homes and fleeing in cars with what they can gather. This is an extremely unorganized evacuation. Some are fleeing on foot.
 10:39 AM EDT -- KURDISH return fire by launching mortar attacks on several Turkish towns across the Syrian border.
Şanlıurfa, Turkey under Mortar attack from Kurds returning Turkish fire: (map below)
 MORE:
Nusaybin, Turkey now ALSO under attack by Kurdish returning Turk fire (Map below):
UPDATE 11:12 AM EDT --
Intensive bombardment by Turkish jets on military positions and civilians villages in Tal_Abyad, Serê_Kanye, Qamishlo and Ain_Issa. All in Syria. 
According to initial reports there are casualties among civilian people. The Hal Turner Radio Show can CONFIRM there are presently six (6) civilians dead from these attacks, so far.  Map Below:
Turkish Jets bombing Al-Qamishli, which is well outside of the designated Turkish safe zone.
MORE UPDATES TO FOLLOW BELOW . . . CHECK BACK
***** BULLETIN *****
UPDATE 12:24 PM EDT --
Al-Mansurah Dam outside Raqqa, BOMBED by Turk war planes.  This Dam, across the Euphrates River supplied drinking water to two million people in northern Syria.   
Below is a scalable Google map for Al-Mansurah, Syria.  The Dam is located above and to the left of Al-Manurah proper, at a narrow point where Lake Assad empties into the Euphrates River.
Without that Dam, there is nothing to hold back Lake Assad from free-flow-flooding from Syria all the way to Baghdad, Iraq!  Once the lake is gone, there will be little to nothing to keep the Euphrates River flowing.
This brings to mind a Biblical passage: Revelation 16:12 --
"Then the sixth angel poured out his bowl on the great river Euphrates, and its water was dried up, so that the way of the kings from the east might be prepared."
HAL TURNER ANALYSIS
If anyone had doubts that Turkey's intention was nothing short of ETHNIC CLEANSING of Kurds, let this attack on the Dam rid you of doubt.   
Turkey has claimed it merely wants to create a 30km wide x 300km long "safe zone" inside Syria.  Turkey plans to put about 2 million Syrians -- who fled the Syrian Civil War into Turkey -- BACK INTO SYRIA in this region.   But how can people live there without water????????
Turkey's stated intentions now seem like an elaborate ruse.   
What Turkey has just done by bombing this Dam should get them immediately ejected from NATO, then the US, Russia, and China should go kick the hell out of Turkey so their dreams of a new Ottoman Empire are crushed.
This act of bombing that Dam is, in my personal opinion, a crime against Humanity.  I also believe it is a DIRECT act leading us ALL on the path to Armageddon.   This is SERIOUS.   More serious than any of us may realize.
I will talk about this story and provide all the latest details on my live talk-radio show beginning at 9:00 PM eastern US time tonight.  PLEASE TUNE-IN.
More Updates to follow below . . . . check back . . .
UPDATE 2:35 PM EDT --
Turkish shelling Amuda, with exception of Kobane, Turks have/are targeting every major city/town on the border.
Tel Abyad, Syria is burning from Turkish artillery shelling: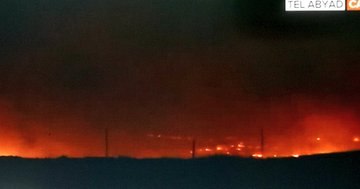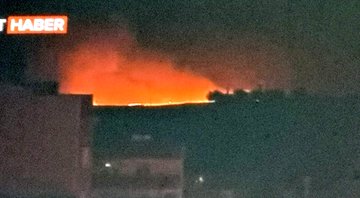 The map below provides some perspective about the targets already struck by the Turkish onslaught.  Not ALL targets are shown on the map as some strikes have yet to be confirmed: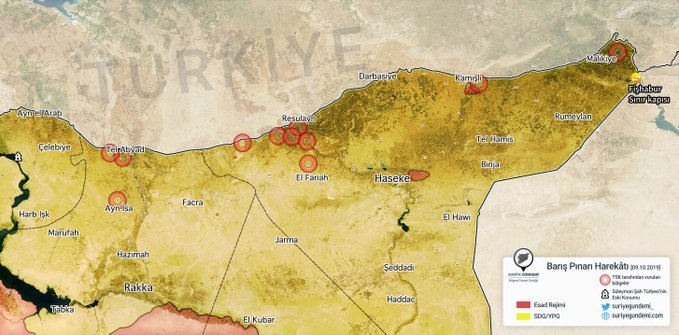 Other areas of northern Syria are suffering similar fate as artillery barrages fall from the sky after fired by Turkish army: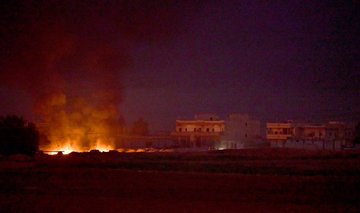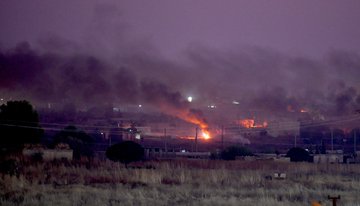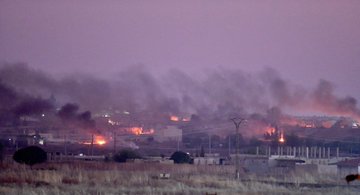 UPDATE 3:30 PM EDT --
Fifty-Thousand Turkish Army troops along with five-hundred Turkish Army tanks have begun crossing into northern Syria from Turkey.
Two of the three entry locations have been confirmed:    Al-Darbasiyah and Qamishlo  (Map Below):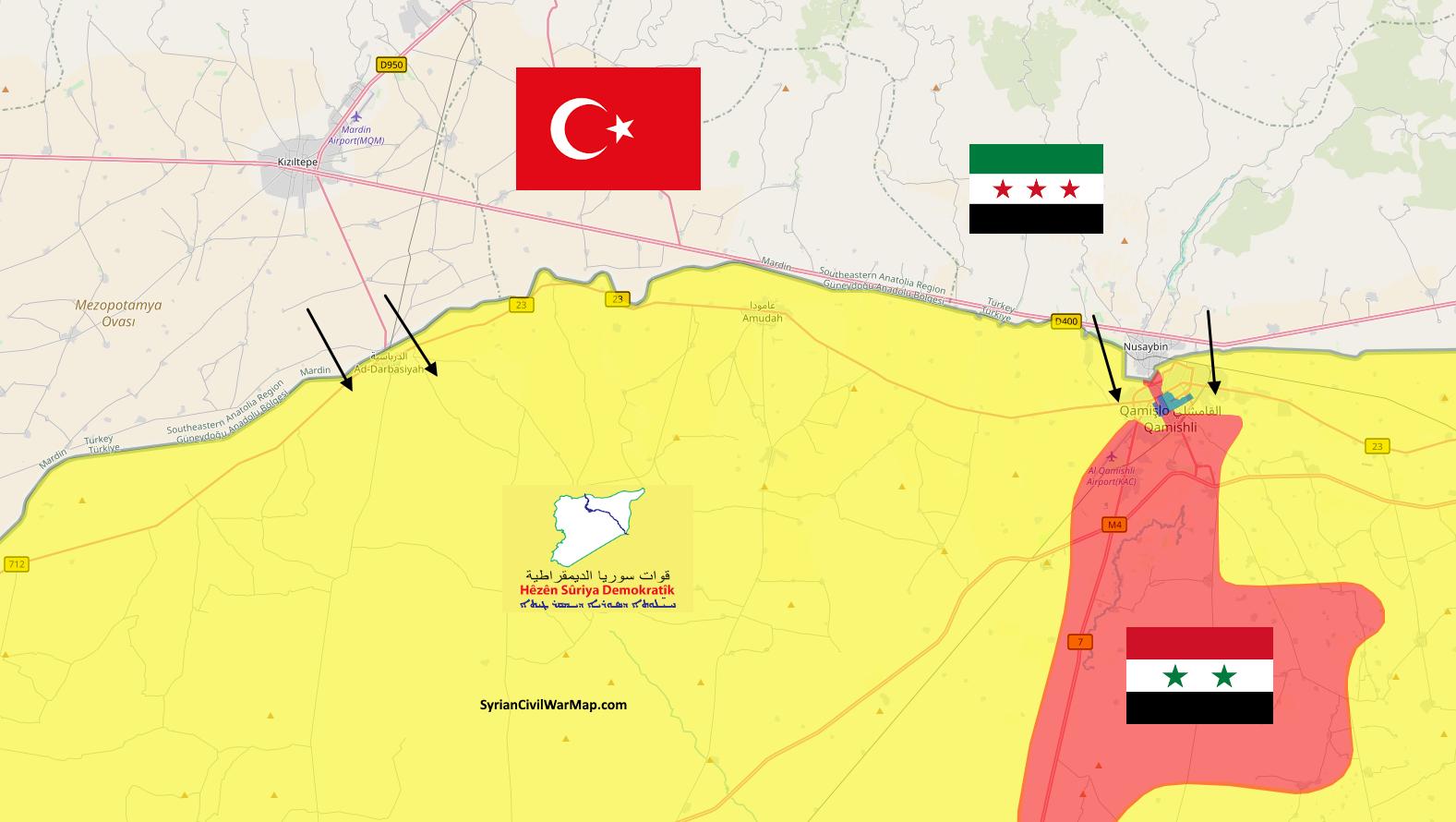 MORE:
Clashes by heavy weapons between the Turkish Army and  Kurdish Syrian Democratic Force (SDF) militia near TelAbyad city.
An Assyrian man Fadi Sabri Habsotou was killed by Turkish shelling on Qamishli minutes ago.
 In Qamishli: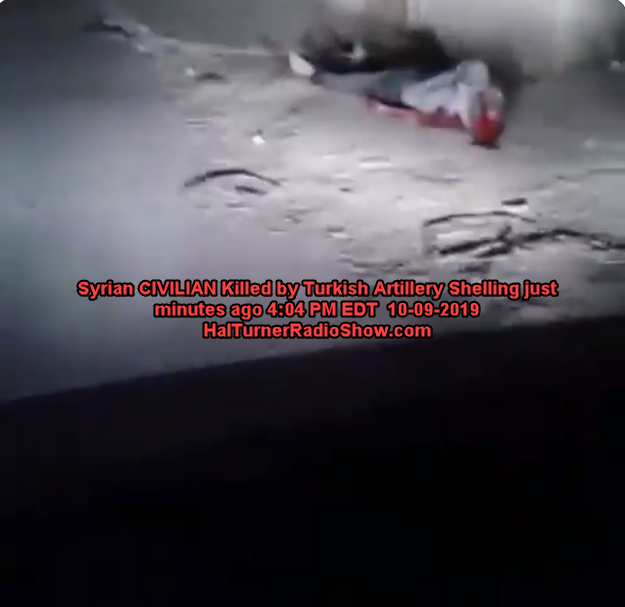 The poor guy was standing in front of his own house, minding his own business, not bothering anyone, when a Turkish Artillery Shell detonated in his house.   
Most of the man's head was ripped apart by the blast and his body was hurled about 100 feet away.
UPDATE 4:11 PM EDT --
Fierce clashes in the border cities of Qamishli & Derbasiya, as Kurds defend against the heavy Turkish military attack.
 Turkish Army is pounding the targets in western Ayn al Arab.
Strong Turkish shelling now on the city of TelAbyad north Raqqa.
Turkey is again shelling the city Serê Kaniyê (Ras al Ain) city center now.
INTEL VIDEO
From an Intel Source INSIDE THE TURKISH ARMY!   As they enter Syria in the dark of night for what THEY call an "Incursion" but what REALLY looks like a gigantic ETHNIC CLEANSING operation.
I am able to show you SOME of the video I get from my former colleagues in the Intelligence Community globally, who I met during my years as a National Security Intelligence Asset with the FBI Joint Terrorism Task Force (JTTF). 
I was one of the few such persons granted "Extra-Territorial" operating authority by the Office of Intelligence at FBI Headquarters in Washington, DC. 
In that capacity, I met, worked with, and forged relationships with Intelligence people in many countries; relationships I maintain to this very day.  As such, I get information that the mass-media never gets near!
I am able to show you this, but there is much more I cannot show you due to the need to protect a covert asset.  When I report something to you, it is SOLID.  But there are many times I simply cannot quote or divulge the source so as to protect that source.
Most such times, such Covert Intel is for SUBSCRIBERS ONLY.   That's one good reason YOU should subscribe to this site for a whopping $1 a week billed wither Quarterly ($13) HERE or billed monthly at $5 HERE.  When you sign-up, your web browser MUST ALLOW COOKIES from this web site in order for your access to work.
U.S.  CONGRESS TO IMPOSE SANCTIONS UPON TURKEY
United States Senators Lindsay Graham (R) and Chris Van Hollen (D) have jointly proposed CRUSHING economic sanctions to be placed on Turkey for today's invasion of Syria.   Here is the info from Senator Graham: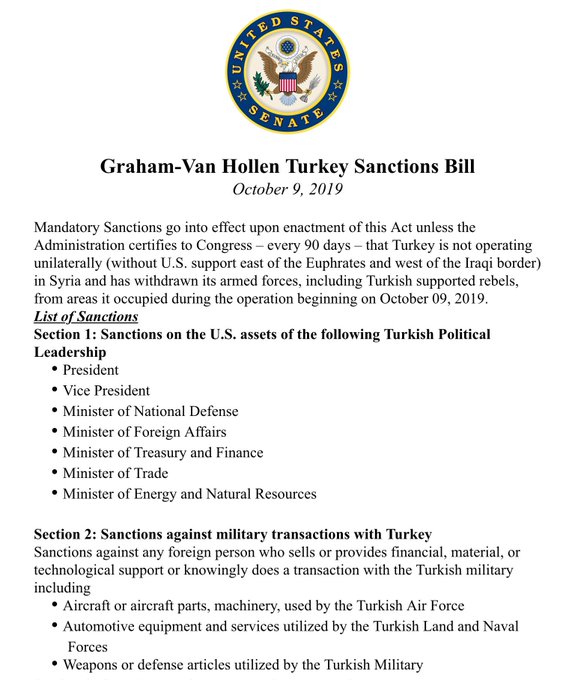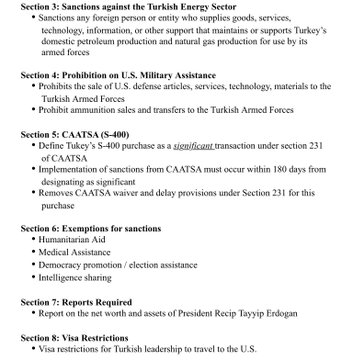 ***** BULLETIN *****
UPDATE 5:52 PM EDT --
The Turkish Air Force has BOMBED a U.S.-Coalition Anti-Terrorism Training Facility in Syria.  Story HERE
REMINDER: YOU can keep this web site FREE to the General Public by clicking one or more of the ads below which generates Advertiser revenue of two to three cents per click - no purchase necessary by you -- and helps offset operating costs for this web site.