The United States government has informed the Ukrainian Government that all Intelligence Assessments of Russian military movements points to a massive invasion of Ukraine within forty-eight hours.
The scalable map below show the location of Kharkiv:
As of 3:24 PM EST, the Hal Turner Radio Show can also confirm NATO allies have been given a similar intelligence assessment warning of an imminent attack, according to a NATO military official. The official cautions that "no one knows for sure" what Putin is going to do.
In addition, the U.S. has assessed that Russia has completed all preparations for an invasion, a senior defense official familiar with the latest intelligence tells me "They are as ready as they can be," the official says.   A Defense Department source says that of all the troops and equipment brought to the area by Russia over the past months "80 PERCENT IN FORWARD POSITIONS, READY TO GO."
The U.S. assesses that Russia has 100 percent of its aviation and maritime assets needed for an Ukraine invasion in place, per a senior U.S. defense official.  The Russian Navy has moved three large landing ships, five warships and a missile boat to the Sea of Azov.
Senior DOD official on Russia 'ready to go' assessment: "If ever we wanted to be wrong, we want to be wrong about this."
AIR INCURSION: A source close to Zelenskyhas just confirmed what US intel sources told me, that earlier today Russian military aircraft flew into Ukrainian air space in what is thought to be a probing of air defense systems and/or reconnaissance.
Under order from Russian Command, frontline forces in the ORDLO have been suddenly ordered to cease all radio communications... IP telephony only! Bad sign. Explains the radio silence we've seen today.  Here is word about the order:
JUST IN  3:37 PM EST -- There is now a 51km long TRAFFIC JAM on the highway from Mazyr, Belarus to Kiev, Ukraine, caused by the southward movement of several gigantic Russian Military convoys!  The map shows the route; the traffic jam is circled:
NATO AIR SPACE COVERAGE???
Ukraine Foreign Minister Kuleba shocked media outlets this afternoon when he revealed "Negotiations are underway to cover our airspace with NATO forces."
Earlier, former Obama Administration Official Evelyn Farakas publicly tweeted the US should impose a No-Fly Zone over Ukraine air space, and it now appears the US and NATO may be taking that advice seriously.   The absolute moment NATO or the US tries that, means actual, active war, with Russia.
ECONOMIC SANCTIONS - "Acts of War"
The United States imposed a series of economic sanctions upon Russia yesterday in response to the recognition by Russia of Luhansk and Donetsk as "Independent states."
In response, the Russian Foreign Ministry said today "new US sanctions will be met by a 'strong response', 'sensitive for the American side.'
This afternoon, The EU imposed sanctions against 351 State Duma deputies who voted for the recognition of the DPR and LPR, as well as against 27 individuals and organizations. Then, EU EXEC. VP DOMBROVSKIS ANNOUNCED: "IF RUSSIAN SOLDIERS ENTER UKRAINE BEYOND SEPARATIST-CONTROLLED, SELF-PROCLAIMED REPUBLICS, THE EU IS PREPARED TO IMPOSE A SECOND SET OF SANCTIONS ON MOSCOW."
Secretary of the General Council of United Russia and Deputy Chairman of the Federation Council Andrey Turchak said that Russia is indifferent to the sanctions imposed by the West and their consequences.
When asked what options the Russians might employ against such Sanctions, an Intelligence Analyst source responded in a general manner, not speaking for anyone by telling me:
Russia could close airspace to civil airlines of the countries that sanction Russia. That would be hugely disruptive to international flights.
Russia could declare that Russian exports must now be paid for in Rubles, gold, etc.
Russia could stop all sales of anything to USA (space rocket motors and oil especially).
Russia could break all contracts with countries that sanction Russia on the grounds that a state of hostility exists. That is, all oil and gas deliveries stop immediately.
Russia could announce that no more gas will be shipped to or through Ukraine on the grounds that a state of hostility exists. Russia won't sanction anyone. They don't play with gloves. They will stop the natural gas deliveries to Europe, and the entire world economy collapses. Assuming a fantasy best case scenario (fantasy, because it will NEVER happen), Europe's LNG terminal unloading capacity, even working 100%, 24/7, assuming a non-stop stream of tankers, can only match under 17% of what Russia delivers. Needless to say, European economy goes belly up the next day, and the world will follow. And when that happens, countries automatically pivot direct to war. A lot, including the US, get granted war powers that allow the state to seize the means of production and distribution, set price controls, require civilians to operate and maintain critical infrastructure - including being drafted/forced into service, set curfew and movement restrictions, suspend constitutions and civil rights,, etc. It can get very draconian very quickly. But will not change the outcome : full economical collapse. Add to that the pure mad-max SHTF when the is no food in the cities. There isn't much a government can do, TODAY, that can avoid the worst case scenario. We're NOT in 1916 or 1940, when most of the world lived on country-side, and produced food. We're not in 1916 or 1940, when the supply chains were extremely short (hell, you could use carriages then to supply the economy and the people). We're in 2022, after 2 years of constant economic decline, millions of companies that went bankrupt, an inflation that needs just a nudge to go up faster then an hyper-sonic missile, and supply chains that are thousands of miles long. Maters not what government do, it's going to be the biggest SHTF ever.
Most likely the last SHTF.
Russia and China could roll out their counter-SWIFT.
They could abandon the "petrodollar" too. That would FUCK everyone.
The European Union has officially called all heads of state and government to an emergency meeting in Brussels tomorrow evening. On the agenda: war or peace in Europe. Nothing less.
Ukrainian Armed Forces must voluntarily leave the territory of the DPR and take out their weapons - Pushilin
 4:20 PM EST -- A source with deep knowledge of events on the ground in Ukraine, and who has been spot-on in the past, says, as earlier reports had forewarned, Russian forces are now about to invade the whole country.
 4:24 PM EST -- City Clinical Hospital No. 5. in Donetsk is being evacuated in preparation for "an imminent patient surge."
 Ukraine's Ambassador to Turkey Vasyl Bodnar said: "when the war becomes not only de facto, but de jure - we will ask the Turkish government to consider the possibility of closing the Black Sea straits for the aggressor state [Russia]."
"Two columns of Russian military equipment have crossed the Russian border and are heading to Donetsk"
The head of the DPR, Pushilin, said that after Russia's decision to recognize the republics of Donbass, shelling from Ukraine only intensified.

"The situation has gone from bad to worse. More shelling. Grad rocket launchers were used in Donetsk, which has not happened for a long time. Our intelligence reports on the movement of a large number of Grad, Smerch, and Uragan launchers closer to contact lines. These are bad harbingers," he explained.
5:14 PM EST -- Looks like internet in Donetsk has been cut. Unsure if this is temporary or permanent.
5:19 PM EST -- Reports now FLOODING IN, seven kilometer (7km) long military convoy in Crimea now on the move northward toward Kherson.  Map below:
5:23 PM EST -- In addition to Internet outage reported just a few minutes ago, information coming in now says TELEVISION is now also out in Donetsk.   COMMS, all going down!
The Rada (i.e. Verhovna Rada, The Ukrainian Parliament) approved the decision to introduce a state of emergency on the territory of Ukraine from February 24.
Restriction of freedom of movement, special entry-exit regime, vehicle inspection;
Ban on mass events and strikes;
Curfew;
Checking documents, searches of citizens and housing;
Prohibition for conscripts and persons liable for military service to change registration without the permission of the military registration and enlistment office. Also a ban on their travel abroad;
Prohibition on the dissemination of information that can "destabilize the situation";
Special regulation of communications and the Internet. Mobile phones may be banned;
Temporary or irretrievable evacuation of the population can be carried out - with the provision of alternative housing.
***** FLASH BULLETIN URGENT ****
5:46 PM EST --   (Mt. Weather Bunker)  Public Updates will resume beneath Green shaded Area
PREMIUM CONTENT:  
This section of the article is only available for Subscribers who support this web site with $1 a week billed either Quarterly ($13) or monthly ($5).

This is necessary because this is a CLOUD-BASED web site.  The way it works is YOU READ . . . I GET BILLED for "Data Transfer."

Despite being politely asked for voluntary donations, few people ever bothered to donate. Then, despite being asked to click an ad within a story to generate ad revenue for this site, the majority of the general public couldn't be bothered with that, either. So there's no reason to give the general public free news anymore; they don't pull their own weight.

With tens-of-thousands of people reading stories here every day, the costs nearly drove the site out of business.

In order to be able to continue providing cutting-edge news, often hours or even DAYS before Drudge and most of the "mass-media" -- if they even cover it at all -- I need to be able to sustain this effort. To do that, I rely on folks like YOU contributing a pittance of about $1 a week;  which is chump-change that you won't even miss!  Yet that small amount makes all the difference in the world to the continued existence of this web site.

In the final analysis, knowledge is power.  Getting information first, or info that other sources simply don't report, is usually well worth a few bucks in the long run.

Please click here to choose a subscription plan in order to view this part of the article.

Subscribers LOGIN to see the story.  

*** If you are having trouble logging-in, email: This email address is being protected from spambots. You need JavaScript enabled to view it.

YOU MUST SET YOUR WEB BROWSER TO "ACCEPT COOKIES" FROM THIS SITE IN ORDER TO LOGIN OR ELSE YOU WILL NOT BE ABLE TO SEE PREMIUM CONTENT.
6:02 PM EST -- BREAKING has started 1 h ago an offensive in Nikolayevka they broke through the defenses of Donetsk republic , DPR
Electricity now said to be out in Donetsk.  That makes Internet, Television, and now electricity.
6:24 PM EST  -- Local residents in the Kramatorsk region of Donetsk are reporting a large number of fighter jets.  This is big.  Ukraine will not fly its limited supply of military aircraft (at least not yet) for fear of them being shot down.   So for locals to begin saying there are a large number of fighter jets, it stands to reason those jets must be . . . Russian!
6:28 PM EST -- Luhansk People's Republic officials claim Ukraine Army is attacking "entire frontline" and is attempting to break through defensive lines.
 *****COVERT INTEL ******
6:30 PM EST -- (From Inside Russia)
PREMIUM CONTENT:  
This section of the article is only available for Subscribers who support this web site with $1 a week billed either Quarterly ($13) or monthly ($5).
This is necessary because this is a CLOUD-BASED web site.  The way it works is YOU READ . . . I GET BILLED for "Data Transfer."
Despite being politely asked for voluntary donations, few people ever bothered to donate. Then, despite being asked to click an ad within a story to generate ad revenue for this site, the majority of the general public couldn't be bothered with that, either. So there's no reason to give the general public free news anymore; they don't pull their own weight.
With tens-of-thousands of people reading stories here every day, the costs nearly drove the site out of business.
In order to be able to continue providing cutting-edge news, often hours or even DAYS before Drudge and most of the "mass-media" -- if they even cover it at all -- I need to be able to sustain this effort. To do that, I rely on folks like YOU contributing a pittance of about $1 a week;  which is chump-change that you won't even miss!  Yet that small amount makes all the difference in the world to the continued existence of this web site.
In the final analysis, knowledge is power.  Getting information first, or info that other sources simply don't report, is usually well worth a few bucks in the long run.
Please click here to choose a subscription plan in order to view this part of the article.
Subscribers LOGIN to see the story.  
*** If you are having trouble logging-in, email: This email address is being protected from spambots. You need JavaScript enabled to view it.
YOU MUST SET YOUR WEB BROWSER TO "ACCEPT COOKIES" FROM THIS SITE IN ORDER TO LOGIN OR ELSE YOU WILL NOT BE ABLE TO SEE PREMIUM CONTENT.
UPDATE 6:40 PM EST --
Receiving reports now of "Direct clashes between Russian Army and Ukrainian Army forces.   Actual nation-to-nation fighting.  Location info very imprecise right now. High stress environment for sources.  Endeavoring to get further details.
6:50 PM EST -- Reports of cross river battle between Russian backed separatists and Ukraine at Seversky
6:57 PM EST -- Mobile communication has completely GONE OUT in Donetsk.  Four Russian jammers IL-22 PP are in the air right now and jamming all phone internet and radio traffic.
7:02 PM EST -- Shooting near the North Bridge in Kiev.  UNKNOWN REASON; UNKNOWN PARTICIPANTS.  
7:05 PM EST -- From earlier 6:50 PM battle at river, reports now say "Luhansk People's Republic: Popular forces repelled an attack by the Ukrainian army on Nikolayevka, in which killed nine people."
(HT REMARK: This very much seems to me to be the initial stage...cyber attacks, electronic jamming of comms before the airstrikes. My guess is that Speztnaz are infiltrating for sabotage and targeted assassinations of government and military leaders now.)
7:10 PM EST  -- Uncorroborated claim: family of President Zelensky was taken by plane from Kiev to Poland. This information has not been confirmed"
7:20 PM EST -- Ukrainian President Zelenskiy says he tried to call Putin today, but he did not respond.    (HT REMARK:  Oh, this is priceless!  Zelensky wanted to what?  To TALK?   Why?  He had four fucking years to talk.  His country had almost eight fucking years to talk.  All that time, nothing.   No action on the Minsk Agreements.  Nothing but strong-arm tactics against Russian-speaking people in eastern Ukraine.   Zelensky and his government GANG, talked with guns; talked with bombs.  And when the second most powerful nation on earth, Russia, tried to get them to talk with Luhansk and Donetsk, Ukraine refused.  Flat-out refused.   But that wasn't the real problem.  The real problem was the talk Zelensky and his gang have been doing for the past couple months.  Their talk is exactly what got him and his government into the mess he's in now.  TALK is what did it.  And as the full might of the Russian Army comes crashing through the doors of Zelensky's Presidential; residence, and takes him out in chains, he can thank his big mouth.  Because his mouth is what got him into this.  The time for talk is over, pally-boy.  Now, you get what you get.)
7:30 PM EST -- Ukrainian military units A1215, A4104, A0501 in Kharkiv put on combat alert, guns and ammo being issued. No movement, waiting for orders. A1215 - 302nd Anti-Aircraft Missile Regiment, А4104 - 203rd Aviation Training Brigade, А0501 - 92nd Mechanized Brigade
!!1 NOTAM !!! RUSSIA CLOSES UKRAINE AIR SPACE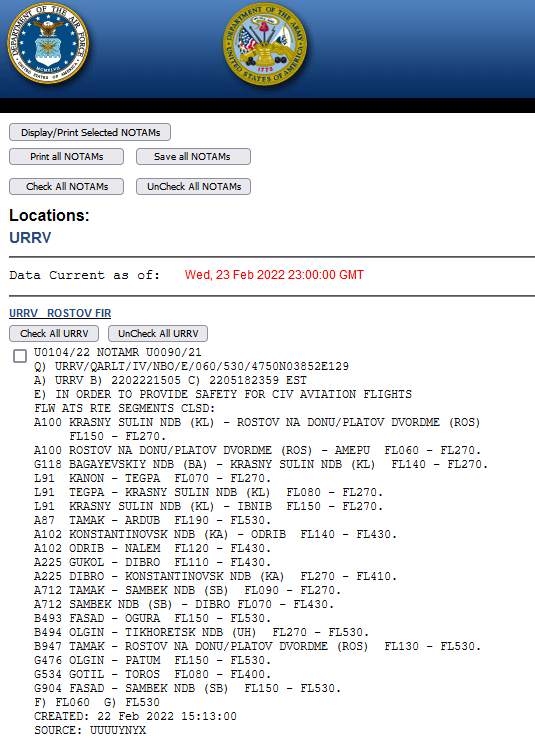 8:01 PM EST -- Reporters of the Zvezda television channel were shelled by the #Ukrainian armed forces on the outskirts of #Donetsk, a spokesperson for the People's Militia of the Donetsk People's Republic (DPR) said on Wednesday.
PROGRAMMING NOTE (Updates Continue Below)
All the latest updates on Ukraine, and this latest news from the World Bank, TONIGHT at 9:00 PM eastern US time (GMT -0500) on The Hal Turner Radio Show.
Tune-in Live via :
WBCQ  7.490  and 6.160 Shortwave
or
WRMI 5.950 Shortwave
or
KYAH  540-AM Utah's Talk Authority"
You can also LISTEN LIVE ONLINE by clicking this link while the show is airing:
PRIMARY STREAM:   http://stream.halturnerradioshow.com:8000/   (Click LISTEN)
BACK-UP STREAM:  http://52.67.39.223:8000/  (Click LISTEN)
NOTE: These streams are already up now and streaming commercial free music until the show starts.
UPDATE 8:10 PM EST -- UN Security Council to hold emergency session on Ukraine Wednesday night, diplomats say.  (HT Remark: Yawn)
 8:25 PM EST -- Reuters reports at least five massive explosions have been heard in separatist-held Donestk in eastern Ukraine
WHITE HOUSE: G7 LEADERS TO HOLD VIRTUAL MEETING ON THURSDAY TO DISCUSS SITUATION WITH RUSSIA AND UKRAINE
 8:28 PM EST -- UKRAINE FORBIDS ALL MALES 18-60 FROM LEAVING COUNTRY !!  MUST REPORT FOR MILITARY SERVICE! ! ! ! !
8:30 PM EST -- U.S. SECRETARY OF STATE BLINKEN BELIEVES RUSSIA WILL INVADE UKRAINE BEFORE THE NIGHT IS OVER - NBC NEWS
 Ukrainian forces bombed Donetsk with 10 missiles banned under Minsk agreements" - Donetsk authorities (DPR)
8:34 PM EST -- Multiple airlines, including European carriers, have tonight been informed by aviation risk management agencies that Ukraine - as a whole - is now considered a "Do Not Fly"  area on the basis of "extreme tension and developments on Feb 23"
 Russia closing airspace to civilian aircraft along North east border with Ukraine. Until May 18.
Social Media showing tanks being brought into Kiev:
⚡️🇺🇦 Tanks are on the streets of Kiev. #Ukraina pic.twitter.com/TawjnCJtZL

— Ukraine Report (we are back) (@UkrWar_Report) February 24, 2022
8:39 PM EST --  The Ukrainian Navy has been put on alert in the port of Odessa.
8:42 PM -- 
According
@googlemaps
, there is a "traffic jam" at 3:15 in the morning on the road from Belgorod, Russia to the Ukrainian border. It starts *exactly* where we saw a Russian formation of armor and IFV/APCs show up earlier. Someone's on the move.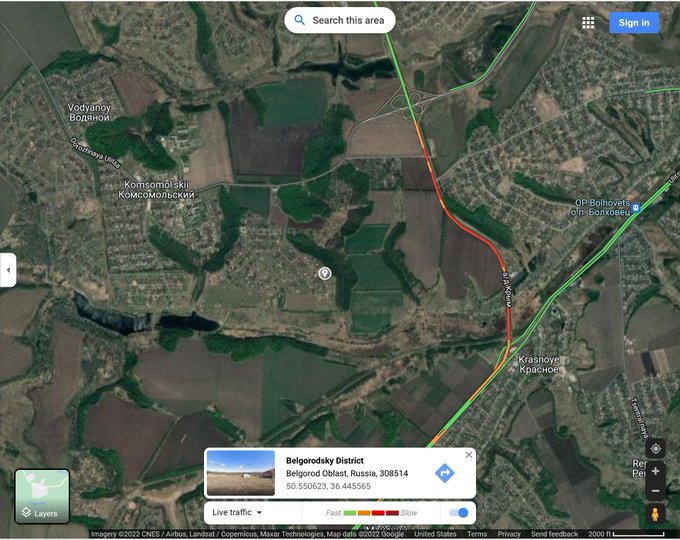 8:44 PM EST -- Reports that two military positions have been captured by Ukrainian forces in the Luhansk region. Two company size units (70-80 soldiers) have managed to infiltrate the area. This is reported by pro-Russian sources.
Updates -- I'm going on the air within eight minutes, for two hours.  Tune-in free:
WBCQ  7.490  and 6.160 Shortwave
or
WRMI 5.950 Shortwave
or
KYAH  540-AM Utah's Talk Authority"
You can also LISTEN LIVE ONLINE by clicking this link while the show is airing:
PRIMARY STREAM:   http://stream.halturnerradioshow.com:8000/   (Click LISTEN)
BACK-UP STREAM:  http://52.67.39.223:8000/  (Click LISTEN)
9:06 PM EST -- WAR HAS BEGUN; Russian Army Invading from multiple points  COVERAGE HERE