At about 2:30 AM eastern US time on Thursday, shelling and mortar fire from Ukraine forces began hitting both Donetsk and Luhansk.   Ukraine is seven hours AHEAD of U.S. eastern time, so the shelling began around 7:30 PM Wednesday night on the US east Coast time zone.
Reports, mostly from social media, indicate heavy fighting by both sides along what is called the "Line of Contact" between the militias of Luhansk/Donetsk, and the Ukrainian Army.
For much of the early morning hours Thursday since the shelling began, Ukraine has flatly denied firing on either Luhansk or Donetsk.  Ukraine has repeatedly said they are not engaging.   Yet numerous videos from civilian homes in the area, with the clear sounds of shells flying overhead, and of mortars or artillery shells exploding in the distance, and undeniable proof that __ someone __ is attacking.
This story , publishing at 10:16 AM EST, will feature numerous videos and near real-time reports for the next several hours.  Please check back for updates. . . .
10:23 AM EST --
We begin with public confirmation from the Organization for Security and Cooperation in Europe (OSCE) "OSCE confirms there have been multiple shelling incidents along the line of contact since this morning."   So these reports are all CONFIRMED by a reputable, outside, third-party.
Forces fired on the village of Luhansk, as a result of which one of the shells hit a kindergarten where children were at the time. According to preliminary data, the children were not injured, two educators of the institution were injured.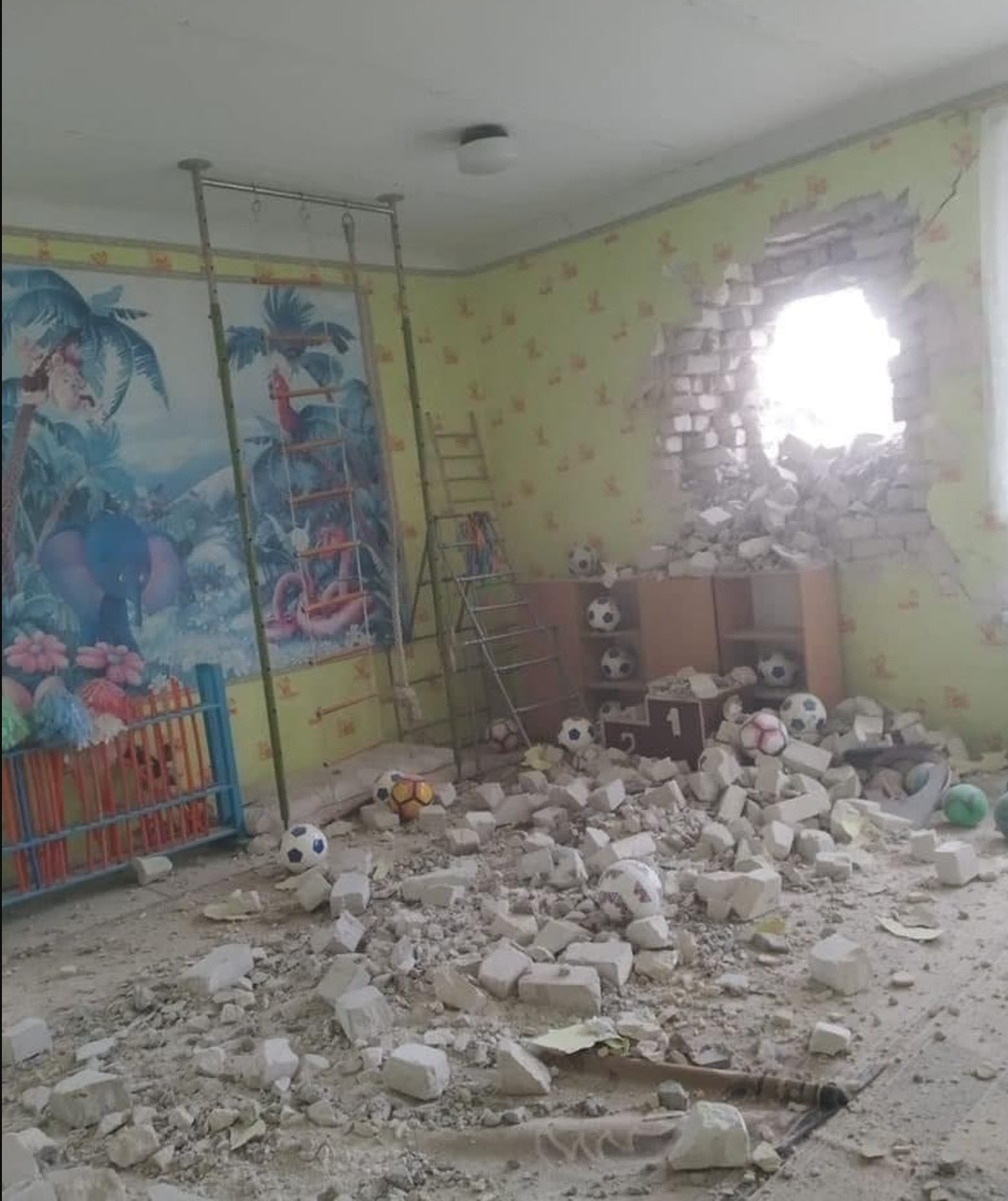 Outside view of same school: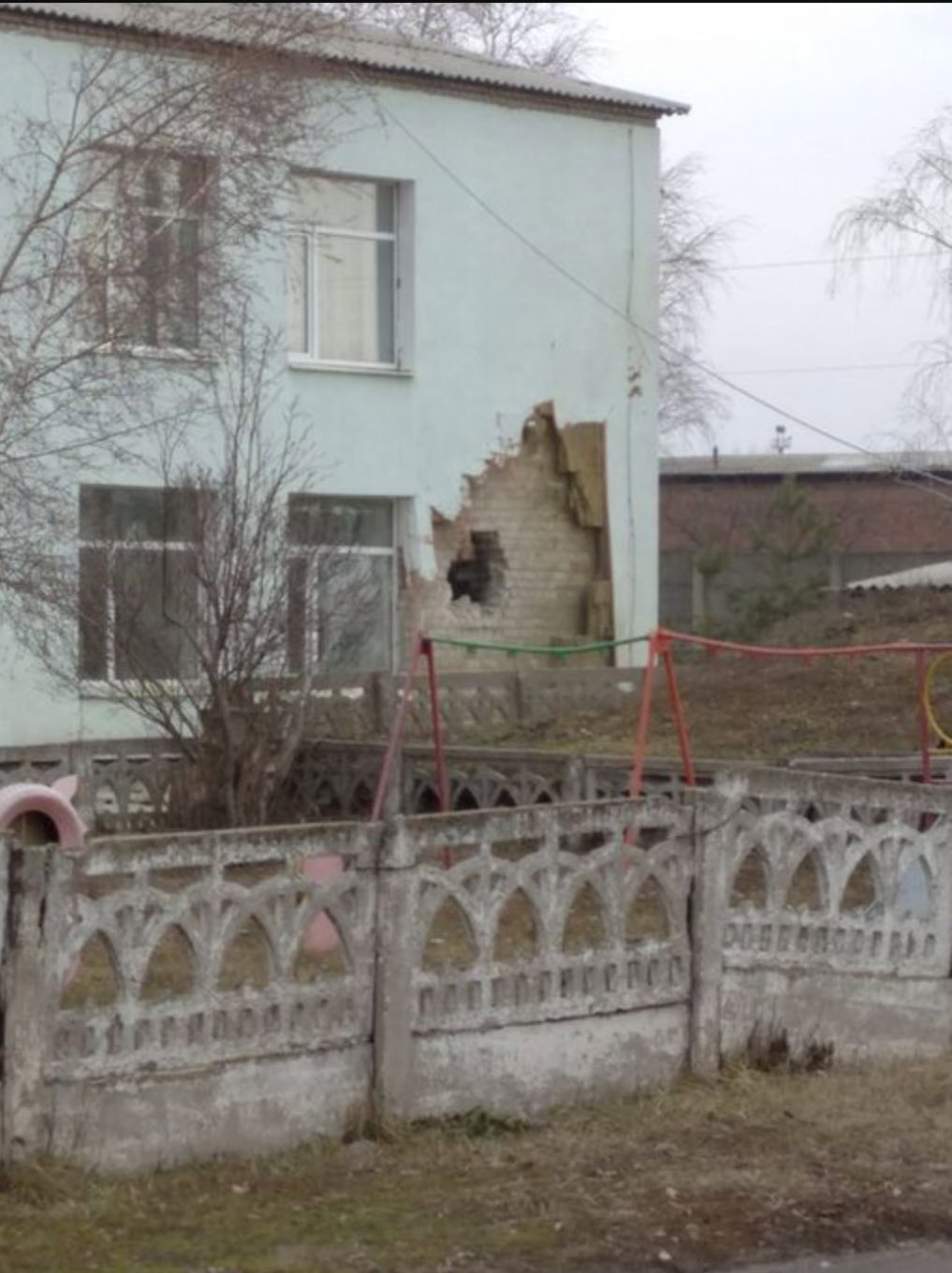 The OSCE records numerous incidents of shelling along the line of contact in Donbas. The use of artillery systems was also noted.
 In War, Truth is the first Casualty --
UPDATE FEB 18 9:47 AM EST -- THE IMAGES ABOVE TURNED OUT TO BE FAKE!!!!   This morning we received definitive proof the hole was deliberately made by Ukraine using a heavy machine with an impact hammer- pictured below: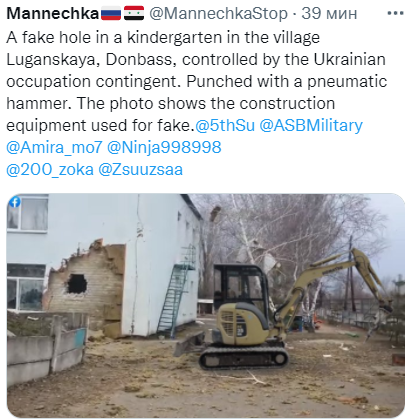 From the Ukrainian side, this "Unsettling signs from the Russian-controlled separatist regions in Ukraine this morning. The separatists accuse Ukraine of "large-scale" shelling and claim the situation has "substantially worsened". The worry is they're laying the groundwork to justify a Russian attack."   (HT Remark: So Ukraine is blaming Russia for this attack upon . . . . Russian citizens . . . inside Luhansk and Donetsk?)
Video from Kindrashivka, shells can clearly be heard flying overhead.
10:30 AM EST --
The territory of Donetsk airport is under fire. The fire is conducted using 152-mm artillery systems.
"Emergency Statement" by Spokesman of the "Donetsk People's Militia"
Short translation ""Ukrainian side continues to violate the ceasefire. . . four violations today. . . including 42 shells, grenade launchers. . . we were forced to return fire to suppress the attack"
BULLETIN
10:37 AM EST -
Smoke is now being seen coming from the Russian Embassy in Kiev, Ukraine.  They appear to be burning documents.   This is standard Diplomatic Practice when a nation is going to war; they burn all the sensitive documents and physically destroy all communications and computer gear, so it cannot fall into the hands of the country they are going to war against.   (HT REMARK: THIS is the signal as to what is actually coming.  THIS is way bad.)
VIDEO from Embassy:
10:56 AM EST --
NATO rejects Russia's Second Security demand on "expansion."
NATO confirms plans to expand its military infrastructure in Eastern Europe in contravention of security demands made by Russia.
11:06 AM EST --
The Ukrainian army bombed the suburbs Gorlovka town now.
Video (English) from Donetsk.  Real fear in the man's voice:
11:19 AM EST --
Russia expels US Deputy Ambassador in Moscow Bart Gorman. US promises a "response"
State Department spokesperson says of Russia expelling the US' number 2 official at US embassy Moscow: "Russia's action against our [Deputy Chief of Mission] was unprovoked and we consider this an escalatory step and are considering our response."
MORE:
After NATO's flat-out REFUSAL to halt its eastward expansion, in a formal, written reply,  Russia now "insists " on withdrawal of all US forces from Central and Eastern Europe.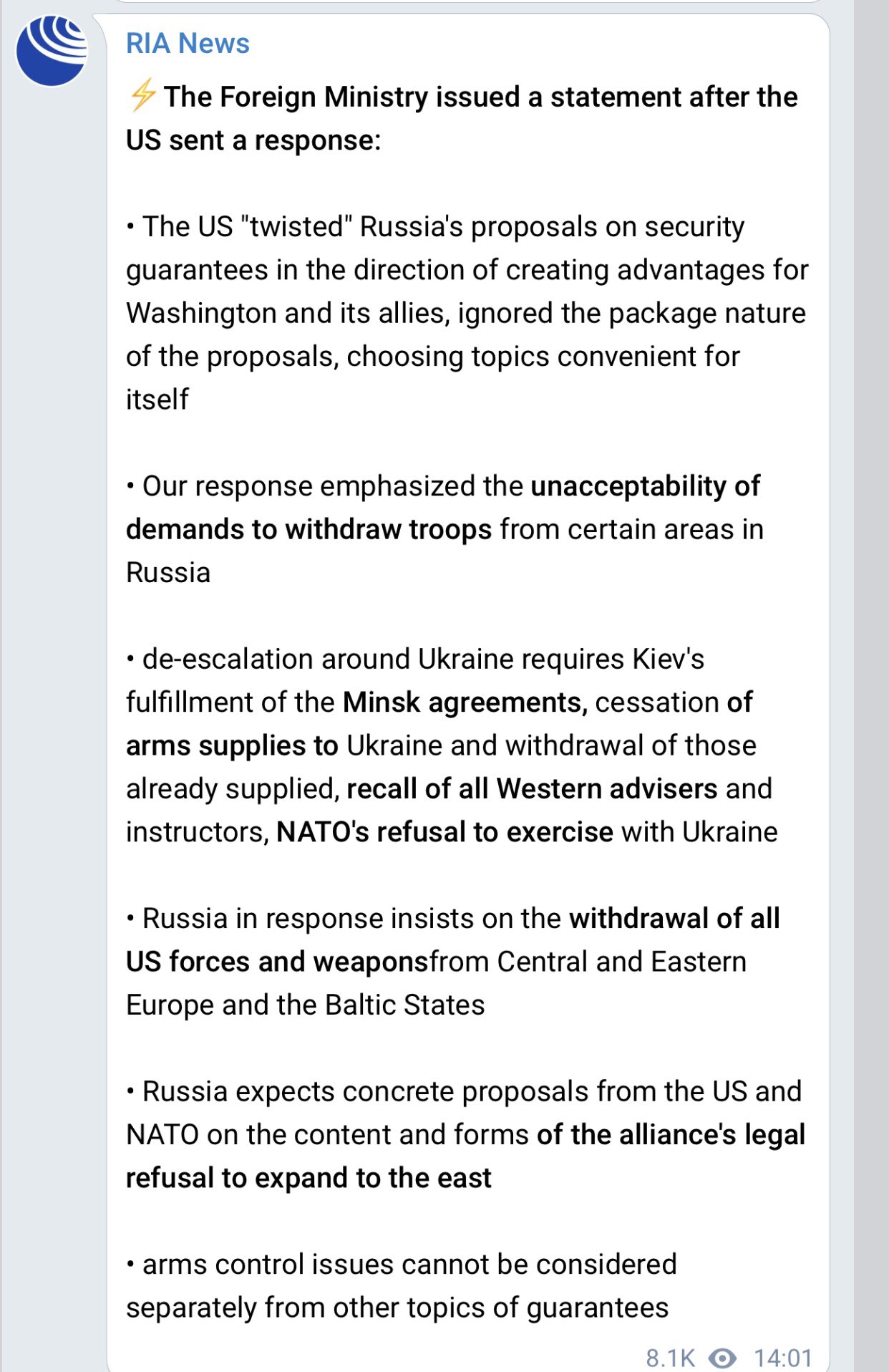 (HT REMARK:   Diplomatic language is an art unto itself and when a nation uses the word "insists" that means a fight can erupt.   All those Russian Army troops that everyone _thought_ were for Ukraine, apparently were not.   It now appears to me they were for a direct confrontation with NATO itself, to rid eastern and central Europe of US forces.   I predict Russia will take Lithuania in a blitz invasion, then tell the other Baltic states of Estonia and Latvia  something like "Either you agree right now to ejecting US and NATO forces or YOU get what Lithuania just got." I think Russia will then go to Poland and tell them the same thing.  Next would be Romania and perhaps Bulgaria..  Just my prediction.)
 and;
"In the absence of the readiness of the American side to agree on firm, legally binding guarantees … by the US and its allies, Russia will be forced to respond, including through the implementation of military-technical measures."
11:43 AM EST --
US Defense Secretary Lloyd Austin claims Russia is moving troops closer to Ukraine's border and is stocking up on blood supplies.

Speaking in Brussels, Austin says the US is also seeing Russia "fly in more combat and support aircraft" and is sharpening their "readiness in the Black Sea".

"I was a soldier myself not that long ago. I know first-hand that you don't do these sorts of things for no reason," Austin, a retired army general, says.

"And you certainly don't do them if you're getting ready to pack up and go home."
11:47 AM EST --
TASS is reporting that Russian President Putin has begun a series of meetings to prepare a message to parliament.
It is unclear what the speech will be about as no additional information was given.
12:00 Noon EST --
Half the town of Stanica in Luhansk, is now without electricity.  Some residents are fleeing to bomb shelters
 12:03 PM EST --
Lugansk People's Rep. forces respond to Ukrainian shelling — by firing artillery back onto Ukrainian military positions. LPR is anticipating a possible Ukrainian military breakthrough near Stakhanov - Alchevsk LOC, citing the situation has greatly escalated
-----
U.S. Ambassador to the UN: "The evidence on the ground is that Russia is moving toward an imminent invasion. This is a crucial moment"
12:07 PM EST --
The Times UK: "Western officials say Russia is continuing to build-up its forces "at pace" on Ukraine's border and more battalion tactical groups have now arrived."
The Times UK: Quoting a Western official - "We are entering into a very dangerous phase"
Big schedule change: U.S. Secretary of State Antony Blinken is now flying to New York before Germany to face off with the Russians at the UN.
Blinken will likely be the highest-ranking official there. US official says it's "perhaps the most perilous moment for peace and security since the end of the Cold War"
12:12 PM EST --
There have now been reports from Forex that the U.S. State Department has fired the Russian Deputy ambassador to Washington and ordered his return to Russia.
12:14 PM EST --
RUSSIA IS PREPARED TO COLLABORATE WITH THE UNITED STATES ON A PLAN FOR RECIPROCAL INSPECTION OF AMERICAN MISSILE INSTALLATIONS IN ROMANIA AND POLAND, AS WELL AS SOME RUSSIAN FACILITIES. - RIA
12:16 PM EST --
RUSSIA DEMANDS WITHDRAWAL OF ALL AMERICAN FORCES AND WEAPONS FROM CENTRAL, EASTERN EUROPE AND THE BALTIC STATES - MINISTRY OF FOREIGN AFFAIRS
VIDEO: UNITED NATIONS SECURITY COUNCIL MEETING IN NEW YORK CITY
COVERT INTEL (Public updates WILL Continue Beneath Green Area)
PREMIUM CONTENT:  
This section of the article is only available for Subscribers who support this web site with $1 a week billed either Quarterly ($13) or monthly ($5).
This is necessary because this is a CLOUD-BASED web site.  The way it works is YOU READ . . . I GET BILLED for "Data Transfer."
Despite being politely asked for voluntary donations, few people ever bothered to donate. Then, despite being asked to click an ad within a story to generate ad revenue for this site, the majority of the general public couldn't be bothered with that, either. So there's no reason to give the general public free news anymore; they don't pull their own weight.
With tens-of-thousands of people reading stories here every day, the costs nearly drove the site out of business.
In order to be able to continue providing cutting-edge news, often hours or even DAYS before Drudge and most of the "mass-media" -- if they even cover it at all -- I need to be able to sustain this effort. To do that, I rely on folks like YOU contributing a pittance of about $1 a week;  which is chump-change that you won't even miss!  Yet that small amount makes all the difference in the world to the continued existence of this web site.
In the final analysis, knowledge is power.  Getting information first, or info that other sources simply don't report, is usually well worth a few bucks in the long run.
Please click here to choose a subscription plan in order to view this part of the article.
Subscribers LOGIN to see the story.  
*** If you are having trouble logging-in, email: This email address is being protected from spambots. You need JavaScript enabled to view it.
YOU MUST SET YOUR WEB BROWSER TO "ACCEPT COOKIES" FROM THIS SITE IN ORDER TO LOGIN OR ELSE YOU WILL NOT BE ABLE TO SEE PREMIUM CONTENT.
12:32 PM EST --
U.S. military radar base erected this morning in NE Romania, right next to Ukraine's border.

I personally fail to see the reason of installing a radar in that area, unless airstrikes are expected from Belarus in western Ukraine.

This new development in my area tells me that the U.S. is concerned that the conflict will absolutely NOT be limited to Dobass and Eastern Ukraine.
12:42 PM EST --
The language just took a very sharp and visible turn for the worse.  The US Embassy in Kiev, Ukraine just tweeted this - saying flatly "Russia's shelling of . . . "  U.S. just saying it in clear terms: "Russia's shelling..." NOT "Rebels" or "Russian-backed rebels"....
 This language is directly accusing Russia.  A very sharp change in language: 
Russia's shelling of Stanytsia Luhanska in Ukrainian government-controlled territory in Donbas hit a kindergarten, injured two teachers, and knocked out power in the village. The aggressor in Donbas is clear - Russia. (1/2)

— U.S. Embassy Kyiv (@USEmbassyKyiv) February 17, 2022
Ukraine shelling is hitting farm houses deep inside Luhansk and Donetsk: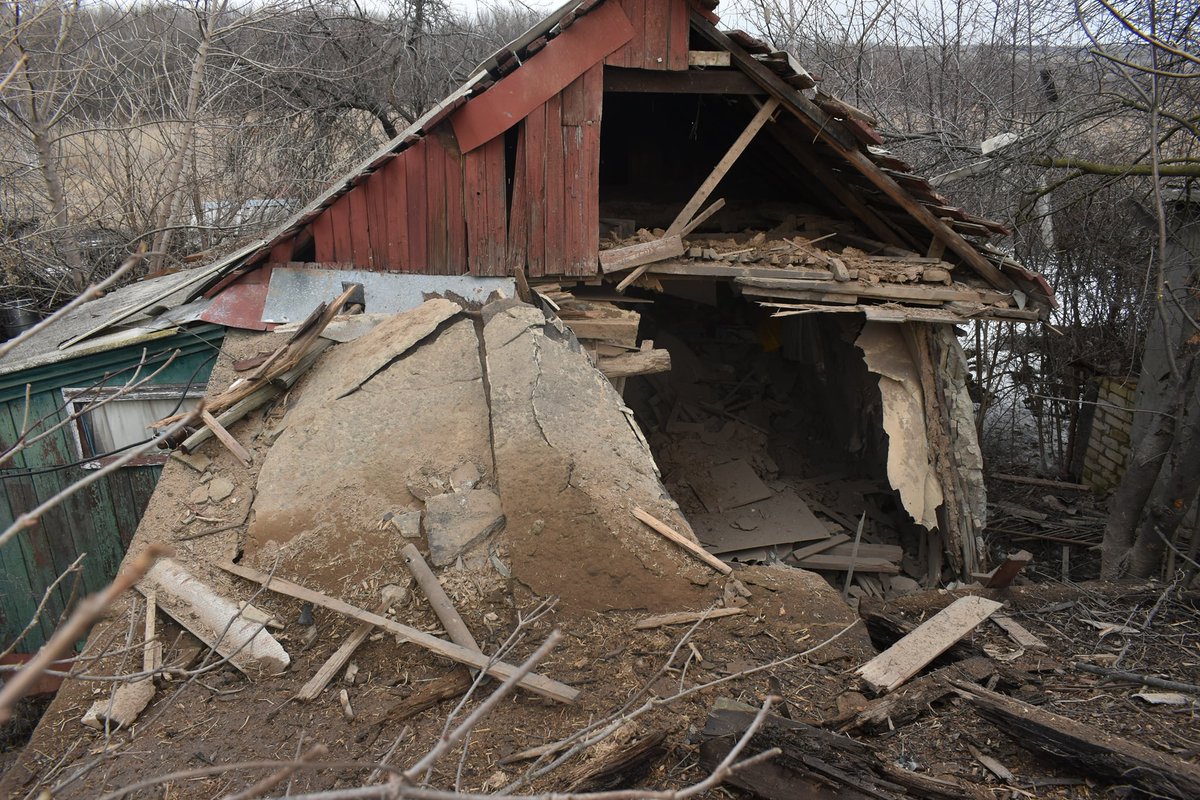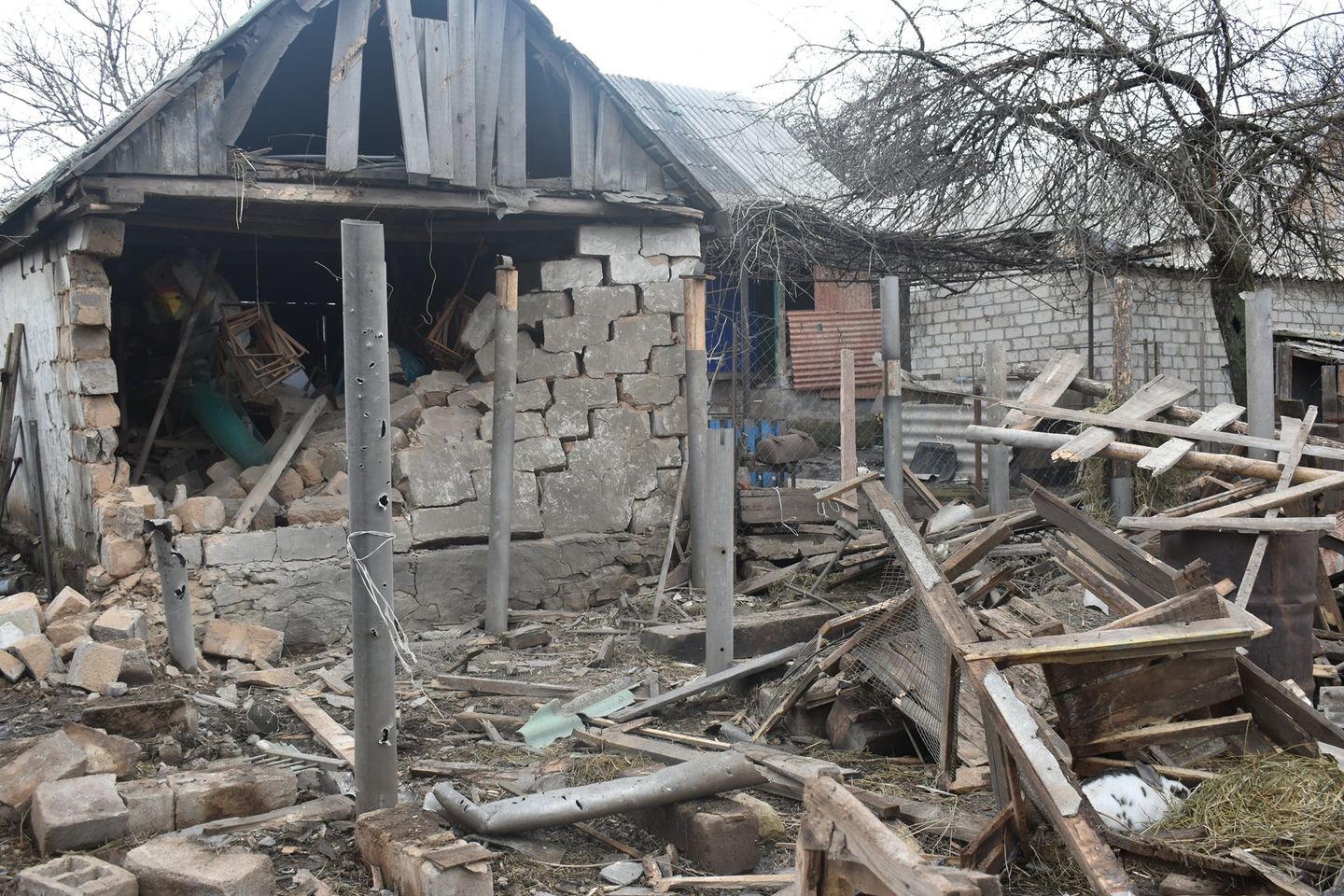 The map below shows the location of the village shown above, being shelled by Ukraine.
 The shelling of the Luhansk region continues. Now there is shelling in the direction of Lysychansk. They are shooting from Pervomaysk and Kadiivka. This origin of firing is territory controlled exclusively by the Ukrainian Army.  This has not happened in nearly 3 years.
12:52 PM EST --
Sounds of artillery now in Stanitsya Luhansk
12:55 PM EST --
To give readers a perspective on how widespread the fighting is today, below is a map showing where battles are being actively fought.   Shelling and mortar fire from both sides is happening at all the points shown below:
1:02 PM EST --
Lithuania's central bank has told the country's banks to prepare for power cuts and cyberattacks as Russia's standoff with Ukraine risks spilling over into a military conflict. Losing electricity and internet access MUST BE PLANNED-FOR.
(HT REMARK: See, I'm not the only one who thinks this is actually going to be a conflict between Russia and NATO, or that Lithuania is directly in the crosshairs.   Lithuania's Central Bank sees what's going on, and what's likely coming.  YOU should be aware that cyber attacks against European Banks may not be the __only__ cyber attacks.   Other such attacks could impact U.S. banks.   YOU should have cash money stashed at home just in case.   If the net or comms in general go down, from cyber-attack or some other reason, ATM's won't work and credit cards won't eb able to be used because credit card machines won't be able to get authorizations to approve sales.   Cash is important.  NOT TO PAY BILLS, BUT TO SURVIVE.)
1:08 PM EST -
How's this for an INADVERTANT admission????   "Ukrainian authorities are preparing the evacuation of the office of the President of Ukraine and the Verkhovna Rada to Lviv in case of failure of the aggression against Donbass"
(HT REMARK:   So they ADMIT they are the ones perpetrating the "aggression against Donbass! ! ! ! ! ! ! !)
BULLETIN
1:20 PM EST --
Tomorrow the Anti Ukraine Government of the Donetsk (DPR) is evacuating many of the villages on/near the frontline.
(HT REMARK: This is huge. This has never happened in the 8 years of the Ukraine war!!!!  What this tells me is that the folks in Donetsk KNOW what's actually coming, and they are telling their civilians they MUST be out of the way.   The evacuation in ordered for tomorrow.   That tells me this weekend, the shit storm actually kicks off. )
OBSERVATION
This has been going on for hours, and yet other than a couple school teachers allegedly injured when a Kindergarten was hit, not one report about DEAD troops from either side.  Nothing!
What is this, theater?    Are they lobbing all these mortars and artillery shells close - but not hitting?  
The whole thing just struck me as odd, is all.  If there is _really_ a "war" or even real "battles" where are the dead?  In real wars or real battles, people get killed.  That little detail is conspicuously absent from all reporting so far.   
Strange.
 1:47 PM EST --
Luhansk (LPR) tank and motorized rifle units have been put on high alert and have begun advancing to the line of contact in Donbass.  (HT Remark: Remember, the time stamp you see above is when I updated the item, but Ukraine is seven (7) hours ahead of the US east coast time zone)
1:51 PM EST --
In less then 12 hours, commercial air-traffic in Ukrainian airspace will stop. Source: Oleksiy Goncharenko, European Solidarity parliamentary representative in Verkhovna Rada of Ukraine and Council of Europe. Formal NOTAM for Kiev ATC is still not issued.
1:55 PM EST --
At the 1:20 PM update above, I reported Donetsk began telling civilians to evacuate tomorrow and that this had NEVER happened before.   Now I can also report Ukraine is ALSO telling people in those front line villages to evacuate tomorrow.  Mostly around Donetsk.   So now BOTH sides are clearing out civilians.   The writing's on the wall, folks.
1:59 PM EST --
Britain says it will start moving troops and equipment to Estonia today.    (HT REMARK:  See, just like I said above - this is starting to look like a Russia confrontation directly with NATO and the Baltics are (in my view) in the crosshairs.  Why else would Britain decide to move troops to . . . of all places . . . . Estonia, today????   
I've gotta tell ya folks, it looks to me like you and I are about to see history unfold.   I have a sickening feeling this is going to be an all-out, winner take all, fight.  I don't think we have any idea at all just how big and bad this is going to be.  But I have a feeling we're all going to find out, first hand.)
2:22 PM EST --
Ministry of Defense of Estonia: Russia is ready for war - Russian intel has compiled a list of targets in Ukraine in order to paralyze Ukraine Army (UA) self-defense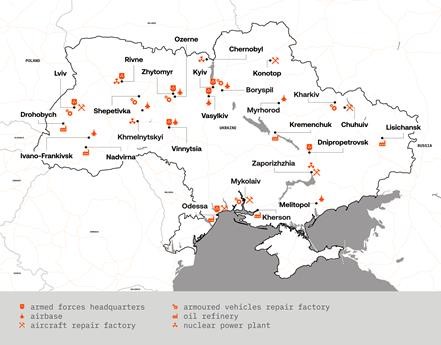 2:34 PM EST --
Shelling now being reported along the Southern Point of Contact near Donetsk and Mariupol, this is a little bit more unusual, fighting near Mariupol has been limited.
3:33 PM EST --
Canadian Defense Minister Anita Anand said Thursday that her government is working to deliver allocations of lethal weapons and ammunition to Ukraine as soon as possible.   (HT Remark: Maybe this is why Canada's five biggest banks are all offline today? The top three were offline all day yesterday.   Maybe Canada's Banks are being electronically attacked because Canada is doing this with Ukraine?    If so, are America's Banks next?)
3:39 PM EST --
Markets getting jittery
Dow on track for its worst day of the year, S&P 500 slides more than 2%, in broad sell-off amid Russia-Ukraine worries https://t.co/fT60JinEif pic.twitter.com/46p0JeShkL

— CNBC Now (@CNBCnow) February 17, 2022
3:55 PM EST --
The entire British military only owns three Signals Intelligence aircraft.  TWO of the three are over Poland and Ukraine, monitoring Russian Military: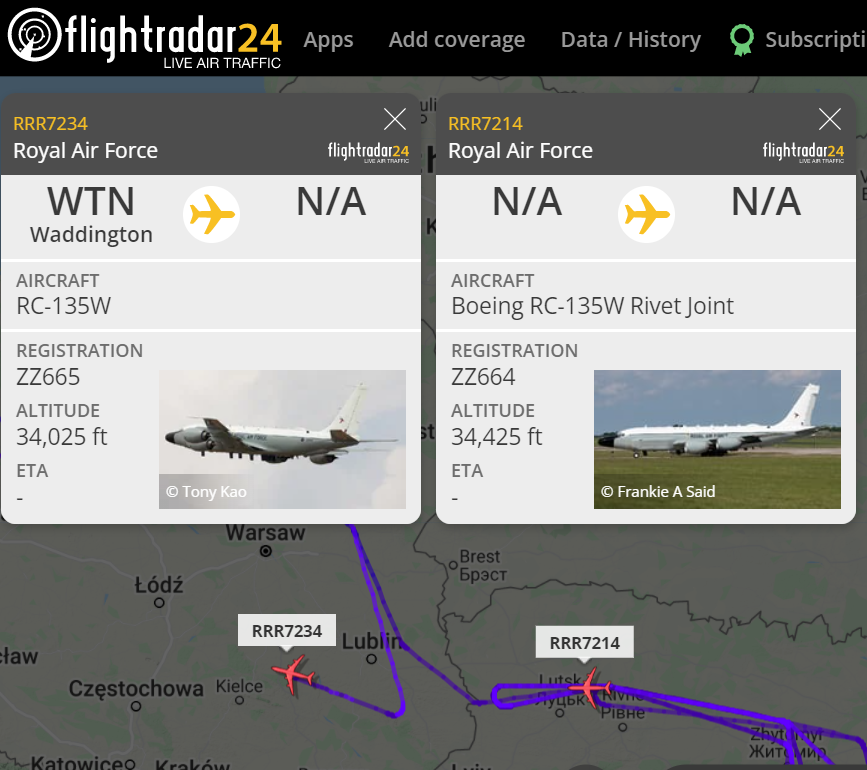 U.S. Global Hawk drone also spying: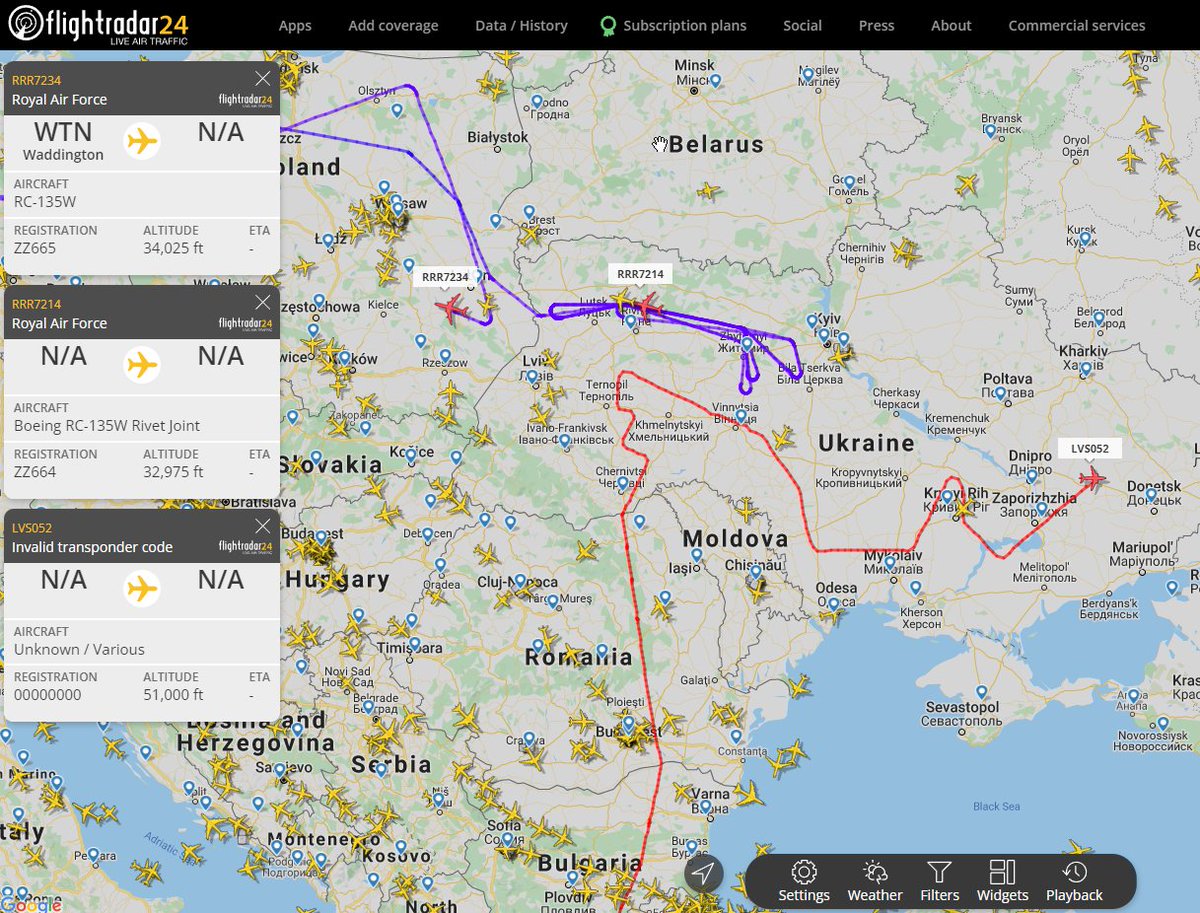 4:09 PM EST --
Perhaps this quote is off.  Prior statements specifically said "military-technical" means; but THIS quote says "respond militarily."   Things are spinning-up:
#Russia says it may be 'forced' to respond militarily if the US won't agree to its security demands; This issue to be resolved now; Russia has demanded that Ukraine (a former close ally and Soviet state) be permanently barred from joining NATO. Stock markets under sell-off.

— Financial Journal (@FinanJournal) February 17, 2022
4:12 PM EST --
UKRAINE: Further shelling (described as "intense) reported across Donetsk, Luhansk oblasts
The Armed Forces of Ukraine opened fire from 122mm artillery in the South of the DPR, Sakhanka.
(PERSONAL NOTE: A LOT of people are viewing this story - many repeatedly.  If it isn't too much to ask, will you please make it a point to click an ad or two below, so it will generate three cents in ad revenue to me?  It would really help cover the costs.)
***** FLASH *****
4:40 PM EST --
Employees of the Federal Emergency Management Agency (FEMA) were told today as they were leaving work "Go immediately to the supermarket and make sure you have plenty of food, water, and medicine for yourself and your family."  They have **NEVER** received such a warning from work, ever before, in the whole history of FEMA.
MORE:
FOX NEWS CHANNEL just ran a piece telling Americans "Prepare as if you're going into a hurricane" because cyber-attacks are going to take a LOT offline.  Video below:
Fox news just had on Aishah Hasnie on telling the American public to "Prepare as if a hurricane is coming" because of potential Russian cyber attacks. 🤨https://t.co/WlkiQR40dg #Russia

— Melissa Sebree AKA Your Mother (@MelissaSebree) February 17, 2022
4:48 PM EST --
Fighting after dark goes on almost all fronts: Donetsk, Gorlovka, Debaltseve-Svetlodar bridgehead, Pervomaiskaya front line, the western part of the Bakhmutka highway.
In addition, from Ukrainian Army held area: Reports that Severodonetsk and Lyssytchansk have lost water supply. 
TANGENT: THE _REAL_ REASON THIS IS HAPPENING . . . 
You want to know why this is actually happening?   Oh, sure, it's related to the NordStream-2 gas pipeline from Russia to Europe; which the Americans and the British don't want to be started up.  It will take billions of dollars away from US and UK firms and put it in Russian pockets.  But that's not reason enough for ww3.   One of the biggest reasons this is being forced to happen has to do with . . .  COVID.
Evidence has surfaced from official records of the World Bank showing the shipment of "COVID-19" medical testing kits, around the world, back in the year . . . .  2017.

You know, a full two YEARS before "COVID" was even named "COVID."
The whole thing . . . . the WHOLE COVID thing, was a complete, utter, fabricated fraud.   All of it.   
And the very rich sneaks who perpetrated it are now worried they're going to get a rope around their neck from the common people whose lives they ruined.
So they need a big distraction to save their own necks.  
Here.  Look:
PROGRAMMING NOTE (Updates Continue Below)
All the latest updates on Ukraine, and this latest news from the World Bank, TONIGHT at 9:00 PM eastern US time (GMT -0500) on The Hal Turner Radio Show.
Tune-in Live via :
WBCQ  7.490  and 6.160 Shortwave
or
WRMI 5.950 Shortwave
or
KYAH  540-AM Utah's Talk Authority"
You can also LISTEN LIVE ONLINE by clicking this link while the show is airing:
PRIMARY STREAM:   http://stream.halturnerradioshow.com:8000/   (Click LISTEN)
BACK-UP STREAM:  http://52.67.39.223:8000/  (Click LISTEN)
NOTE: These streams do not go LIVE until about one hour before the show begins.   During that hour, they stream commercial free music until the show starts.
Please Help Out . . . (Updates Continue Below)
 5:52 PM EST --
"Holma on the outskirts of Gorlovka are under mortar fire. The JCCC reports the use of 82mm mortars"
UNCONFIRMED REPORTS VODAFONE NETWORK DOWN IN EASTERN UKRAINE
Kramatorsk, Lysychansk, Druzhkivka, Severodonetsk, Kostyantynivka – Twitter users from there say they have no VodafoneUkraine mobile connection.
5:57 PM EST --
Chair of the UK Defense Select Committee proposed to establish a no-fly zone over Ukraine to protect it from an "invasion."
6:20 PM EST --
Now confirmed!  Internet and cellular outages hitting all over eastern Ukraine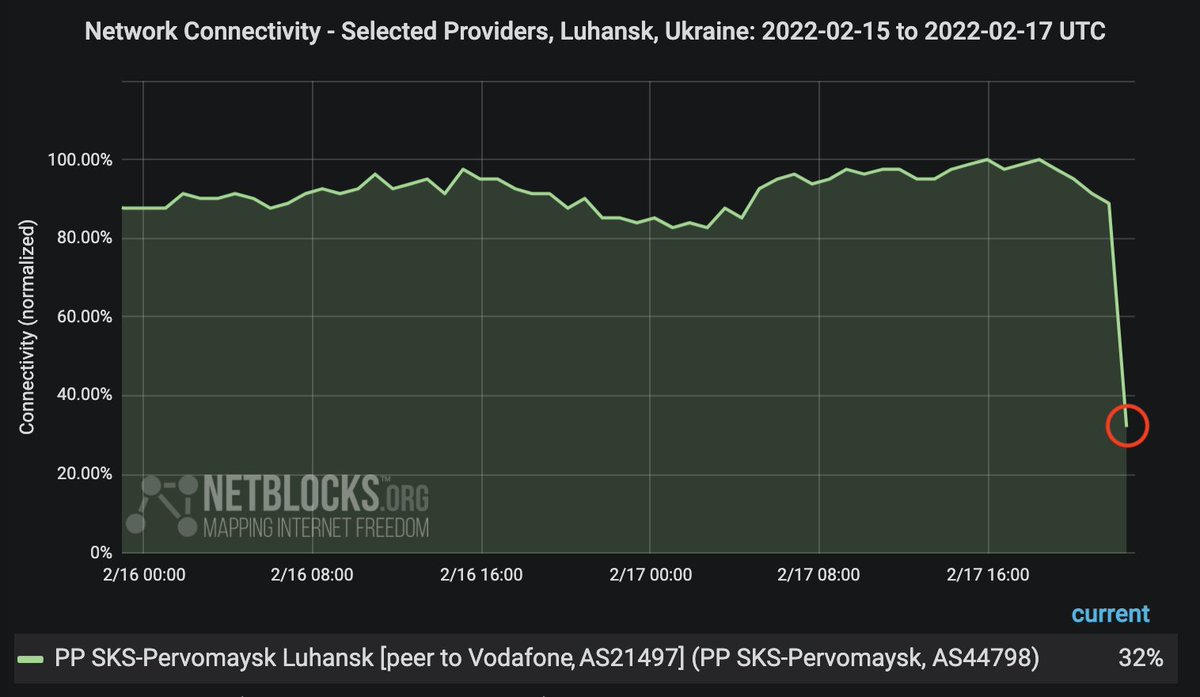 (US & EU citizens please note: This can happen to us, too!   You HAVE TO get yourselves emergency communications gear.  CB or HAM radio.  GMRS or Family Radio Service Walkie Talkies.  SOMETHING!)