A Ukrainian Air Force fighter jet was shot down by a Russian missile over the Ukrainian Capital City, Kiev, as Day #2 of the war with Russia begins.  The Russian missile was fired from Russian forces just outside Kiev, as the Russian Army moves to encircle the entire city.  Kiev is expected to fall . . . today.
The Ukrainian Air Force SU-27 fighter jet exploded in flight when the Russian missile hit, and fell in numerous pieces, slowly to the ground in a ball of fire.  The pilot likely died horribly by burning to death in the cockpit.
As the plane came down, it struck a residential apartment building, doing extensive damage and setting part of the building on fire.   Here is imagery of the building and the plane wreckage on the ground: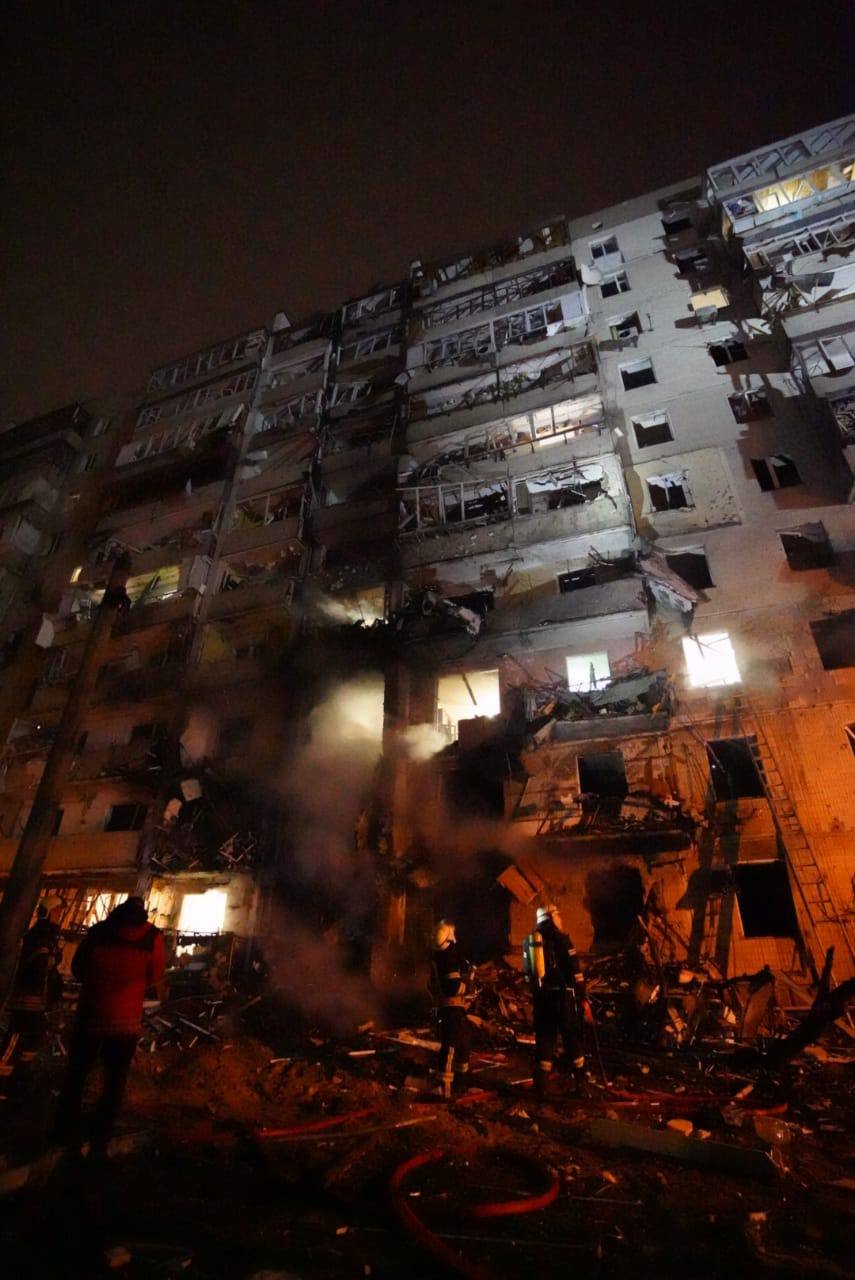 Fire crews extinguished the blaze.   It is not yet known if anyone in the building or on the ground was injured or killed.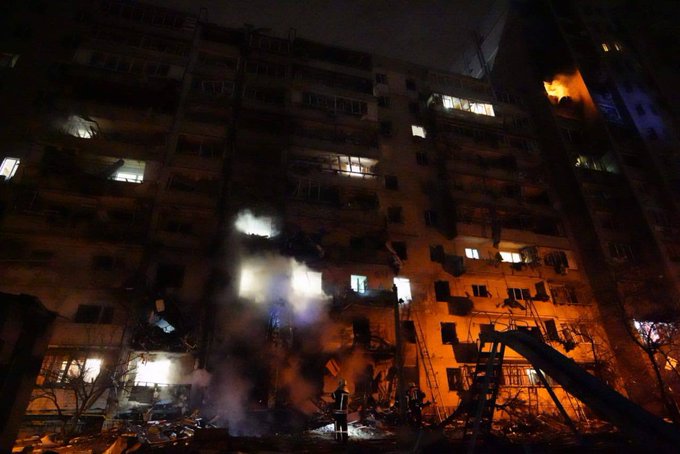 Numerous people on the ground in Kiev, caught video of the aircraft being hit and falling from the sky.  The videos are now appearing all over social media:
Kiev right now - FRIDAY 25th FEBRUARY 2022.
Ukraine: Two big explosions heard in Ukrainian capital #Kyiv early Friday morning.#Russia #Ukraine #Kiev #Kyiv #subwaystation #RussiaInvadedUkraine #russianinvasion #Ukraine #UkraineRussiaConflict #Putin pic.twitter.com/QhfqeUUyFt

— Chaudhary Parvez (@ChaudharyParvez) February 25, 2022
and here:
Big strikes in Kiev. #Ukraine #UkraineWar #Russia #war #Kiev pic.twitter.com/z7Q6nEfraZ

— Sigismund The Slav (@SlavicSigismund) February 25, 2022
This caught the actual moment the plane flew over an apartment building, continued on its way, only to be hit by the missile; the explosion in the air is clearly audible and the blaze from the exploding aircraft is enromous:
Video filmed by someone on the Ground of what appears to be a Russian Aircraft getting shot down by Air Defense Systems over Kyiv about 30 minutes ago. pic.twitter.com/lQBRGGbI5X

— OSINTdefender (@sentdefender) February 25, 2022
In the 24 hours since hostilities commenced, Russian army troops have entered so far into Ukraine, the capital city is no longer safe for Ukraine's own military planes.  Ukraine has now los control over the air space above its own Capital city!
Earlier today satellites and ground intelligence revealed two very large columns of Russian infantry troops were making decisive transit from the north, toward the Ukrainian capital of Kiev, along both sides of the Dneiper River.  The Russians were moving so far, so fast, that EVERY defense source we spoke with told us they expect the capital city Kiev, to fall to the Russians within hours.
One aid to Ukrainian President Zelensky said earlier on Thursday "Tomorrow will be much worse than today."
The Su-27 is believed to have been shot down by a Buk-series medium-range air defense system that is escorting Russian ground forces heading to Kiev.
Additional news updates will appear below  . . .
UPDATE 11:39 PM EST -- Ukraine's capital city is now under missile attack from Russian troops said to be only twenty miles from the city.  VIDEO:
Ukraine's capital city Kiev under missile attack.

Heavy explosions are heard all around the city. #Ukraine #Russia #Kiev pic.twitter.com/D9yAoIFEbW

— MiddleEastWatch (@MiddleEastWatc1) February 25, 2022
Extremely fierce fighting is said to be taking place just north of Kiev as Ukrainian troops engage the Russians.
30 Russian tanks, 130 armored fighting vehicles, 5 aircraft and 6 helicopters lost on the first day of the invasion- Commander-in-Chief of the Armed Forces of Ukraine.
10:24 PM EST -- UKRAINIAN BORDER POST IN ZAPORIZHZHYA REGION HIT BY MISSILE STRIKE, THERE ARE CASUALTIES  Map showing location in the south:
 From local in that area: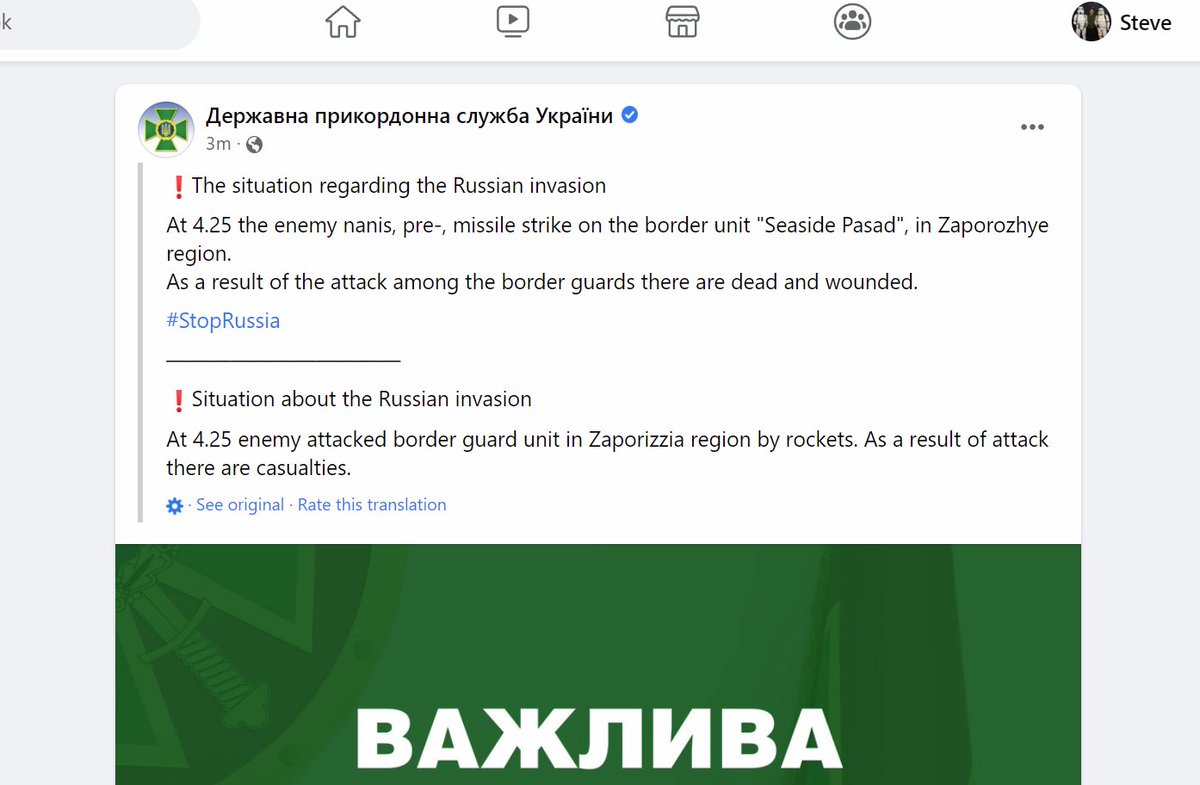 NATO to hold emergency summit tomorrow morning (Friday morning)
 11:00 PM EST -- Russian forces hold Konotop under siege, moving to Kyiv. Sumy Oblast Governor Serhiy Zhyvytskiy says a lot of the region's cities have been encircled by the enemy. A large military group is moving from occupied Sumy toward Kyiv.
Air raid sirens sounding in Lviv, far western Ukraine:
WATCH: Air raid sirens sounding in Lviv, Ukraine.#Ukraine #Russia #UkraineRussia pic.twitter.com/hlrToX0Bs5

— 🚩 Nessa (@IntelNessa) February 25, 2022
12:06 AM Friday EST -- Dimer, Kiev region. The equipment of the Russian troops is moving towards Kiev. About 56 units.  Now literally on the outskirts of city: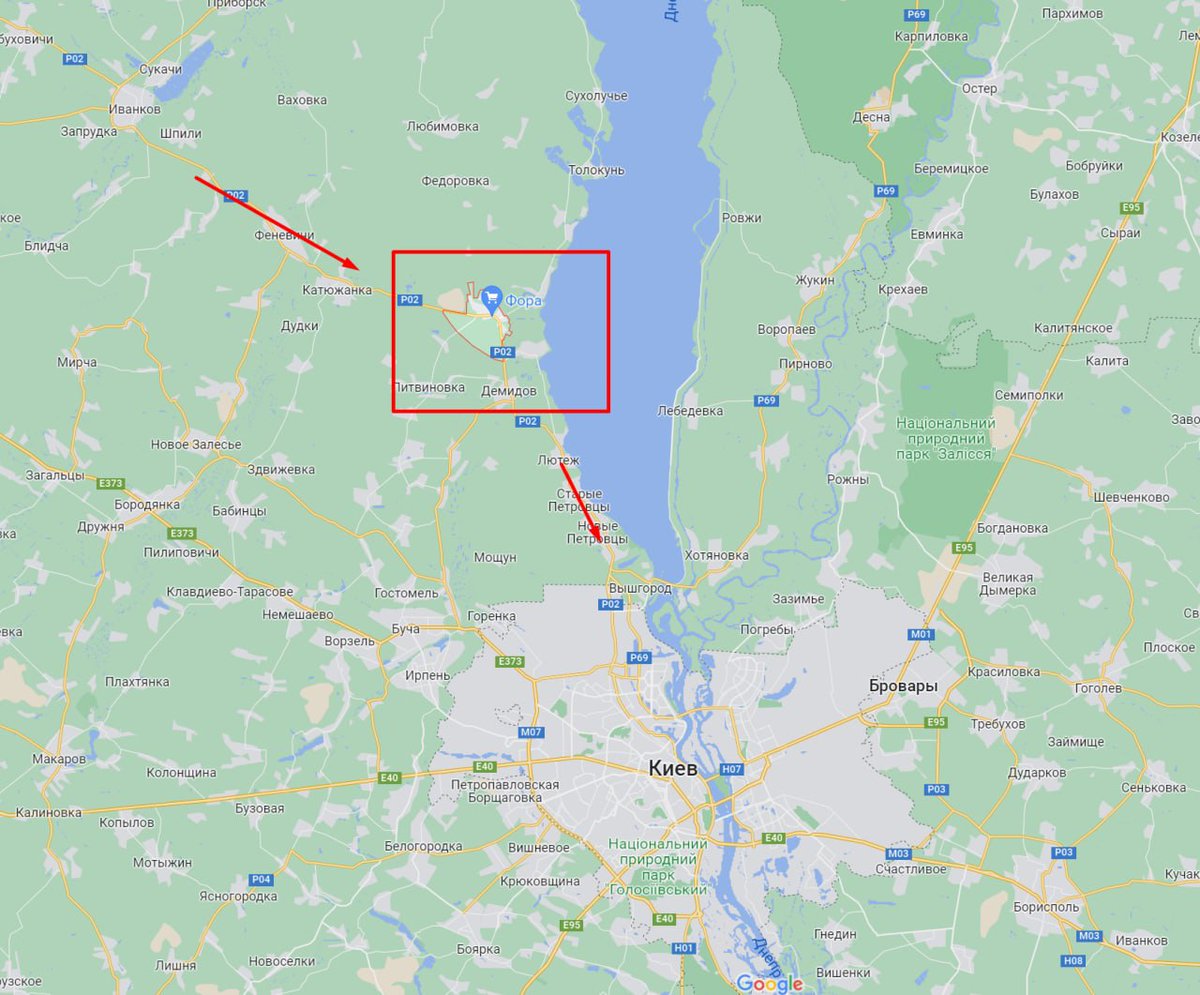 In the southern part of Ukraine, more heavy fighting in Kozats'ke and Nova Kakhovka in the Kherson region of southern Ukraine, a strategic bridge is located here across the Dnieper.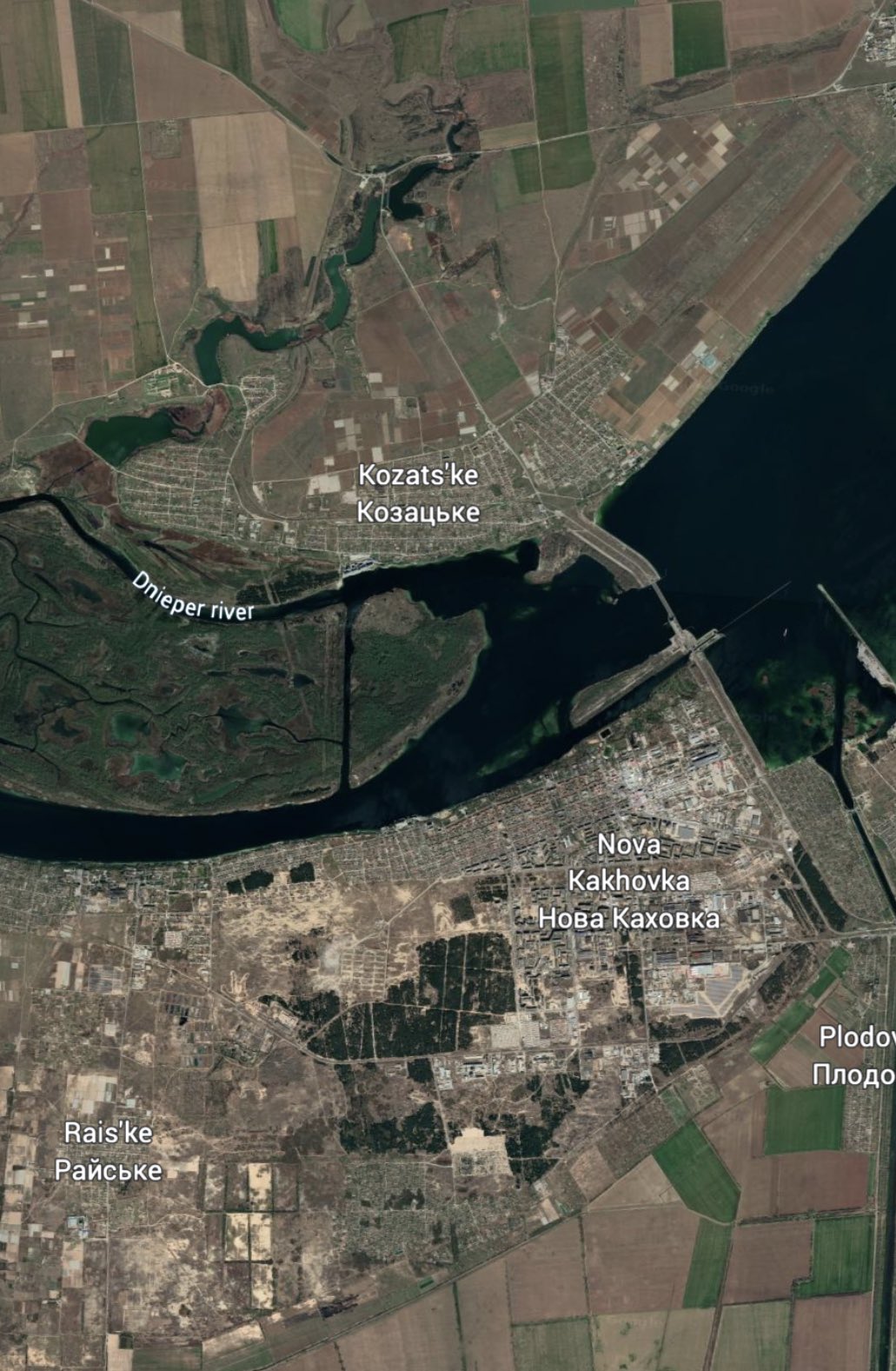 Zelensky: This morning we are defending our state alone. Like yesterday, the world's most powerful forces are watching from afar. Did yesterday's sanctions convince Russia? We hear in our sky and see on our earth that this was not enough..
12:45 AM EST -- Shootings inside a building in Melitopol, Ukraine after being captured by Russian forces. Some report of executions taking place.   FURTHER INFORMATION: This building is the Ukraine SBU Intelligence Building and yes, there is torture and execution of Ukraine Intelligence officers taking place inside this building! ! !
Shootings inside a building in Melitopol , Ukraine after being captured by Russian forces. Some report of executions taking place. pic.twitter.com/652MyjNnHs

— CaucasusWarReport (@Caucasuswar) February 25, 2022
Ukraine now deliberately BLOWING UP THEIR OWN BRIDGES to slow the advance of Russian troops toward Kiev!
1:24 AM EST -- Russian assault forces have entered Vorzel, northwest Kiev:
This is 5 miles (8 KM) away from Kiev.
UKRAINE HITS RUSSIA PROPER!  
Milerovo Airport in Rostov, Russia hit with short-range ballistic missile fired from Ukraine: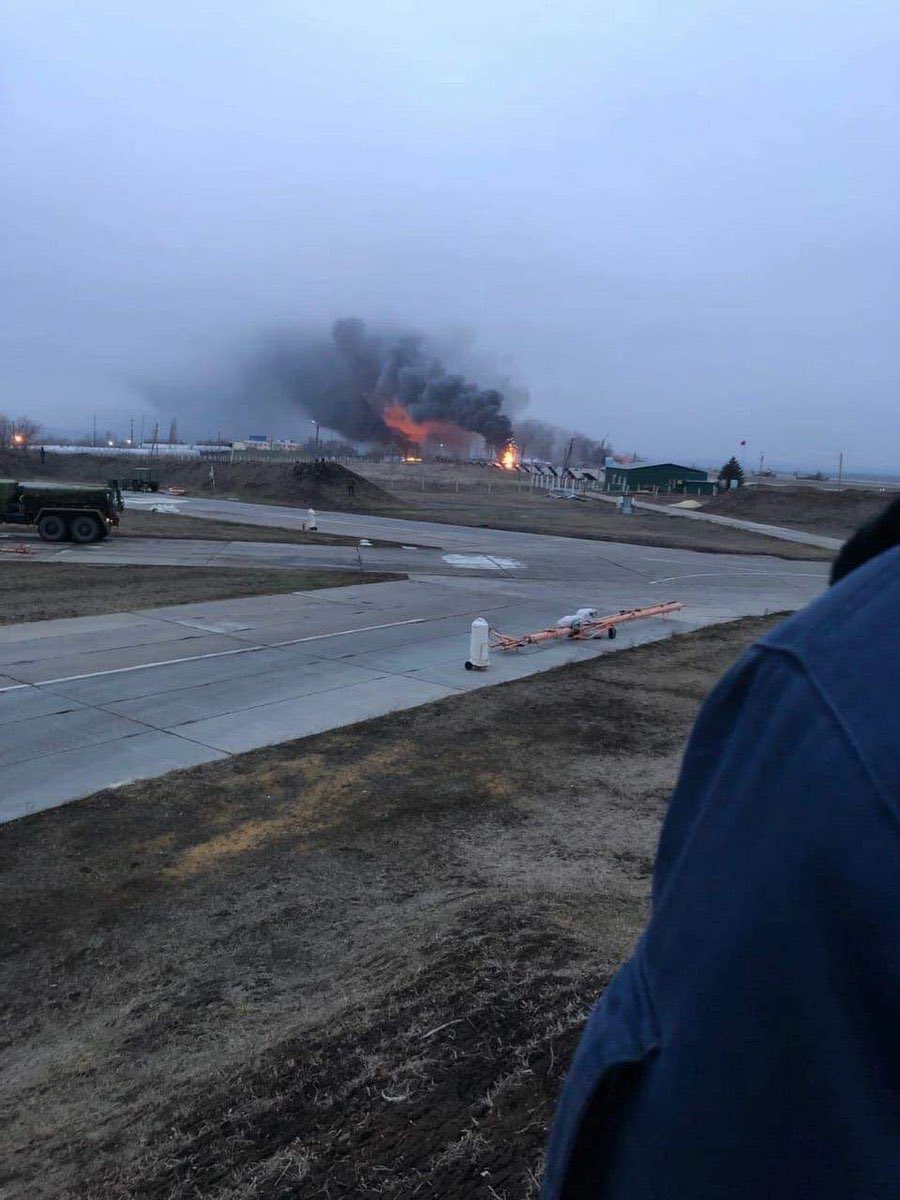 The Ukrainian army launched a number of missiles that hit the military airport in Mylrovo, Rostov
#Russia #Ukraine
Fire at the #Milerovo airport in the Rostov Region (Russia) , hit by Ukr fire...possibly by a Tochka-U SRBM pic.twitter.com/cVmcsuLonG

— Tony (@Cyberspec1) February 25, 2022
Upping the ante':  Ukraine has formally asked Turkey to restrict the passage of Russian warships through the Bosporus and Dardanelles.
2:10 AM EST -- RUSSIANS SEIZED TWO UKRAINIAN MILITARY VEHICLES, PUT ON UKRAINIAN UNIFORMS AND ARE MOVING TO THE CENTER OF KYIV. THEY ARE FOLLOWED BY A COLUMN OF RUSSIAN MILITARY TRUCKS.
CONFIRMED!  Ukraine's deputy defense minister says Russian troops wearing Ukrainian uniforms were able to seize Ukrainian military vehicles, which are now heading towards Kyiv.
Russian Forces are reportedly in the vicinity of Kyiv and are being engaged by Ukrainian Forces at 4 separate fronts.
Florence Parly, Minister of the Armed Forces of the French Republic said on French radio this morning that not one EU country nor the US want to be involved in a war with Russia.
BREAKING NEWS:  GIGANTIC INVASION FORCE NOW MOVING-OUT FROM GOMEL, BELARUS, INTO UKRAINE.   (NOW, THE WAR GETS REALLY UGLY FOR UKRAINE)
Sources on the ground told me "These columns are so big, people are shitting themselves just looking at it"
3:11 AM EST -- Russian military vehicles now inside the northern city limits of Kiev!  Video:
Sounds of significant gunfire now erupting in north Kiev:
French Foreign Minister: We fear that the war will spread to Moldova and Georgia.
Now CONFIRMED: Russian troops have entered northern Kiev. Gun battles in Obolon neighborhood, northern area of Kiev city, proper.  Map and video below:
 VIDEO
Retaliation for British Sanctions begins.  Russia closes its airspace to all British planes.
ROUND-UPS ORDERED!
NAMED UKRAINE GOVERNMENT OFFICIALS BEING SPECIFICALLY TARGETED FOR ARREST BY RUSSIAN TROOPS
Special forces have been given a special order to prevent the flight of former Prime Minister Turchynov from Ukraine. It is reported by Mash, citing a source in the Russian Defense Ministry.
He is planned to be ostensibly tried for war crimes and unleashing the war in the Donbass.
Ukrainian MPs have been given weapons to defend themselves.  (HT REMARK: Some of them maybe ought to use those weapons to commit suicide for the things they've done.  Justice is coming for them, in the form of the Russian Army.  Some of these politicians need to be tried for crimes against humanity and, if properly convicted, sentenced by a court to be hanged by their necks publicly.
RUSSIAN MINISTRY OF DEFENSE STATEMENT: "Russia will ensure the demilitarization of Ukraine. Russia will ensure the denazification of Ukraine. Nazis caused Russians great suffering, and nazis caused Ukrainians great suffering— we're not just going to turn a blind eye to this."   
RUSSIAN FOREIGN MINISTRY STATEMENT:  "Russia will not allow any Nazis to rule Ukraine" - Foreign Minister Sergey Lavrov.  Russia ready to talk if Ukraine army 'lays down arms': Foreign minister Lavrov
Map of current Russian military clashes - ONGOING - inside Kiev: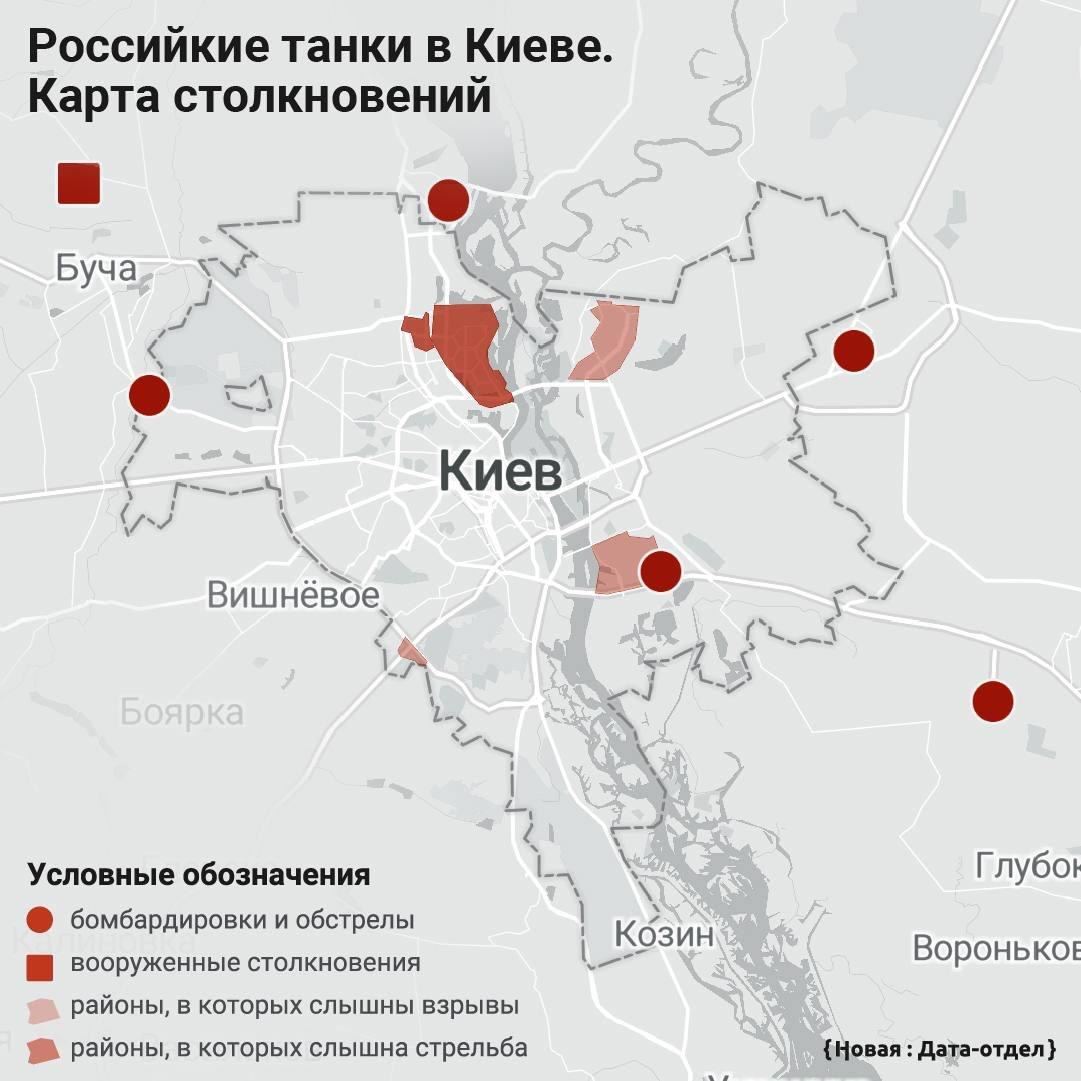 Rumor going around that 2,000+ Russian special forces are fixing to assault Kiev. Anybody holding a gun is a valid target. 
MORE:
As many as 2,000 Russian Special Forces are planning to seize either Sikorsky or Boryspil airport in the capital to prepare for the arrival of 10,000 paratroopers, IL-76 aircraft, light armored vehicles and airborne troops.
That city is going down . . . .
REPORTS: Ukrainian President Volodymyr Zelensky has been taken to a bunker as Russian troops close in on Kiev.    aN Unidentified plane took off from the Kiev Zhulyan airport following reports that Zelensky did not get in touch with the Italian prime minister as scheduled & the airspace was closed. This happened as shots sounded throughout Kiev.
ANNOUNCEMENT BY TURKEY REGARDING UKRAINE REQUEST TO BLOCK RUSSIAN NAVY FROM STRAITS AND BOSPORUS:  "Turkey cannot stop Russian warships accessing the Black Sea via its straits, as Ukraine has requested, due to a clause in an international pact that allows vessels to return to their home base, the Turkish foreign minister said on Friday."
RUSSIA'S FOREIGN INTELLIGENCE CHIEF NARYSHKIN SAYS RUSSIA WILL RESTORE PEACE IN UKRAINE QUICKLY AND PREVENT A LARGER SCALE CONFLICT IN EUROPE
Kiev, railway station is swarmed by hundreds trying to leave the city.
From today's UCM brief: "It appears that the main goal is to take Kyiv, break the C2, and 'decapitate' the political leadership. Once this is done, the expectation is that all fighting Ukrainian units will surrender and that military operations will cease."
Zelensky takes aim at US in Friday morning address: "This morning, we are defending our country alone. Just like yesterday, the most powerful country in the world looked on from a distance."
Zelensky: "Two days straight, our cities are witnessing shelling. Tank columns and air assaults are similar to what Europe already witnessed during World War II." "Europe said - never again, but here we are."
(HT Remark:  No, here YOU are.  And you did this to yourself with your big mouth.  What did you think was going to happen when you started killing Russian-speaking Ukrainians in Luhansk and Donetsk with your Ukrainian army?   Did you think Russia would just sit by and do nothing?  Who is the fool?
This is the problem with the younger generations: They think that because they have a title, and legal authority, that no one can do anything about what they do.   They actually think that "Qualified Immunity" or "Absolute Immunity" protects everything they do.   
Now, the younger generation finds out that their legal authority, Qualified Immunity and Absolute immunity only works in court; it is meaningless out in the real world when actual men have had enough.   Because actual men stand up, say fuck your authority, and come and kill you.  It's very simple, really.   Folks in governments of all levels, everywhere in the whole world, would do well to remember this fact.)
 more!  THEY REALLY CAN'T STOP THEMSELVES. . . . NATO chief jens stoltenberg:  "cyberattacks can trigger Article 5." 
7:30 AM EST -- RUSSIAN MILITARY HAS BLOCKED KYIV FROM WEST
7:35 AM EST -- Russian military conducts Landing Operation at Gostomel Airfield Outside of Kiev.  THEY NOW CONTROL THE AIRPORT.  PARATROOPERS ON THE WAY!
RUSSIA READY TO SEND DELEGATION TO MINSK FOR TALKS WITH UKRAINE
UKRAINE'S DEFENCE MINISTRY: UPWARD OF 1,000 RUSSIAN SOLDIERS HAVE BEEN KILLED SO FAR IN THE UKRAINE CONFLICT.
THEY JUST CAN'T STOP . . . .  EU OFFICIAL SAYS BLOC JUST DECIDED TO FREEZE EUROPEAN ASSETS HELD BY RUSSIA'S PRESIDENT PUTIN AND FOREIGN MINISTER LAVROV
WOW!  EVEN ZELENSKY JUST CAN'T STOP -- Zelensky calls for disconnecting Russia from SWIFT, recalling ambassadors, imposing an oil embargo and canceling Russian visas to Europe — right after asking macron for a meeting with Putin.
URBAN WARFARE
Just received word from a osurce on the ground in Kiev:  "I'm driving around the city and see barricades being built to protect the city. We're driving through check points. Kyiv is getting ready for urban warfare."
In a video conference call last night Ukraine President Zelensky told EU leaders: "This might be the last time you see me alive", two sources briefed on the call told me.
RUSSIA'S PUTIN TO THE UKRAINIAN MILITARY --TAKE POWER INTO YOUR OWN HANDS PUTIN SAYS RUSSIAN SERVICEMEN ARE ACTING BRAVELY AND HEROICALLY. PUTIN, ADDRESSING UKRAINIAN SERVICEMEN, IT WILL BE EASIER FOR US TO AGREE IF YOU TAKE POWER IN YOUR OWN HANDS.  Describes Zelensky's government as a "band of drug addicts and neo-Nazis that has lodged itself in Kyiv and taken hostage the entire Ukrainian people." (HT Remark: He's telling the Ukraine military to arrest the government!!!!!)
AMPHIBIOUS LANDINGS IN PROGRESS
Russia launched an amphibious assault west of Mariupol, the landings are ongoing.
"I have felt for 30 years ever since the fall of the Berlin Wall that we have made a huge geopolitical error. We absolutely promised the Russians that we would not extend NATO to the east. But we did," says Nigel_Farage.
CHECHEN TROOPS - AT LEAST TEN THOUSAND (10,000) ARE NOW DEPLOYING TO (AND AGAINST) UKRAINE:
JUST IN - Chechen paramilitary (known as Kadyrovites) have been mobilized and are preparing to depart for #Ukraine, according to the Russian news outlet Baza.pic.twitter.com/dRWPg1H1xJ

— Disclose.tv (@disclosetv) February 25, 2022
********** FLASH **********
NATO SENDING "LETHAL AID" INTO UKRAINE
NATO Rapid Reaction Force Activated
For the first time in history, the NATO RAPID REACTION FORCE has been activated and DEPLOYED.  40,000 NATO troops now moving into NATO member countries along the eastern border of Russia.  
(HT REMARKS:  These IDIOTS are simply verifying Putin's greatest fears and cementing why he had to attack Ukraine in order to at least try to maintain peace.  NATO and the US are ramping things up in both rhetoric and deed. They are mobilizing 40,000 troops to the Eastern bloc of NATO countries...in other words, WE are massing troops on RUSSIA'S Border just as we witnessed Russia do to Ukraine. WE saw that as a provocation, why the HELL wouldn't Russia see OUR movements in the same way?)
Worse, "NATO" has just sent it's first convoy of what they call "LETHAL AID" across the Ukraine border from Poland.   Poland's Minister of Defense Mariusz Błaszczak shared this picture.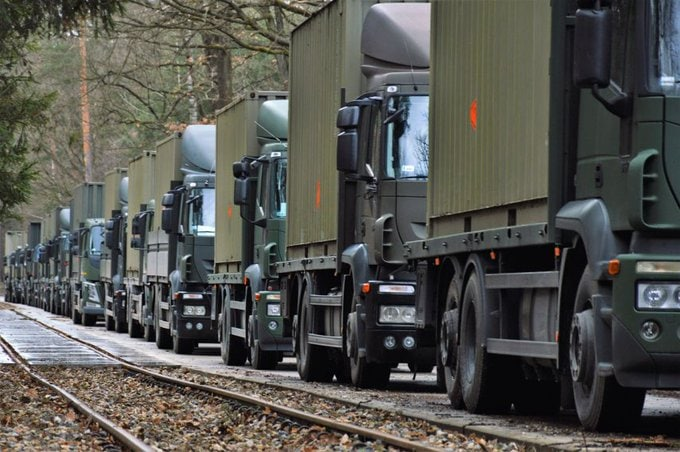 This is staggeringly bad on every level.    Look, Putin has said something, which was very clear. He said, to not get involved, or else you and us will regret it in the end.

It was a simple message . . . and they managed to ignore it. Out of their stupidity and ego.   By doing this, they are forcing Putin to stand up for what was said, otherwise he will look weak.  THIS JUST DRAGGED US INTO A WAR WITH RUSSIA.   Now, none of us is safe. Honestly I think this is the spark that sets the world on fire.
If we look at the history of all this, the real problem is actually NATO.   It was NATO"s broken promise of "not expanding one inch to the east" that set this in motion decades ago.   IT was NATO trying to bring Ukraine into itself, to position US missiles on Ukraine soil.  And now it is NATO doing precisely what Putin warned EVERYONE not to do: interfere.   NATO is the problem.   NATO is endangering us.   The West should begin defending ourselves from NATO leaders.  The West should remove them. 
 ***** BULLETIN *****
NATO to provide air defense systems to Ukraine and more weapons — Stoltenberg
OH NO.  SAME WARNING THAT UKRAINE GOT:
Russian Foreign Ministry: We warn Finland and Sweden that they will face military and political consequences if they try to join NATO.
COVERT INTEL FROM INSIDE RUSSIA
Subscribers Only - Regular Updates for General Public will resume beneath green shaded area
PREMIUM CONTENT:  
This section of the article is only available for Subscribers who support this web site with $1 a week billed either Quarterly ($13) or monthly ($5).

This is necessary because this is a CLOUD-BASED web site.  The way it works is YOU READ . . . I GET BILLED for "Data Transfer."

Despite being politely asked for voluntary donations, few people ever bothered to donate. Then, despite being asked to click an ad within a story to generate ad revenue for this site, the majority of the general public couldn't be bothered with that, either. So there's no reason to give the general public free news anymore; they don't pull their own weight.

With tens-of-thousands of people reading stories here every day, the costs nearly drove the site out of business.

In order to be able to continue providing cutting-edge news, often hours or even DAYS before Drudge and most of the "mass-media" -- if they even cover it at all -- I need to be able to sustain this effort. To do that, I rely on folks like YOU contributing a pittance of about $1 a week;  which is chump-change that you won't even miss!  Yet that small amount makes all the difference in the world to the continued existence of this web site.

In the final analysis, knowledge is power.  Getting information first, or info that other sources simply don't report, is usually well worth a few bucks in the long run.

Please click here to choose a subscription plan in order to view this part of the article.

Subscribers LOGIN to see the story.  

*** If you are having trouble logging-in, email: This email address is being protected from spambots. You need JavaScript enabled to view it.

YOU MUST SET YOUR WEB BROWSER TO "ACCEPT COOKIES" FROM THIS SITE IN ORDER TO LOGIN OR ELSE YOU WILL NOT BE ABLE TO SEE PREMIUM CONTENT.
U.S. EXPECTED TO IMPOSE SANCTIONS ON PUTIN AS SOON AS FRIDAY - CNN, CITING SOURCES
Immediate Reaction from Scott Ritter does not bode well for any of us:
Sanctions targeting a nation's leader is a de facto declaration of war; Putin warned you. Try triggering Article 5; you will not get the result you think you might.

— Scott Ritter (@RealScottRitter) February 25, 2022
REACTION FROM MOSCOW:  Russia will fully break diplomatic relations with all countries that are going to sanction president Putin or members of the Russian govt.  Russian Foreign Ministry on new Personal sanctions on assets of Putin and Lavrov: "Neither Putin nor Lavrov have accounts either in Britain or anywhere else abroad."
Kyiv's mayor Klitschko says Russia destroyed the Kyiv power plant.
Ukrainian State Emergency Situations refutes statements about the destruction of the Kiev power plant, says it works
NATO air operations over eastern Europe tonight.  They know they've crossed the line; they're scared and looking for the start of the trouble they KNOW they've caused: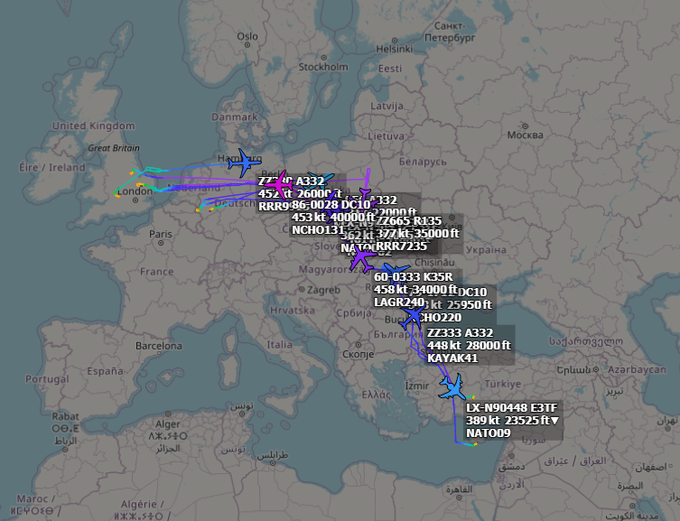 A Note To Subscribers:   As you might guess, there are  a number of brand new subscribers coming to this website from places in Europe.  Many of them only speak English as a SECOND or even THIRD language, so their writing skills in the Subscriber comment area may not be what you are accustomed to.   Please try to cut them a little slack if what they post seems a bit "off" from typical grammar.  These are all people of Good Will, who are coming here to the US for real information - they can't get from their own mass-media- and true freedom of speech.  Many of them are terribly frightened now that war has broken out on their continent, and they desperately seek accurate info and want to be heard.  PLEASE be kind.
-- Hal
So Much for Turkish Drones!
Russian Missile Strikes SMASH Ukraine Military Drone Base
WHOA! "Russia will withdraw troops from Ukraine after the operation is complete. Zelensky will face a tribunal." 
PROBLEM OF THE WORST KIND:
TAKING PLACE NOW . . .
COVERT INTEL SUBSCRIBERS ONLY
(Public Updates Resume Beneath Green Shaded Area)
PREMIUM CONTENT:  
This section of the article is only available for Subscribers who support this web site with $1 a week billed either Quarterly ($13) or monthly ($5).

This is necessary because this is a CLOUD-BASED web site.  The way it works is YOU READ . . . I GET BILLED for "Data Transfer."

Despite being politely asked for voluntary donations, few people ever bothered to donate. Then, despite being asked to click an ad within a story to generate ad revenue for this site, the majority of the general public couldn't be bothered with that, either. So there's no reason to give the general public free news anymore; they don't pull their own weight.

With tens-of-thousands of people reading stories here every day, the costs nearly drove the site out of business.

In order to be able to continue providing cutting-edge news, often hours or even DAYS before Drudge and most of the "mass-media" -- if they even cover it at all -- I need to be able to sustain this effort. To do that, I rely on folks like YOU contributing a pittance of about $1 a week;  which is chump-change that you won't even miss!  Yet that small amount makes all the difference in the world to the continued existence of this web site.

In the final analysis, knowledge is power.  Getting information first, or info that other sources simply don't report, is usually well worth a few bucks in the long run.

Please click here to choose a subscription plan in order to view this part of the article.

Subscribers LOGIN to see the story.  

*** If you are having trouble logging-in, email: This email address is being protected from spambots. You need JavaScript enabled to view it.

YOU MUST SET YOUR WEB BROWSER TO "ACCEPT COOKIES" FROM THIS SITE IN ORDER TO LOGIN OR ELSE YOU WILL NOT BE ABLE TO SEE PREMIUM CONTENT.
REPORTS ON TWITTER OF US GOVERNMENT BEING PREPARED TO HELP UKRAINE'S PRESIDENT ZELENSKY LEAVE KYIV