The United States Embassy in Baghdad, Iraq came under attack on Sunday.  This article was LIVE updated from the beginning of the incident.  Here's how it was reported:
The US Embassy in Baghdad, Iraq is under attack at this hour, being hit by numerous barrages of heavy Mortar fire.
This is a developing story as of 1:51 PM eastern US time.  Live Updates to appear below.  Check back.
Sirens heard across Green Zone, Baghdad. Numerous blasts heard.
Arab media beginning to report Katyusha rockets hitting the vicinity of the Green Zone in Baghdad.
Updates will continue below ad . . . 
Eyewitnesses: Falling shells and air raid sirens sounding in the vicinity of the US Embassy in Baghdad
URGENT:
U.S. Marines not only defending Embassy, but deploying with helicopters and HumVee's to CAPTURE attackers.   "Any proof of Iranian Involvement means immediate war."
2:04 PM EDT -- Iraqi security forces have closed the green zone and are now combing the area


Mortars reportedly fired in the Green Zone of Baghdad which mostly has foreign embassies and government buildings. Blasts heard around the US embassy.
US two days ago had asked non-emergency staff to leave Iraq and advised US Citizens to avoid travel.
2:07 PM EDT -- Iran Militia publicly threatening to Kidnap and Kill USA citizens in Iraq.
CONFIRMATION THAT US EMBASSY WAS TARGET OF ATTACK
COVERT INTEL 
Subscribers Only - URGENT
PREMIUM CONTENT:  
This section of the article is only available for Subscribers who support this web site with $1 a week billed either Quarterly ($13) or monthly ($5).

This is necessary because this is a CLOUD-BASED web site.  The way it works is YOU READ . . . I GET BILLED for "Data Transfer."

Despite being politely asked for voluntary donations, few people ever bothered to donate. Then, despite being asked to click an ad within a story to generate ad revenue for this site, the majority of the general public couldn't be bothered with that, either. So there's no reason to give the general public free news anymore; they don't pull their own weight.

With tens-of-thousands of people reading stories here every day, the costs nearly drove the site out of business.

In order to be able to continue providing cutting-edge news, often hours or even DAYS before Drudge and most of the "mass-media" -- if they even cover it at all -- I need to be able to sustain this effort. To do that, I rely on folks like YOU contributing a pittance of about $1 a week;  which is chump-change that you won't even miss!  Yet that small amount makes all the difference in the world to the continued existence of this web site.

In the final analysis, knowledge is power.  Getting information first, or info that other sources simply don't report, is usually well worth a few bucks in the long run.

Please click here to choose a subscription plan in order to view this part of the article.

Subscribers LOGIN to see the story.  

*** If you are having trouble logging-in, email: This email address is being protected from spambots. You need JavaScript enabled to view it.

YOU MUST SET YOUR WEB BROWSER TO "ACCEPT COOKIES" FROM THIS SITE IN ORDER TO LOGIN OR ELSE YOU WILL NOT BE ABLE TO SEE PREMIUM CONTENT.
Additional PUBLIC Updates will appear below . . . .
2:13 PM EDT -- President Trump has reportedly been briefed by the NSA. (SIGINT)
REMINDER: EVERY ONE WHO READS THIS STORY AND ITS UPDATES CAUSES ME TO INCUR FEES FOR DATA TRANSFER.  PLEASE CLICK AN AD OR TWO BELOW TO GENERATE TWO OR THREE CENTS REVENUE TO THIS SITE AND HELP KEEP IT ALIVE.
 UH OH . . .  FLASH
Emergency briefings at Pentagon NOW  (2:17 PM EDT)  [This is HIGHLY unusual.  In fact, it pretty much NEVER happens.  Something very, very big is taking place right now . . . .]
2:22 PM EDT --  John Bolton arriving at the White House right now
Incident apparently over for now.  All quiet.  Investigation continuing. Additional updates to follow below . . . 
COVERT INTEL (PENTAGON)
Subscribers Only 
PREMIUM CONTENT:  
This section of the article is only available for Subscribers who support this web site with $1 a week billed either Quarterly ($13) or monthly ($5).
This is necessary because this is a CLOUD-BASED web site.  The way it works is YOU READ . . . I GET BILLED for "Data Transfer."
Despite being politely asked for voluntary donations, few people ever bothered to donate. Then, despite being asked to click an ad within a story to generate ad revenue for this site, the majority of the general public couldn't be bothered with that, either. So there's no reason to give the general public free news anymore; they don't pull their own weight.
With tens-of-thousands of people reading stories here every day, the costs nearly drove the site out of business.
In order to be able to continue providing cutting-edge news, often hours or even DAYS before Drudge and most of the "mass-media" -- if they even cover it at all -- I need to be able to sustain this effort. To do that, I rely on folks like YOU contributing a pittance of about $1 a week;  which is chump-change that you won't even miss!  Yet that small amount makes all the difference in the world to the continued existence of this web site.
In the final analysis, knowledge is power.  Getting information first, or info that other sources simply don't report, is usually well worth a few bucks in the long run.
Please click here to choose a subscription plan in order to view this part of the article.
Subscribers LOGIN to see the story.  
*** If you are having trouble logging-in, email: This email address is being protected from spambots. You need JavaScript enabled to view it.
YOU MUST SET YOUR WEB BROWSER TO "ACCEPT COOKIES" FROM THIS SITE IN ORDER TO LOGIN OR ELSE YOU WILL NOT BE ABLE TO SEE PREMIUM CONTENT.
3:03 PM EDT -- IRANIAN BACKED MILITIA RELEASE FOOTAGE CLAIMING ATTACK ON US EMBASSY..

Iranian-backed Shiite militia affiliated Aletejah TV release first footage of rocket attack on US Embassy in Baghdad
(Hal Turner Remark: They're now openly admitting it was an Iran-backed attack.  These fools have just sealed their own fate.  Donald J. Trump is not Barack Obama. )
 IMAGE
First imagery of US Embassy after Mortar/Rocket attack an hour ago: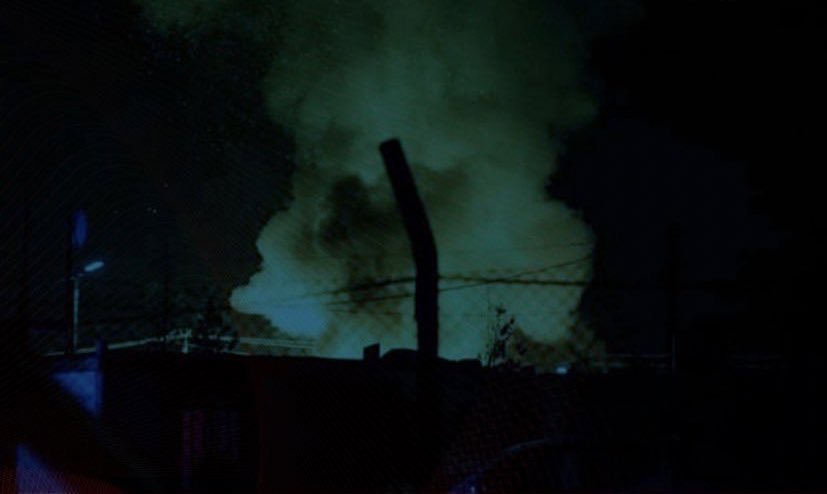 3:10 PM EDT -- It is confirmed that IRGC Quds Force was behind the rocket attack at GreenZone of Baghdad during which rockets/Mortars fired by IRGC-backed militias hit in the vicinity of the US Embassy.
IRGC owned Aletejah TV released the first footage of the attack.
 3:50 PM EDT -- The rocket launch pad used to launch a rocket against the Green zone in Baghdad tonight targeting the U.S Embassy, was placed on the service road in front of the Technological university in Baghdad.
4:38 PM EDT -- I am now able to publicly quote Iraqi army spokesman Maj. Gen. Yahya Rasool: A Katyusha rocket landed near an aircraft museum less than a kilometer from the American embassy. According to Arab sources, the area is controlled by Shi'ite militias supporting Iran. 
@realDonaldTrump: If Iran wants to fight, that will be the official end of Iran. Never threaten the United States again.
7:22 PM EDT -- The Khatam al-Anbia Air Defense Base in Tehran is on standby for any possible US retaliation for earlier attack in Baghdad.   
(Hal Turner Remark:  Uhhhhh, Gee, if Iran had nothing to do with Mortars and Rockets being fired at our Embassy in Baghdad, then WHY would they put an air defense base on alert for possible retaliation?   Because IRAN DID IT.  They're tacitly admitting it by putting their air defense base on alert.  The US should hit them with a military strike.  Hard.)
7:26 PM EDT -- Reports that after a three hour meeting. Assessment is that Tehran directly ordered rocket fire at the Green Zone. 
FWIW
All of you saw my appeal above for folks to click an ad if they aren't going to donate, or subscribe, so this site can get a few cents per click to survive. Well, the people coming here are of such character that out of the 15,836 unique visitors who have read this article, 536 clicked an ad. 
536 out of 15,836.
That's what the Bible calls "casting your pearls before SWINE."   Most of the folks coming here to read this coverage are such (#*@$!!! i won't even say it) they won't even click an ad after they take someone else's hard work for free. I'm busting my ass on a Sunday,  to bring important news about Geo-Political events that NO OTHER MEDIA OUTLET is covering, and out of 15,836 unique visitors, only 536 could be bothered to help out.   
I just wanted all of you to know the kind of people most of these visitors actually are.  I'll continue updating this story for awhile and we'll see if things change.  If so, great.  If not, Lockdown.  Subscribers only.  AND the freeloaders will have to wait for someone else to give them something free . . . maybe a few days from now if at all.