UPDATED 3:46 PM EST See Bottom -- The Chinese government just admitted that the coronavirus CANNOT be contained and people can spread the deadly 2019-nCoV pathogen before they're symptomatic.
In medical terms, this announcement is like a thermonuclear disaster.
This is a VERY FAST DEVELOPING story.  Check back for updates below . . .
UPDATE 9:43 AM EST --
CHINA MANUFACTURING HUB OF SUZHOU SAYS BUSINESSES TO SHUT UNTIL AT LEAST FEB 8 DUE TO VIRUS -
This is the 16th largest city and THIRD LARGEST PORT in China.  The economic impact of this will be staggering for the whole world.



UPDATE 10:13 AM EST --
This web site is under massive Denial of Service (Ddos) attack to prevent dissemination of information.  
China warns that the spread of the deadly coronavirus will accelerate - the virus is infectious for up to around 14 days during its incubation period (when ppl may show no symptoms), which was not the case with SARS in 2003. "For every suspected case of the coronavirus there's 10 that are just walking around not showing any symptoms, spreading the virus." More updates to follow, below . . .
UPDATE 10:20 AM EST --
Ma Xiaowei, director of the National Health Committee, said at a press conference held by the State Council on the 26th that according to recent clinical data, the virus's transmission has increased.

The prevention and control measures adopted by Wuhan play an important role. The current epidemic is at an early stage of distribution. 

The epidemic will continue for some time. 

Ma Xiaowei, director of the National Health Committee, said that the incubation period of the new coronavirus is about ten days, the shortest is 1 day, and the longest is about 14 days. The incubation period is contagious, which is very different from SARS.



UPDATE 10:52 AM EST --
NHS England advise doctors and nurses:
• wear full-face visors, (i.e. masks-only not effective due to eye mucus pathway)
• corpses still dangerous (air in lungs)
UPDATE 1:12 PM EST --
PROTECT YOURSELF NOW
Filter masks prevent tiny (microscopic) particles from going into your lungs.  They can help protect you long enough for you to get home from work, school, or to evacuate from a contaminated / infected area.  These will not function correctly if a man has any kind of beard. Beards MUST be shaven off or the mask will leak from the whiskers.
Here's what they look like:
They're inexpensive  $8-$12 each.  You should have at least one for each member of your family at home; in each family car and one for each of you while at work or school.
These filter masks are rated by the US Government's National Institute for Occupational Safety and Health (NIOSH).  
Click Here for Various Quantities of NIOSH Model N100 Filter Masks 
QUARANTINES COULD COME HERE, TOO!
For people in the USA, One confirmed case is already in Seattle, WA, and a new REPORTED CASE is in Brooklyn, NY. . . . When a biological Quarantine is enacted, Health Authorities cannot lift that Quarantine until TWO FULL INCUBATION PERIODS have elapsed.   There are still varying reports about the actual incubation period of THIS virus; some say four days, others say two weeks.
IF IT IS TWO WEEKS, then you have the initial Quarantine of two weeks, followed by another FOUR WEEKS where (hopefully) there are no new cases.
If YOU could not go out for a total of 6 weeks, do YOU have enough food in your house to feed yourself and your family?  If not, what do you think you would do?  You can't go out under penalty of arrest.  No one can come deliver to you because stores are all closed.  So what do you do?
STARVE!
Those of you with means, should arrange to get supplied with EMERGENCY FOOD.  Outlets specializing in that are shown below.  Get something so you can survive.
UPDATE 3:02 PM EST --
China has now LOCKED-DOWN a total of nineteen (19) of its cities over the spread of this virus.
Do you know the economic impact of locking down a major city, let alone 19 of them?
Then there is the panic and riots to take into consideration. There's also the resources required to enforce such a lockdown and the fact that large masses of people will inevitably lack food and water in the days to come.

In spite of all of that, the Chinese government did lock everything down. At the bare minimum, that should tell you that the Chinese government think this virus is more of a threat than mass panic, riots, and a potential economic downturn.

You can deduce from their action alone that the number of infected and dead far surpass their official numbers. This is not 'nothing.'
UPDATE 3:46 PM EST --
Houses of people infected with the Virus are being FIRE BOMBED in China!   Panic is setting-in throughout the general population.  This is getting ugly, fast . . .  and the US CDC announced this afternoon, FIVE CONFIRMED CASES inside the Continental United States!  Seattle  Chicago, Santa Ana, CA, Los Angeles, CA and Arizona.  Things can get just as bad here.  You'd better prepare.  Suggested Preps HERE
 ARIZONA INFECTION ANNOUNCEMENT: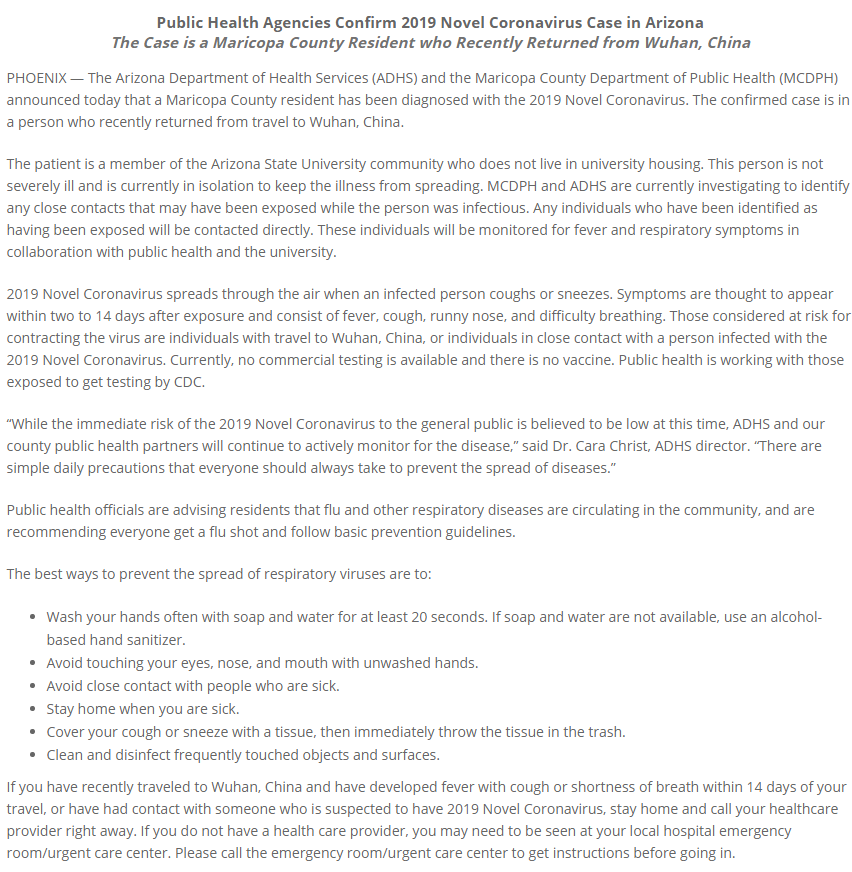 https://pbs.twimg.com/media/EPPAqhSWkAUKD3Z.png
Today is Sunday, January 26 and that means I have FIVE days to raise the $4200+ needed to fund this web site and radio show for the month of February.

The radio show has NO COMMERCIAL ADVERTISERS by design.  Advertisers don't like controversy and when a show like mine airs blunt truth or politically-incorrect views, radical lefties start advertiser boycotts.   If the show depends on that revenue, the advertisers get to have Editorial control.  They are able to say "Shut up or shut down."

Here, we celebrate free speech, no matter who doesn't like it.  In order to do that, there has to be a way to fund the endeavor which does NOT rely on ads.  That's YOU!

It takes a LOT of money to run this cloud-based web site; I get charged "Bandwidth/Data Transfer" for each site visitor, for the transmission of content to them.  This charge also applies to the Internet audio feeds during the live shows.
Put simply, YOU read or listen, I GET BILLED!

Moreover, there are other significant costs:
The radio stations (WBCQ, WRMI and KYAH), the listener call-in phone lines, Music licensing fees to use bumper music, Fiber optic lines to carry the show to the net and to the radio stations, studio costs, equipment maintenance and replacement and so on.

All totaled, it takes about $4200 a month to keep this endeavor alive.

For that, YOU get the latest breaking news that matters.  You get free speech radio 5 nights a week, with solid information the mass-media simply doesn't cover, or fails to cover thoroughly.

I NEED YOUR HELP to keep this going for February.

Please click the yellow DONATE button below to make a contribution of $10, $20, $35, $50 or more.  Every little bit helps.

Please don't think "someone else will do it" because they don't.  YOU are the "someone else."  

The clock is ticking and the calendar is set.  I have until Feb 1.  Please donate now!


 If you cannot or will not use online financial transactions, please mail cash, check or money order Payable to:

HAROLD TURNER
1906 Paterson Plank Road
1-A
North Bergen, NJ   07047-1902
USA

Those in foreign countries can mail cash from their country and I will have it converted to US Dollars once it arrives.
Thanks!
Now that you have read this story, please COVER THE COST for what your visit cost this site by clicking one or more of the ads below which generates Advertiser revenue of two to three cents per click - no purchase necessary by you -- and helps offset operating costs for this web site.
When YOU read a story here, the web hosting company charges us for "data transfer / Bandwidth" to convey the material to you.  Without your help by clicking an ad below, this web site would be in danger of shut down from the data transfer charges.  Please click any ad below to offset the cost of bringing this news to you.