Deaths from the bio-weapon coronavirus outbreak are so widespread, it is mind-boggling. The outbreak in China is completely, totally, out of control and literally killing tens-of-thousands of people every day.  The death toll is being deliberately concealed by government to avoid public panic. 
Yesterday, more cities inside China have been put under travel restriction (Quarantine), locking-down another nine million people.    Now, the virus is spreading to many other countries around the world.  What we see happening in China, will also happen in those other countries; including to us here in the United States.
The media silence about what is presently taking place in China and elsewhere is almost a crime against humanity.  The general public is being left blissfully unaware that the single most deadly outbreak of disease in more than 100 years, is spreading like wildfire around the globe, because a Virus Laboratory in Wuhan China, appears to have accidentally released a Military Bio-weapon it was working on.
Only ancillary and casual mention of the "coronavirus" is being made on TV and in newspapers. Social media companies like Facebook, Twitter and Google are aggressively CENSORING much of the information coming out of China; deliberately halting the flow of real images and video to conceal the actual facts.
Meanwhile, the general public in America, Europe and in Australia have no idea whatsoever, THEY will likely face six-to-eight-weeks-long QUARANTINE as the virus spreads in those places too. 
Most in the general public do not have enough food in their homes to feed themselves during a 6 to 8 week Quarantine, and government does not have emergency food stored-up to give them any.
When the disease rises to levels in America, Europe, and Australia, as it has in China, those people in the general public WILL DIE from lack of preparedness.  
Take a look at the videos below from inside China and see for yourself the level of death taking place each and every day:
Dead Bodies Everywhere:
 More Dead Bodies:
People in Wuhan and several other cities, have been ordered to remain inside their apartments and homes or face arrest.   Authorities check on these people a couple times a week.   When no one answers the door, authorities know the people are all dead . . . like this:
In Hong Kong, people have begun dropping dead on the streets, just like has happened in mainland China for weeks:
 Hong Kong restaurant:
Exited a train in Hong Kong and dropped dead on his face:
Sudden drop-dead death everywhere!
Shopping malls:
Public transportation hubs:
And at another:
Even young and otherwise healthy, dropping dead on the spot:
More:
People who are infected are even dropping dead on Cruise Ships: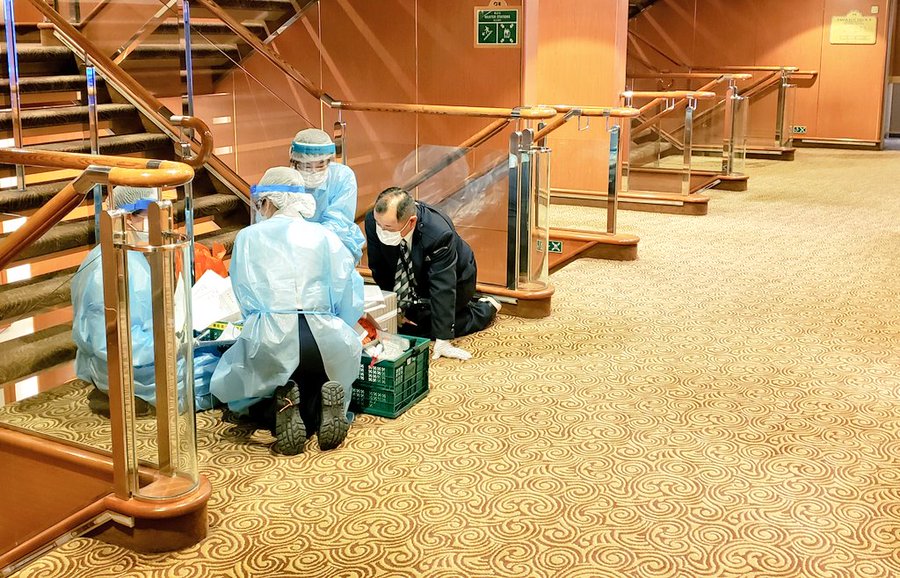 So many people are dying, the dead bodies are being loaded into VANS for immediate cremation.  Watch as they open the back of the van to load the latest dead body, you'll see four other bodies inside!
People who break Quarantine are now being SHOT DEAD by police!
So many people are so sick, and in such desperate need of medical care, China is having to set up Dormitory-like areas inside Exhibition Halls and sports stadiums just to try to deal with the sick:
In Shanghai, one of the biggest and most populated cities on the whole planet, the streets are EMPTY.  No one is outside.  It's almost like a ghost town:
Empty streets!
 Chinese authorities are so desperate to stop the virus, they're actually spraying disinfectant OUTDOORS and in public housing:
Authorities are now also installing STEEL BARRICADES to keep people inside homes -- NO ONE ALLOWED OUT:
All this is coming to America, Europe, and Australia.   It cannot be prevented because authorities waited too long to stop International travel.  Infected people from China have already spread the disease in countries around the world, and those they infected who may not be sick yet, are already shedding virus and infecting others.
Where is the mass-media to report these facts?  Why is this being concealed from the American, European and Australian public?
It appears to some folks that government has adopted a simple strategy: Keep it secret until everyone already knows.  By then hudreds-of-thousands will be infected and many, many of them will die.
Will that include YOU?
SPECIFIC DISEASE FACTS
According to an Infectious Disease Specialist in my home state of New Jersey who has direct access to classified information about emerging diseases, humanity is facing "the worst disease crisis in over 100 years" with this new Coronavirus, and "the latest disease progression models are now showing DEATHS on a scale never before seen in human history."
First some basic facts:
The first awareness of this "novel coronavirus" came in China in late December. 
41 people in Wuhan, China went to hospitals with fevers, coughs, and other symptoms and were all found to have severe pneumonia, many with acute cardiac damage and, ultimately, a large number of them . . . fifteen percent (15%) died.
The government in China SUPPRESSED information from the public, jailing reporters for "spreading rumors" and for "unpatriotic reporting" -- for which the Mayor of Wuhan has now resigned.
That was late December.   By late January China had more than fifty-six MILLION people under Quarantine.  An Infection rate of 83% has been conclusively established by a formal medical study published in "The Lancet" medical journal.  That means for every 100 people EXPOSED to this new virus, 83 of them will get sick from it.
That same medical study shows the incubation period to be as short as FOUR days, but as long as FOURTEEN Days before a person shows symptoms.
That study also shows the disease becomes contagious DURING the incubation period, meaning the 83 people infected can spread the illness to others BEFORE THEY SHOW SYMPTOMS.   People are walking around, doing the things they normally do, with no idea they're sick and already infecting others.
Once symptoms begin, they include fever in 98% of infected persons, cough in 76% of infected persons, and other symptoms.   But it is the 98% with fever that is most disturbing, because that means TWO PERCENT HAVE NO FEVER. 
At present, authorities checking people for the spread of the disease are only looking for fever and respiratory troubles.   Yet two percent of infected do not get fevers.
What that means is that for every 50 people infected, ONE who is infected and contagious, WILL GET THROUGH SCREENING and continue to spread the illness.
Worse, the coronavirus can live on surfaces; for as few as five days, and as long as 28 days.   So people who are sick, and who touch store counters, products on store shelves, DOOR HANDLES in public places, or who use public bathrooms, leave the virus on all those things, and the virus lives to infect others for 5 to 28 days.
Further, packages you receive via the Post Office, FedEx, UPS, Amazon or other companies, CAN HAVE VIRUS ON THEM if an infected person handled them, coughed or sneezed on them.  The package arrives, you open it and now have the virus on your hands.  If you touch your face, mouth or nose . . . or pick up a sandwich and eat it after touching it with your hands, POW, you're infected.
As such, the infectious disease specialist with whom I spoke today, told me "there is no way to stop the spread of this."
Now, various government agencies use Models to project outcomes.  And the model I will now report is going to utterly terrify you.
In the example above, out of 100 people EXPOSED, 83 will get sick. 
Alright... math time...based on current numbers

83% infection rate according to a medical journal

3.5% death rate overall, for those infected (CDC)

15% percent death rate for those in serious condition receiving hospital care

23.3% or more percent of the infected, likely to end up in the hospital.

23.3 percent of 83% of a population is....

20% or more of any given population that will need to be in the hospital.

There are only 2.4 hospital beds per 1000 people in the United States. (SOURCE)

That's 0.24 hospital beds per 100 people, 

BUT 20 out of 100 people in need of intensive care

Hopefully they wont all get it at the same time, otherwise..

..only 1 in 29 people in serious condition will receive proper medical care

And the less medical care they get, the higher the death rate climbs.  Those without supportive medical care have a death rate of 65%
Finally, and this is the worst thing I have ever had to report, in Linear Projections,  "Time 2" is best predicted by "Time 1"
We are in early February and China, which is about 1 month into its outbreak, has 56 Million people in 19 cities under Quarantine.
China (Time 1) is about 1 month ahead of the USA (Time 2)  in its situation.
So one month from now in the USA (Time 2), we can expect similar or worse situation in the USA than China (Time 1) has right now.
Are YOU ready to be Quarantined?  Do you have Emergency food to feed yourself and family for the 6 weeks such a Quarantine might last?
Do YOU have emergency water stored to provide 1 gallon per person, per day for people in your house?
Do YOU have a Filter mask and Goggles and Rubber gloves to TRY to avoid becoming infected when you go out?
You have until about THIS FRIDAY to prepare and hope to survive.
NOW, THE BAD NEWS . . .
The models being used for this outbreak have turned out to be spot-on accurate in the spread rates OUTSIDE CHINA.  The time and infection rate tables (sadly) remain accurate.  
The Model forecast that, by today the number of countries reporting cases would be 20+ .
The model proved to be correct.
The model used for the time table, also showed almost 400 confirmed cases all over the world (outside China), by Sunday, Feb. 2nd.  Again, it was correct.
Sadly, in every respect so far the model is holding. . .  and what is has for February 16th is really apocalyptic.
COVERT INTEL
The information below is so awful for the United States and Europe, it is being provided ONLY to subscribers who support this site with $1 a week, billed Quarterly.  It is those people who make this web site and radio show possible and it is THEM to whom I owe my most important info.  As such, THEY get info the general public does not get.  ---- ADDITIONAL PUBLIC UPDATES TO APPEAR BELOW THIS GREEN AREA ------
PREMIUM CONTENT:  
This section of the article is only available for Subscribers who support this web site with $1 a week billed either Quarterly ($13) or monthly ($5).
This is necessary because this is a CLOUD-BASED web site.  The way it works is YOU READ . . . I GET BILLED for "Data Transfer."
Despite being politely asked for voluntary donations, few people ever bothered to donate. Then, despite being asked to click an ad within a story to generate ad revenue for this site, the majority of the general public couldn't be bothered with that, either. So there's no reason to give the general public free news anymore; they don't pull their own weight.
With tens-of-thousands of people reading stories here every day, the costs nearly drove the site out of business.
In order to be able to continue providing cutting-edge news, often hours or even DAYS before Drudge and most of the "mass-media" -- if they even cover it at all -- I need to be able to sustain this effort. To do that, I rely on folks like YOU contributing a pittance of about $1 a week;  which is chump-change that you won't even miss!  Yet that small amount makes all the difference in the world to the continued existence of this web site.
In the final analysis, knowledge is power.  Getting information first, or info that other sources simply don't report, is usually well worth a few bucks in the long run.
Please click here to choose a subscription plan in order to view this part of the article.
Subscribers LOGIN to see the story.  
*** If you are having trouble logging-in, email: This email address is being protected from spambots. You need JavaScript enabled to view it.
YOU MUST SET YOUR WEB BROWSER TO "ACCEPT COOKIES" FROM THIS SITE IN ORDER TO LOGIN OR ELSE YOU WILL NOT BE ABLE TO SEE PREMIUM CONTENT.
PREPARE BY THIS FRIDAY
When things go wild weasel here in America, there will be all sorts of unanticipated service disruptions.  The general public remains blissfully unaware of the utter disaster coming at us, because the mass-media is keeping rather quiet about the situation.  But when they can't keep quiet any longer, there will be PANIC.  You should PREPARE NOW because once the SHTF, it will be too late.
Here are suggested "Preps" to try to get yourself and your family through what's coming.  There is precious little time left . . .
The best strategy for this is NOT to be exposed.   Fat chance of that; we ALL go out: Work, school, shopping, recreation, and so forth.
So how might we protect ourselves while we're out?
Well, the fact this virus can be spread by air, in addition to staying alive on surfaces like counter tops, desks, water fountains, door handles, inside cars and buses, product packages on store shelves that someone else handled, or sneezed-on or coughed-on,  - including ones that get delivered by mail, FedEx, UPS, etc. --  complicates things greatly.
Step One: Stay home.   Do not go out unless you absolutely MUST.
Step Two: Presuming you have to go out (we ALL do) wear a filter mask  eye and hand protective gear (below).
The N-95 filter masks are almost completely sold out already, nationwide.  So you can get a better mask rated as N-100 or P-100 for the time being until THEY sell out.  Links to various suppliers are HERE-N-95 and HERE N-100.   (I am NOT the seller)
You can also get the VASTLY AVAILABLE   3M 7500 (HERE)  which uses 3M 2091 filters  (HERE)   This mask system is more expensive, but it works and is widely still available.  (Again, I am NOT the seller)
Get Eye Protection, either cheap swimmer goggles (HERE) or better safety goggles (HERE)
Get a box of rubber/nitrile Gloves (Here)
Wear this gear when you go out.
Yes, you'll look and feel ridiculous.   But you are much more likely to have the last laugh because YOU are protecting yourself.
THIS IS URGENTLY IMPORTANT: 
The absolute moment you get home, take off your shoes and leave them in the foyer.  DO NOT WALK AROUND YOUR HOUSE IN SHOES YOU WORE OUTSIDE. 
You may have walked on a large amount of infected material as you were out and if you wear those shoes in the house, the virus will spread in the house.
Next: Go into the bathroom, take off your clothing, put it in a hamper or plastic bag, and take a shower.  You HAVE TO WASH OFF any virus that may have landed on your body or hair, while you were out.
Put on clean garments.  You cannot go sit in your chair or lay on your couch or bed in clothing you wore outside.  The virus will come off the clothing, onto the furniture and pow, someone in the house catches it.
Make every person in your household do this the absolute moment they come home.  This virus is HIGHLY CONTAGIOUS and it KILLS people.  We cannot skimp or get lazy protecting ourselves.
Eat right, take vitamins (I use Centrum), and, I don't want to sound hokey, or like some Bible thumper,  pray to Almighty God that you be protected by Him during this crisis.  I'm not kidding.  I mean it: PRAY.
Even if you haven't prayed in decades, start now.  "Hi God, it's me (so and so).  I know I haven't prayed to you in a long time, but I'm coming back to you now.  . . . ."
And then talk honestly and earnestly to him, in a very quiet voice.
Just remember, this is God, not a magician to be summoned to do tricks or render services at our beckon call.  He made us.  We are HIS to do with a HE sees fit.
OTHER "PREPS" with Links
Have Emergency food (HERE, HERE, and HERE) in the house in case Quarantine gets implemented, so you and your family can eat for the 6 weeks or so such Quarantines are likely to last. 
Have Emergency Water (HERE) stored up in case the water supply gets contaminated.
Here is a complete list of "Preps" that folks might consider for themselves.
RELATED: 
CORONA VIRUS PROVEN TO BE MILITARY BIO-WEAPON
CHINA BARRICADING PEOPLE ** IN ** INFECTED CITIES! Roads being Blocked with Piles of Dirt, Phone Lines off, Hospitals OUT of Supplies
Now, today is February 4 and I don't know how many web sites you visit regularly, but I strongly suspect that THIS SITE is one of the ONLY ones telling you how serious this is and directing you to ways to protect yourself and family.   But this site needs READER SUPPORT to exist.   
Please donate a couple bucks to offset the "data transfer" charges I just got billed for you to read this page, and maybe throw in a couple more bucks to help keep this endeavor sustained.  Other sites aren't doing this for you.  Please help me, so I can continue to help you.
If you cannot or will not use online financial transactions, please mail cash, check or money order Payable to:

HAROLD TURNER
1906 Paterson Plank Road
1-A
North Bergen, NJ   07047-1902
USA

Those in foreign countries can mail cash from their country and I will have it converted to US Dollars once it arrives.

Thanks!
Don't have money?  No problem.  Please click an ad or two below and that will generate a couple cents in Advertiser revenue, which will help out.  No purchase necessary by you!
Now that you have read this story, please COVER THE COST for what your visit cost this site by clicking one or more of the ads below which generates Advertiser revenue of two to three cents per click - no purchase necessary by you -- and helps offset operating costs for this web site.
When YOU read a story here, the web hosting company charges us for "data transfer / Bandwidth" to convey the material to you.  Without your help by clicking an ad below, this web site would be in danger of shut down from the data transfer charges.  Please click any ad below to offset the cost of bringing this news to you.