The Saudi ARAMCO Oil Facility in eastern Saudi Arabia has been attacked by Iranian-backed forces using drones.  At least TWELVE EXPLOSIONS have taken place causing MASSIVE FIRES at the world's largest oil production facility in Abqaiq, Saudi Arabia.  
Khurais, 190 km further southwest, contains the country's second largest oilfield and it too, was attacked and is burning.
Video from one of the scenes appears below.  This is a fast-developing, global story.  Additional info coming in rapidly and updates will appear below.
Please check back for details . . .
VIDEO
On August 17, 2019, the Ansar Allah group known as "Houthis" announced that they had carried out the "largest operation" since the beginning of the military campaign of the Saudi-led coalition in Yemen, and targeted an oil field and a refinery belonging to Aramco in the eastern region of the Kingdom.  It is widely expected that those same Iranian-backed Houthis have committed today's attack.
Saudi Arabia has been leading a military alliance to support Yemen President Hadi's forces to restore the country's rule since March 26, 2015, against the Houthis who control the capital Sanaa. 
To date, the bloody conflict in Yemen has led to the displacement of hundreds of thousands of people from their homes, cities and villages, the spread of infectious and famine diseases in some areas, and significant destruction of the country's infrastructure.
It also resulted, according to statistics of UN bodies and organizations, killing and injuring hundreds of thousands of civilians, as well as the deterioration of the humanitarian situation and the spread of diseases and epidemics, especially cholera, and the decline in the size of cash reserves.
The location of today's attack can be seen on the regional map below: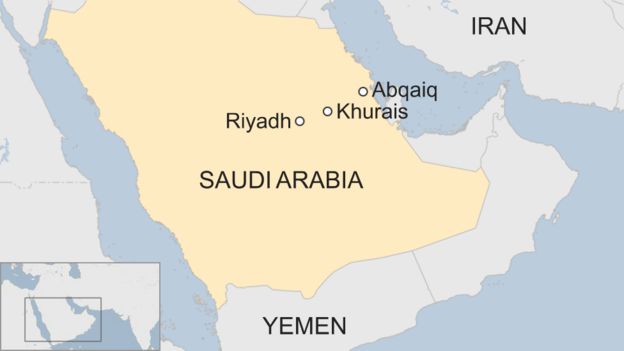 More video:
Oil prices expected to skyrocket when markets open on Sunday.  THIS OIL REFINERY CAN PROCESS UP TO 7 MILLION BARRELS OF OIL PER DAY.  The refinery turns "sour crude" into light, sweet, crude.  To have this refinery knocked out by a military strike will hit global oil markets very hard.
Contrary to mass-media published reports, demand for oil has never been so strong as it is now. At same time, oil-rig counts are at 18 month lows.
This is going to have a major effect on global oil prices and may have actually saved US shale and Wyoming tight oil plays.
When you follow the money and realize how many may benefit from something like this, responsibility for such an attack then becomes murky.
Are the Saudis getting a comeuppance for the attacks of 9-11?   Who really knows?
SPACE SEES ATTACK SCENE
There is so much fire and smoke from this gigantic refinery attack, the smoke is now visible to satellites in space! Here's a sat-photo:
 HOUTHIS CLAIM RESPONSIBILITY
A military spokesman for Yemen's Houthi rebels has claimed a drone attack on two major oil installations in Saudi Arabia.
Yahia Sarie made the announcement Saturday in a televised address carried by the Houthi's Al-Masirah satellite news channel.
He said the Houthis sent 10 drones to attack an oil processing facility in Buqyaq and the Khurais oil field.
He warned attacks by the rebels against the kingdom would only get worse if the war in Yemen continues.
Sarie said: "The only option for the Saudi government is to stop attacking us."
A Saudi-led coalition has been battling the rebels since March 2015.
UPDATE 12:10 PM EDT --
This attack is now confirmed to have caused a shutdown of  *** HALF *** of Saudi Arabia's daily oil production ! ! ! ! ! 
This is going to have a massive effect on oil prices immediately.   Oil, which is presently trading at about $41 a barrel is now likely to rise immediately to $100 per barrel
REMINDER: YOU can keep this web site FREE to the General Public by clicking one or more of the ads below which generates Advertiser revenue of two to three cents per click - no purchase necessary by you -- and helps offset operating costs for this web site.